Of all the best kitchen shoes we found on the market, we really like and highly recommend the Dansko Professional Clogs! And if you're looking for more options, check out the other best kitchen shoes we listed below.
You don't have to spend a lot of money on kitchen shoes because there are plenty of affordable options that you can find. These shoes are extremely comfortable and durable but inexpensive alternatives that can take a beating but still look adorable. You can try these Dansko Clogs to experience it yourself.
These Dansko clogs have always been the go-to shoe for kitchen crews. Its excellent arch support allows you to stand up straight, and walk around the kitchen without ankle or foot fatigue. The comfort lasts all day — keeping you focused as you work on those patties or on frying those eggs.
There are plenty of great quality shoes that are best for kitchen use. However, it all boils down to your needs and environment. Surely though you will be on wet floors all day so better pick that non-slip shoe to avoid injuries.
Cooks have their preference as well because preparing those delicious dishes is not that easy. Being in the kitchen all day requires excellent steel-toed shoes for protection against falling pots and pans.
Our Best Kitchen Shoes in 2021
Dansko Professional XP – Best Professional Kitchen Shoes
Avia Avi-Union II Non-Slip Shoes – Best Non Slip Kitchen Shoes
Skechers Felton Work Shoe – Best Shoes for Kitchen Work
Birkenstock Unisex Clog – Best Kitchen Shoes for Chefs
KEEN Utility Shoe – Best Shoes for Restaurant Kitchen
New Balance Men's Shoes – Best Men's Kitchen Shoes
Crocs' Mercy Work Clogs – Best Kitchen Shoes for Women
MOZO Forza Shoe – Best Kitchen Shoes Ever
8 Best Kitchen Shoes in 2021 Reviewed
To know what the best kitchen shoes are, you're in the right place. We've collected our top picks for men and women including a variety of durable styles that'll help you stand all day while you work in the kitchen.
The Dansko Professional XP is a shoe that can satisfy the needs of professionals. And, it does so with construction quality that ensures you'll be wearing them for years to come. The Professional XP 2.0 takes that same great experience and improves upon it with an innovative new footbed and slip-resistant outsole.
The Dansko Pro XP features a new sole grind and anti-microbial footbed to improve performance, comfort, and wear. It's very comfortable—even for people with bunions or other problems that make it hard to find a good fit. But it can also withstand the punishment of long shifts on hard kitchen floors.
It also has a removable footbed and the option to wear orthotics for comfort, unlike its previous counterparts. It features a streamlined design that easily transitions from kitchen work to downtimes.
The Dansko Pro XP 2.0 is the ultimate best professional kitchen shoe for chefs working in high-volume restaurants and hotels. The shoes are highly slip-resistant and has a strong toe cap, a high-quality upper, and a durable outsole that will ensure you can be the best chef you can be.
If you've ever worked in the food industry, you know how hard it is to keep a pair of shoes intact during a long shift. When slipping on the water while carrying a heavy tray is no fun. That's why Avia Non-Slip shoes have Waterproof Systems to keep your feet dry no matter how much you're moving.
Avia's shoes have superb shock absorption and cushioning which is due to its compression-molded EVA midsole. It also has an anatomical heel cradle with new Avia Cantilever Technology which stabilizes the heel.
Every step you take in the kitchen will feel more comfortable with the pressure point relief of these shoes. It has a high-quality memory foam sock liner. Not only is it made of luxurious polypropylene, but the unique curve of its memory foam responds to the natural shape of your foot. This gives you a more personalized fit than any other insole.
These shoes are perfect for people working inside the kitchen where they are on their feet all day, such as waitresses, waiters, and chefs. They're also great for your after-shift strolls— since they're so lightweight, they won't weigh you down.
If you already own what you think is a pair of the best kitchen shoes, the best non slip kitchen shoes in particular, and they happen to be not non-slip at all, we've created a guide on how to make shoes non slip to help you fix that.
Skechers Felton Work Shoes are for professionals who work on their feet all day. They're also perfect for kitchen staff looking for quality in every step, thanks to the penny-drop design on both the outsole and heel.
These shoes feature a padded collar and tongue for extra comfort and a lace-up vamp. With excellent stitching, you can rest assured that these shoes will last. Even after years of wear and tear while working in the kitchen.
It also delivers immense support with memory foam insoles and shock-absorbing midsoles. The indoor and outdoor slip-resistant outsole prevents falls on slippery kitchen floors.
Skechers Felton shoes are undeniably the best shoes for kitchen work. Its casual design but functional features are enough reasons to land at the top tier on shoe choice among kitchen crews.
Birkenstock Unisex Clog is a comfortable shoe that has cork sole tested by chefs across the country. Their thick bedding redistributes pressure evenly across the foot to prevent blisters and tiredness in kitchens.
No matter how messy a chef's kitchen is, the Birkenstock Clog can hold up to it — thanks to its unique rubber tread and optimized rolling motion. The clog ensures that no slips occur from wet, oily, or greasy surfaces. Moreover, it offers great traction on smooth surfaces such as marble and composite.
Its thick quality leather means that you won't have to worry about hot water or oils seeping through. Any spills are easy to clean off as well and even easier to avoid with this durable footwear.
Birkenstock Clogs is a top choice for chefs. No wonder its hardwearing structure and durable materials bring nothing but bragging rights.
KEEN Utility Shoe – Best Shoes for Restaurant Kitchen
The KEEN Utility Shoe is a trendsetter in the culinary world for its unmatched comfort and style. This is a one-of-a-kind, comfortable, and durable shoe that you can wear while working at a restaurant's kitchen.
These shoes feature a combination of recycled PU (polyurethane), cork, and memory foam that contours to your feet and adjusts for the perfect cushioning throughout your shift. You'll always be able to stay on your feet, even when the restaurant kitchen floors become slippery or oily.
It has durable leather with anti-abrasion resistance and waterproof protection to keep your feet dry in tough kitchen conditions. The stability shank feature lets you go all day without feeling pain or discomfort, and the compression-molded midsole absorbs shock while providing support.
This shoe is for restaurant kitchen work. It's completely stain- and water-resistant, as well as easy to clean. The ultra-light, removable footbed makes these shoes comfortable to wear for all-day shifts.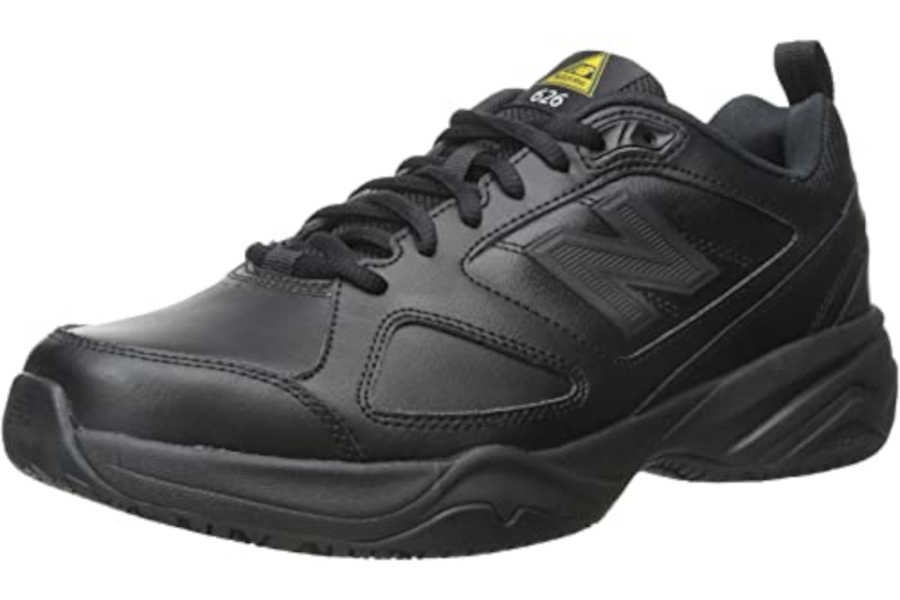 The New Balance Men's Shoes have a slipped upper which gives it a very cool look and is also 100% waterproof. But it's the remarkable durability and lightweight design that have earned this shoe the reputation of being one of the best in the game, even among male chefs.
New Balance's most notable feature is the full EVA footbed, which keeps your feet safe and supported during long hours on your feet. The absorb crash pad absorbs all the shock and impacts of a usual day in the kitchen. The non-marking, non-slip outsole won't give out even under pressure or on watery floors.
It's an anti-slip work shoe with an internal shank that also adds stability and support, so you can be comfortable throughout your workday inside the kitchen premises.
New Balance Shoe is the best men's kitchen shoe because its rugged design highlights male chefs and cooks, with sturdy construction that lasts for hours of wear — even when faced with extreme temperatures, condensation, and chemicals.
Crocs' Mercy Work Clogs is a go-to comfort shoe for women in the food industry. It's boasting a sturdy design, a unique Croslite™ material, and an unbeatable low price.
These Work Clogs are a must-have for chefs and cooks. From their slip-resistant soles to their stain-resistant uppers, these shoes are for the hustle and bustle of the modern kitchen workplace. With a memory foam insole and ergonomic arch support, they're also comfortable enough to wear all day.
It also lets you secure a perfect fit with an adjustable back strap. Its built-in massage function and sole that has nubs will let you work with ease and relaxed footing.
These crocs are women's best friends inside the kitchen. They can stand up to all the dirt and grime, and have built-in waterproofing to protect you from spills.
Staying balanced during the hardest of workdays in the kitchen has never been so easy. MOZO's Forza Shoes feature a built-in slip-resistant outsole that provides extra stability on a variety of surfaces and promotes smooth on-the-go movement.
If you work in the kitchen, comfort and support are everything. The Mozo Shoes will give your feet the comfort and protection they need while in the kitchen. With a slip-resistant sole and ergonomic design, this shoe is specifically made to fit your needs.
Mozo Forza is also a trendy pair of casual shoes with a formal appeal. With its elegant styling and sturdy sole, you can wear this pair at work or informal settings. The good looks comes from the neutral colorways and simple design.
All its features may sound common but just the right things you'll need to have comfortable and best kitchen shoes ever.
Best Kitchen Shoes Buying Guide
What to look for when buying the best kitchen shoes?
In looking for the best kitchen shoes, they must meet three criteria: they should be practical, functional, and aesthetically pleasing. To assess this, we look at every detail that goes into a shoe's construction and design.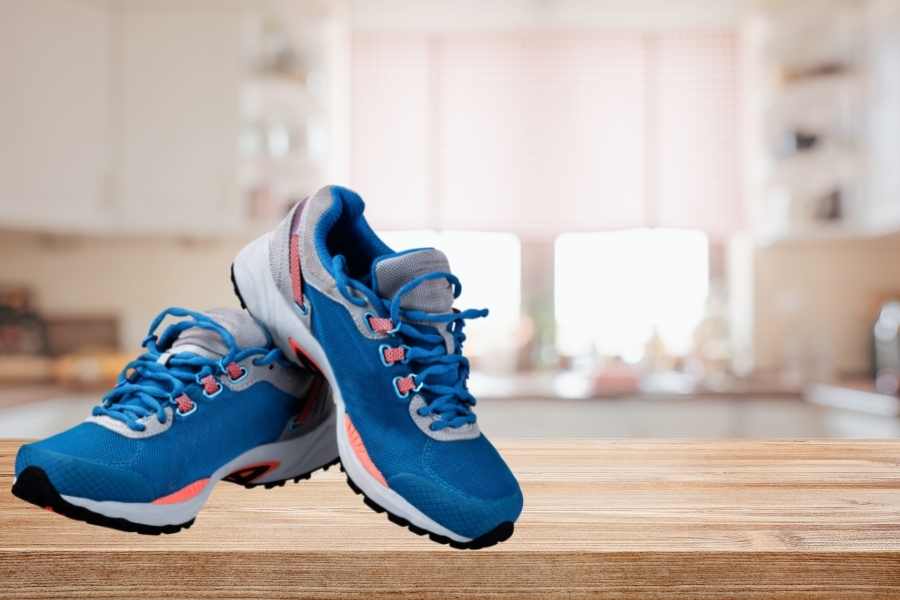 Practical
Your kitchen shoes' practicality includes comfort and safety. These are both essential aspects of a chef's shoe or kitchen staffs' clog. Ergonomic fit is the most important part of this — as it enables your feet to be safe and protected.
Kitchen shoes should fit well with every kind of toe and heel — from wide to narrow, and flat to high arches. This is how you can achieve your comfort levels.
Functional
A functional kitchen shoe features high-quality materials and great breathability. It should also be water-resistant, has grip, and can clean easily.
1. Premium Material
The material of a chef's shoes is essential to their performance. A flexible design with durable stitching can make all the difference for a chef who stands up and moves around constantly. The wear and tear of the kitchen environment can be hard on any pair of shoes, so a pair with a sturdy upper that won't tear or rip from the elements is ideal.
If these shoes can't withstand the pressures of a chef's daily grind, they probably won't even make it a few weeks. The proper materials can take a beating and remain in good shape for years before the material begins to deteriorate.
2. Breathable
The primary thing that you need in a kitchen shoe is breathability. Without a ventilation system, your feet will get sweaty and hot. This makes an already tough job even more difficult.
A kitchen shoes' breathable material such as leather allows the feet to stay cool and dry. Additionally, a breathable shoe will wick moisture and sweat from the feet — without sacrificing any protection or durability.
Breathability is an incredibly underrated trait of high-quality kitchen shoes and you might want to consider heavily when purchasing footwear for chefs or kitchen crews.
3. Waterproof
Waterproof shoes are a must-have in the kitchen. If you can't just take your shoes off, waterproof sneakers and clogs will guarantee that the only mud, water, or oil splashing up from the floor will be coming from you. That way, you won't have to worry about hot oil splattering all over the soles of your feet in a matter of seconds.
The hot oils and boiling water used during cooking can quickly penetrate your shoes and damage your feet. To avoid this, wear high-end waterproof kitchen shoes and ditch those low-quality and cheap regular shoes.
4. Grip
In food-service settings, slip-and-fall accidents are an all too common occurrence. But that doesn't mean they're unavoidable! Always opt for kitchen shoes with grip to prevent these kinds of mishaps.
When working in a kitchen, it's vital to have slip-resistant shoes. When you're carrying out tasks that involve slicing, dicing, and preparing ingredients, you don't want to slip and fall. Thankfully, all our suggested kitchen shoes have anti-slip properties.
5. Maintenance
Kitchen shoes can get dirty quickly even a brand-new pair can have spilled foods or liquids find their way to the bottom of the shoe. Even the best kitchen shoes have stains and oftentimes discolored at the end of a long shift. That's why it's important to make sure that your kitchen shoes are easy to clean.
Kitchen shoes entail daily care. To keep them in great shape, you should be able to rinse them with a hose or wipe them down with a damp cloth after every shift. It must stay clean and ready for your next shift.
Style of Shoe
While style is not as vital to a good pair of chef shoes as practicality and functionality, it's still important. Many factors go into deciding on a pair of shoes — one's work environment, the texture of one's floors, and personal preferences all have an impact on the style of shoe that will be best.
Kitchen shoe styles include Slip-on and lace-up shoes.
Slip-Ons are a godsend for chefs and kitchen staff, and one of the most important features of any kitchen shoe. The lack of laces reduces the chance of tripping over them and makes it easy for them to get them on and off. If you're looking for a great pair of shoes for work or personal use, a slip-on is a great option.
Sometimes your shoes need extra protection from water or strong solvents, or your feet just need a little more support. That's where lace-up shoes come in. Laced-up kitchen shoes are an excellent off-duty alternative to slip-on styles — they keep out liquids and provide more ankle support than their looser counterparts.
Conclusion
When working in the kitchen, the best pair of kitchen shoes for you is the Dansko Professional XP shoes. These shoes can walk through the worst spills without a single slip or slide. They're comfortable enough for standing for long periods, and they look professional enough to match your kitchen environment — but they're also casual enough not to stand out.
Dansko shoe is for kitchen personnel. With a focus on comfort, the minimalist style of Dankso's shoes allows chefs to move around freely and safely, making them the most popular brand for culinary professionals. It ultimately ticks off boxes for what to look for when buying the best kitchen shoes.
Women on the other hand in the restaurant industry face unique challenges when it comes to comfort. Thankfully, there are shoes like the Crocs' Mercy Work Clogs that double as both comfortable and stylish. These shoes are an excellent option for women in the demanding arena of kitchen environments.
Head on to Amazon for updated prices on our kitchen shoe recommendations above.