Can I wear suede shoes in summer this year? I recently asked myself this and it led me to write this article. I bet you're asking yourself this too. Well, a wardrobe staple for every season, suede shoes scream chic and can look good on most outfits.
Summer is suede shoe season, while the fabric holds heat and keeps you warm in seasons like fall and winter, in summer it's great for keeping your skin cool. Light-colored suede shoes that carry tones of beige or nude look especially good, as well as any outfit with similar undertones.
If you've asked yourself, "Can I wear suede shoes in summer?" The answer is an absolute Yes! Suede shoes are a breathable alternative to leather or fabric shoes. They won't make your feet sweat, so you'll feel fresh and comfortable the whole day.
All about Suede Shoes
Suede shoes, its material is a type of leather from using the underside of a goat or lamb's skin. First, the animal's skin undergoes a thorough cleaning and treatment with acid. Afterward, they shave the hide underneath the grain, revealing a velveteen side that they can dye into different colors.
Shoes with Suede material are thin and soft to the touch, creating an extra layer of warmth in winter and breathability that's suitable for summer. The suede material is prone to water damage, so we recommend storing your suede shoes in a dry place when it's raining or snowing outside. But, perfect for basking under the sun during summer.
And if you're wondering whether can you put shoes in the dryer specifically like Sude shoes, we have a separate article for that. Check that out!
Summer as Suede Shoes Season
If you're thinking of what shoes to wear to match your summer outfits, worry no more. A suede shoe is an excellent option with its fabric for the summer. It's durable, fashionable, and comfortable. Can I wear suede shoes in summer?
Can I Wear Suede Shoes In Summer?
You sure can! Here are a few things you should know about suede shoes being perfect for summer, so you can make the most of it!
1. Warm And Breathable
Suede is a great material to have on your shoes during the summer! Its porous nature allows for air to flow through, keeping your feet cooler. Material like this is particularly useful if you're on your feet all day — as the circulation will reduce sweat buildup, thus preventing your feet from getting too cook up.
2. Soothing Feel
It's soft, it's sweet-smelling and it feels like heaven on your skin. Suede shoes might be a necessity for the summer season when the atmosphere is hot and humid.
3. Versatility
An ultimate pair of suede shoes is for anyone who wants to be both comfortable and who wants to wear shoes stylishly on a day-to-day basis or even at fancy parties. From boots to sneakers, suede shoes will add style and flair to any outfit without sacrificing comfort.
4. Matches Anything
You don't have to run around for hours trying to find the right combination of clothes and shoes. Suede shoes match anything, and they go well with a variety of outfits, providing you with endless styling options. They're the best choice for a smooth summer style.
5. Cheaper
Being affordable doesn't mean you sacrifice quality — instead, you can buy a pair of suede shoes that last. With the right care, they'll age well over time and never goes out of style.
6. Long-Lasting
Durability is an important quality for any pair of shoes, especially summer-friendly ones. Suede is a sturdy material that doesn't wear down easily. With a good pair of suede shoes, you can withstand ticks without having to worry about them wearing out.
7. Soaks Up Sweat
The suede material of your suede shoes is porous and quick to absorb heat and also your sweat. This allows your feet to breathe and dry quickly when sweaty, keeping you comfortable and cool.
8. Unsusceptible to Rain
Summer is the best time to wear suede shoes, because of the sun. But another good reason is that in the summer, all you have to worry about is a little sunshine. No snow or rain or mud or puddles. So that means you can spend less time worrying about your suede shoes and more time enjoying them.
9. Classy
Suede shoes are both elegant and casual — making them suitable for both work and play. Their textured but polished finish gives you a sophisticated look, while their versatility makes them ideal for any occasion. A timeless piece you can add to your wardrobe.
Suede shoes are the shoes for summer. It has always been a part of people's list of shoes to wear for summer. Watch the video below.
Can I wear suede shoes in summer? Yes! The smooth texture and eye-catching look make suede shoes a great choice for rolling around town in the hot weather.
Read more to know the best suede shoes for summer. Here are 3 great options for you to wear in hot weather.
Can I Wear Suede Shoes in Summer? Which Type Though?
1. Suede Booties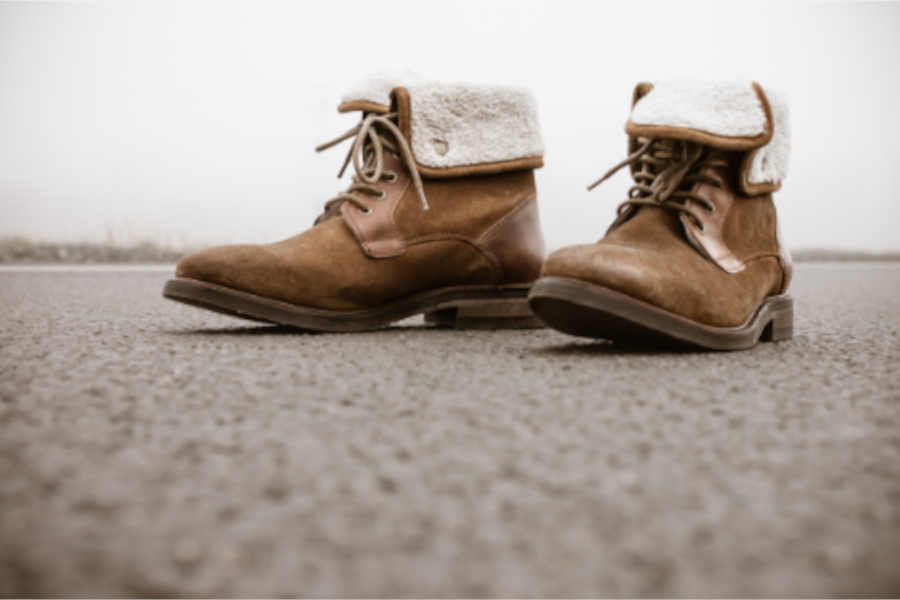 You can wear suede ankle boots with a casual outfit as well as a formal one. Try pairing them with a pair of jeans and a t-shirt. You can also try wearing them with ultra-short skirts or a long gown for an edgier look. Jousen Boots is a great pick for your next summer suede boots.
2. Suede Loafers
Suede loafers like the Stacy Adams one are excellent shoes for business wear, as they're designed to slip on and off with ease. Their clean, crisp look pairs well with a suit or slacks, but you don't have to be in professional attire to reap their benefit — loafers also look great when worn with jeans. 
3. Suede Sneakers
Suede sneakers like The PUMA Smash V2 is a newly-redesigned version of the original PUMA Smash, and it's the ideal shoe for anyone who wants to keep up with their daily workout. The classic silhouette features a soft suede upper with natural comfort, while the new clean full-length rubber outsole provides optimum traction.
4. Choose Neutral Colored Suede Shoes
Black and brown suede shoes are ideal for easy, casual dressing. These neutral colors do not only match your suits but your everyday wear as well. Unlike bolder colored suede shoes or patterned ones that might get less trendy in the future.
Choice of color will depend on what season you will use your suede shoes though. You can always get away with bolder and brighter colored suede shoes during summer. Summer is when you can play with different hues especially with your suede shoes.
Additional Tips on Wearing Suede Shoes on Summer
1. Put on No-Show Socks
If you sweat too much and you are concern about the sweat ruining your pair of suede shoes, then some good quality no-show socks will be right for you. These socks will protect your shoes from sweat but also allow your feet to breathe.
Known to most as "no show" socks, but referred to as loafer socks by some. These are a type of sock that sits above or below the ankle and above the foot. They don't cover the entire foot, but they do cover up the exposed area before your shoe begins. 
These types of socks are perfect for wearing with shoes that might slide off without them, and they're often just used for fashion.
Wearing no-show socks with open-toe shoes in the summer is a good choice — for several reasons.
First, your feet and ankles will get some relief from the heat.
Also, wearing socks will absorb foot sweat instead of creating a disgusting smell inside your suede shoe.
You'll achieve the trendy sockless look without risking any unwanted foot odor, and your shoes will last longer!
2. Wear Bright Colored Suede Shoes on Summer
At the most basic principle level, the physics of color states that darker colors absorb heat, while brighter ones reflect it.
The summer is a perfect time to embrace color, and light-colored sneakers match the vibe of the season perfectly. Colors like beige, tan, brown, or orange are great ideas for suede shoes in warmer months — or you could even try bright neon pink if you're feeling adventurous!
You don't have to be afraid of bold colors — the richness and softness of suede make it great for wearing vibrant hues. Bold colors that can otherwise look gaudy on grain leathers will look amazing when paired with the texture of suede.
Conclusion
Can I wear suede shoes in summer this year? Absolutely!
Now that you know that you can wear suede shoes in summer, I hope you'll find inspiration in this article to buy a pair of your own!
Oh and you can share your experience with your suede shoes in the comment section below.
I love how I can pair my suede shoes with any outfit in my closet. I can even choose to wear my suede sneakers when I run and work out. It goes well with my sportswear and adapts to my activities. You will never go out of style with a pair of suede shoes.
Suede shoes are perfect for the summer. It's easy to wear, lightweight, and easy to maintain. Being easy to dress it up is also another great thing about suede. You should get these precious things into your wardrobe for the next summer.