If your favorite shoes got dirty, would you throw them in the dryer? Or if it stormed right after you wore your favorite pair of Nike shoes, would you risk damaging them in your washing machine to put them on again the next day? But can you put shoes in the dryer? Below might just help you!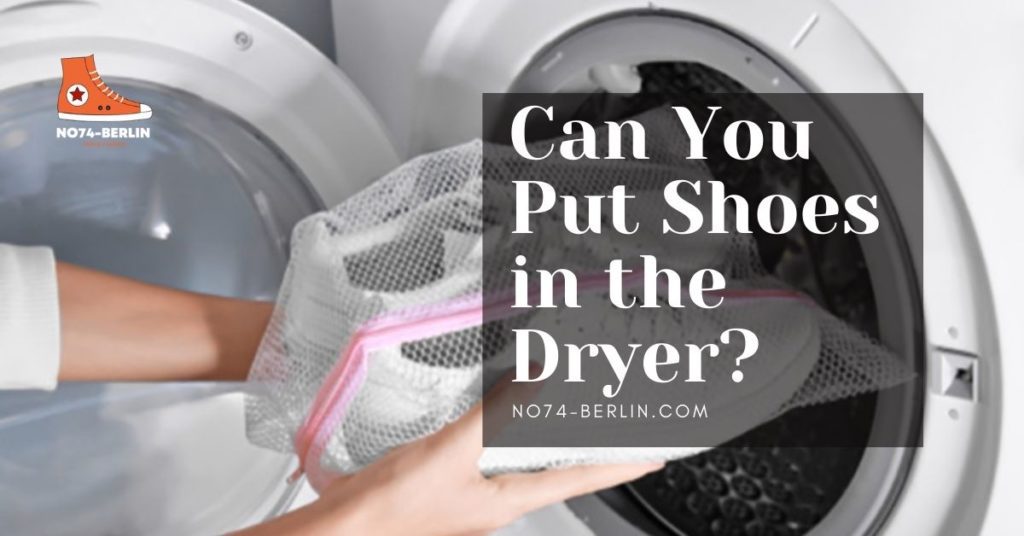 So can you put shoes in the dryer without damaging them? Sure — with the right settings and techniques, you should be able to clean them a bit and dry them in a dryer. However, if not done right, it can do some damage.
By the way, you might think it's fine to throw just any ol' pair of shoes into the dryer — but you'd be wrong. Throwing your heavy work boots or expensive suede shoes into the dryer can cause damage that will make your footwear unwearable for good.
Check out below which shoes can be dried in the dryer.
Can You Put Tennis Shoes in the Dryer Without Damaging Them?
When you play a lot of tennis, your shoes can take quite a beating. Tennis shoes are specifically designed for this type of sport, but the high level of activity and movement often results in smelly and dirty shoes. Before hitting the courts again, it would be best to clean them thoroughly so they don't distract from your game.
Washing them by hand takes too long and can be a tedious process. This is the same with air-drying them. If you are in a rush, tossing them into the dryer will let you get them ready to wear in no time at all. But you need to do it right!
Can you put tennis shoes in the dryer without damaging them? Yes! And below is the proper way to do it.
1. Check the Tags
Before cleaning your sneakers, make sure to check all the tags and keep an eye out for "hand wash only." If it says something like "hand wash only," then don't put them in the dryer!
2. Double-Check
If you didn't find any tags that say something like "hand wash only," you need to double-check how you should treat your pair of shoes. If it's leather or canvas, try googling the brand and product name, search for washing instructions, or even give the customer service hotline a ring.
3. Pull out the Shoelaces
Then, carefully pull out the shoelaces. Be sure to thoroughly clean them and remove anything that might be stuck in the lace holes before putting them in the dryer. This will help prevent damage to your shoe.
4. Clean the Soles
Set aside the shoelaces and clean off any dirt on the soles of the shoes. Brush them with a dry brush and wipe them with a damp cloth.
5. Toss them in Warm Water
Toss your tennis shoes in warm water and the laundry detergent and let them sit and soak. OxiClean is a fantastic laundry detergent for this. You might want to give it a try.
6. Put them in the Washing Machine
Put your tennis shoes and their laces into some lingerie bags. Toss them in the washing machine and give them a good wash. 
7. Dry them
After washing your shoes and laces, you can place them outside in the sun. Make sure the shoes are bone-dry before attempting to lace them back up.
If you need them ASAP, you can put them in the dryer. Before that, stuff your tennis shoes with medium-sized towels first. When the shoes are in the dryer, the towels will help absorb some of the moisture and keep your footwear from losing its shape.
TIP:
Make sure you dry your tennis shoes on a low heat setting — like air drying or "air only" — because if you use a high heat setting, your shoe will shrink or get deformed.
Can You Put Memory Foam Tennis Shoes in the Dryer or Not?
If you're wondering whether can you put memory foam tennis shoes in the dryer or not, the answer is no. Heating memory foam tennis shoes will separate its layers, so it's best to let them air dry – that'll keep them in shape for a longer period.
Can You Put Leather Shoes in the Dryer Without Damaging Them?
Heat and leather are a match made in hell.
Heat causes leather to become less sturdy and flexible, which means that it will warp in the heat. If you're going to put your leather shoes in the dryer, they're going to stretch out and become misshapen. They'll have indents, creases, and wrinkles. These are unfortunate side effects of heat. There's simply no way around them.
Also, when shoes are dyed as part of their manufacturing process, the dye is applied to the upper leather. Since leather is a porous material and soaked in the dye for weeks at a time while it's being made, it's easy for the dye to run when exposed to high temperatures.
So I would not recommend putting them in the dryer, as it can damage them. But if you do have a pair that got wet and they've been sitting out for a while, here's what you need to do.
Instead of placing them near a heater to dry, turn them on their sides (NOT sole down) with some paper towels inside to soak up any moisture. Then turn the shoes on their sides and leave them in a place with good circulation. Keep an eye out for mold!
Once they're dry, place shoe trees made out of cedar wood inside them to help keep them smelling fresh and restore their shape. You can also put a little bit of leather lotion or cream on the exterior to keep it soft.
Can You Put Canvas Shoes in the Dryer Without Damaging Them?
Canvas shoes are usually very safe — the rough material used to make them is similar to that of sails or tents. Widely worn canvas shoes typically have a rubber sole, which is the most flexible option in terms of comfort. In general, they've got plastic or metal pieces attached to the bottom for your laces to wind through.
So again, can you put shoes in the dryer — Canvas shoes for example? You can put canvas shoes in the dryer. Converse shoes are a great example of a shoe made from canvas material — because of its flexibility, you don't need to worry about the shoe bending too much.
Can You Put Steel Toe Shoes in the Dryer Without Damaging Them?
So you can put tennis and canvas shoes in the dryer but not leather shoes. But can you put steel toe shoes in the dryer?
Using your dryer to dry steel toe shoes will cause the material to disintegrate. So can you put shoes in the dryer — specifically steel toe shoes? The answer is a big NO.
It may be tempting to use your appliances for anything they are not intended for, but there are better ways to deal with the situation. There is a reason that steel toe shoes don't fare well in low-heat dryers: the leather material which what they're usually made of is too delicate.
So what you can try instead are the following:
Use a Shoe Dryer
Using a shoe dryer is an effective solution for quick and efficient shoe drying. 
If you've invested in steel-toed shoes or several pairs of shoes, the boot dryer can be an optimal choice. A small-sized 2-horsepower version is enough to effectively dry your shoes and other garments while providing optimal comfort during the whole process.
Drying shoes with a shoe dryer reduces the time you spend drying them to just a few minutes. However, a shoe dryer may not work for some types of shoes. 
Use Newspaper!
No matter how carefully you treat your shoes, it's easy to damage them when drying. Paper towels, on the other hand, are guaranteed not to damage your shoes in any way. However, this method is slow.
Make sure your shoes are clean and that the insoles are removed before you start this process. Next, wrap them in a few sheets of newspaper. Although it may take longer to completely dry your shoes with this method, this is safer.
If you don't have time to wait for your shoes to dry naturally, grab another set of newspapers and throw them over your shoes. This should help them air out faster than leaving them inside overnight.
Use a Fan
If you're looking for a quick and effective way to dry your steel-toe shoes, try blasting them with a powerful fan.
Set the fan blow directly onto the surface of the shoe, and watch as that moisture quickly evaporates. This will help your shoes dry faster — plus, it'll take up less of your time and energy. It may even be enough to dry your shoes overnight, so you can wear them to work in the morning!
Before you dry wet shoes with a fan, make sure that they are clean. Remove the insoles if they can be removed. Toss them in the dryer for an hour or two to get them warm again; then insert them back into the shoes.
Next, tie some old wires around the soles of the boots in an "S" shape. Hook this wire up to your fan so that it is blowing air through your boots.
NOTE:
If your steel toe shoes come with leather construction, hang them outside in direct sunlight to make sure they dry completely.
Use a Towel
A towel sheet is just as useful for your steel-toe boots!
To dry your steel-toe boots, a simple absorbent towel will do the trick. But first, you have to make sure that the towel sheet itself is completely dry and clean of any residue so that it won't further damage your hard-working boots.
Then, simply wipe off all dirt with a dry cloth. Remove the laces and the insoles. Wrap each shoe in a dry towel. Then put them in front of a fan to blow air through them until they are completely dry.
Keep Them in the Sun
The best way to dry your steel-toed shoes is to leave them somewhere sunny. The sun will naturally evaporate the moisture and kill the pathogens. This makes a much more effective method than doing the aforementioned methods above. 
Yes, this method does require you to be patient. Know that there are quicker ways to dry wet steel toe shoes, but letting them dry under the sun is the easiest.
With this method, you risk not being able to avoid the rain. Also, avoid placing your shoes where it's hot enough for them to get sunburnt or damage leather.
Use Rice
Fill a plastic bin with rice. Keep both shoes in the bin, then shut the lid. The rice will draw out moisture to help your boots dry faster.
Using rice to dry shoes isn't guaranteed to work on all shoes especially if they are very wet. The rice may not be able to absorb all the water. But if you're looking for a simple way to dry your damp shoes, this is a great option.
Stuff Heated Rocks
Over-moisturized footwear can cause devastating injuries to your feet. If a boot is too wet, it can cause foot rot, blisters, and cold injuries. This video from InnerBark Outdoors demonstrates how you can dry out your steel-toe shoes by stuffing them with heated rocks.
Can You Put Suede Shoes in the Dryer Without Damaging Them?
Again, can you put shoes in the dryer? Let's say, can you put suede shoes in the dryer without damaging them? The answer is it's not a good idea. I highly advise that you should never put suede shoes in the dryer.
While you may think that it would be the most efficient way to get rid of excess moisture, you'd end up ruining your shoes! Drying suede in a machine causes the material to lose its signature softness and texture, and it'll become stiff and misshapen.
Try to air-dry your suede shoes instead of throwing them into the dryer. Or you can do the following steps below.
1. First, get rid of all that excess water. Grab some paper towels or a soft cloth and dab it up. Make sure you soak up all the moisture. If there are any wet spots left behind, use a blotting motion to absorb them.
2. Next, use a toothbrush or any soft brush and gently scrub the suede, moving backward and forward, for about two minutes.
3. If you have a hand dryer, lean the item against it for an additional two minutes of scrubbing time. Be mindful that too much heat can scorch the material and ruin the look and feel of your shoes.
Once the shoe is dry, use a suede eraser by brushing against the nap. This will get out dirt and dust and help to bring the nap back from flat to fluffy. Afterward, use a soft brush to smooth the nap back down.
So again, can you put shoes in the dryer — Suede shoes in particular? Just don't.
Can You Put Nike Shoes in the Dryer Without Damaging Them?
This depends on the type of shoe and the materials it's made of. If the question is 'can you put Nike shoes in the dryer without ruining them?' the answer would simply be – don't even think about it!
If you want to get your shoes dry, take them from the shoe rack and hang them in a shaded area at room temperature. Never put your Nikes in the dryer. Most sneakers aren't designed with high heat in mind.
Nike sneakers are made from synthetic material. They are great as they stay dry for a long time. Just try to air them out after each use. Even if you can see that there is no more water on your sneakers, they are still wet inside and should be dried naturally.
Check out their website to learn how to clean Nike shoes properly if that's what made you ask 'can you put Nike shoes in the dryer?'
Can You Put Wrestling Shoes in the Dryer Without Ruining Them?
Wrestling shoes need to be air-dried, not machine-dried. High heat will cause shrinkage and fading, which will set in any kind of stain — sweat included. Be sure to hang your wrestling shoes to air out, not exposing them too much to heat or sunlight.
Wrestling shoes can cost a lot, and they're not cheap to replace either.
Your wrestling shoes get dirty. If you don't wash them properly, the dirt will show through the white canvas. If you're going to wash your wrestling shoes, remove the shoelaces first and then wash them separately by hand.
To clean your shoes, fill up a bowl with warm water and add a little bit of liquid detergent to create a sudsy mixture. Then, moisten an old, soft cloth or sponge in the water and rub it across the leather of the shoes.
The circular motion will help break down dirt as you go. Do not scrub too hard, as that can damage the material. Make sure to rinse off your shoes often so that you don't leave residue on them.
After washing them, can you put wrestling shoes in the dryer to dry them? The answer is a definite NO! When finished, allow your shoes to dry away from heat or direct sunlight instead.
Can You Put Shoes in the Dryer With Clothes?
If you're wondering whether can you put shoes in the dryer with clothes or not, then I'm here to tell you: no, you absolutely cannot do that. It's not a good idea. Besides, if the dryer has a lot of stuff in it, your shoes could take longer to dry.
If you insist on doing it anyway, make sure they're not leather or suede shoes, use a protective sheet between the boots and clothing, and use low heat.
Can You Put Water Shoes in the Dryer or Not?
Some water shoes are designed to be machine-washed. Others must be hand-washed even when they're dry, too. We recommend that you check the tags on your water shoes for specific instructions.
We all know that water shoes can be worn in and out of the water, but there is one thing you must never do to your pair of water shoes: put them in the dryer when they're not meant to.
Sadly, we have all seen this happen to someone or another — maybe even by accident. Slowly drying out your favorite pair of water shoes until they end up warped and gross.
If you're looking for information on how to clean and dry your water shoes, these are the steps we recommend:
1. Each time you use them, wash them in clear water.
2. If you have a removable sole, remove it and wash it separately.
3. You should be able to machine-wash your aqua shoes — at 30 degrees Celsius (86 Fahrenheit) if the label allows it.
4. Air dry your shoes at room temperature, never in a dryer or a hot environment.
5. It's OK to put the removable sole in the dryer after washing it separately in the machine.
Check out this video by Subea if you want to learn the proper way to maintain your water shoes.
Can You Put Adidas Shoes in the Dryer or Not?
You can throw your Adidas clothing in the washing machine standing up in a pillowcase to prevent any surface damage from occurring. BUT you should never place your Adidas footwear in a dryer.
The heat can be too intense. Dryers break down the fibers in the fabric, which leads to faster wear and tear on shoes.
When cleaning your Adidas shoes, avoid these three things: heat, harsh chemicals, and brushes.
Heat can change the shape of your running shoes. Using bleaches or harsh chemicals can strip the shoes' material, causing discoloration. And scrubbing and brushing hard can scratch the shoe's delicate surface, making it unusable for long runs.
So again, can you put shoes in the dryer — Adidas shoes in particular? No!
Can You Put Gym Shoes in the Dryer or Not?
But beware: putting gym shoes in the dryer not only shrinks and warps them, but it can also make them lose their shape and fall apart. For good-quality shoes, the best place to dry is on a drying rack.
You can also air-dry them outside or set them in front of a dehumidifier, air vent, or fan. Leave them outside overnight. Ideally, you should select a drying spot where there won't be any direct sunlight — this could cause them to shrink and become unfit.
So again, can you put shoes in the dryer — gym shoes in particular? It's down to what they're made of. But mostly, they're made of materials that ban them from making it to the dryer. So, it would be best to NOT put them in the dryer.
Can You Put Puma Shoes in the Dryer or Not?
The important rules of sneaker care: never use high heat and always allow shoes to dry naturally. The same applies to puma shoes. High heat can ruin the upper material, which is why it's crucial to never blow-dry them or put them in the dryer.
What you should do instead is simply let them air-dry for 24 hours. High temperatures with direct contact can also damage padding, so avoid using heaters or ovens whenever possible as well. I know many are curious about this.
So can you put shoes in the dryer — Puma shoes to be exact? We don't recommend it.
Can You Put Mesh Shoes in the Dryer or Not?
Hanging your shoes on a clothesline to air dry for 24 hours is an age-old trick to remove moisture that can cause damage. It works great for drying mesh shoes.
Indoor or outdoor areas that receive plenty of air circulation make the best shoe dryer locations. Avoid basements and garages, as they tend to be poorly ventilated and can lead to mold growth on your shoes.
To get your shoes dried quickly, place an electric household fan in front of them. Can you put mesh shoes in the dryer or not? You should never machine dry mesh shoes! This could ruin the mesh material.
So can you put shoes in the dryer — mesh shoes for this matter? Don't!
Can You Put Basketball Shoes in the Dryer Without Damaging Them?
Some people might think that they can just throw their basketball shoes in the washing machine and machine dry them. Although that might be tempting, it's not a good idea.
The act of putting your footwear through this sort of rigorous treatment can damage the soles and seams. And that could mean you'll have to go out and buy new shoes much sooner than you wanted to.
If you own Adidas basketball shoes, you might be looking for answers to whether can you put shoes in the dryer or not. Here's what you need to know. Adidas warns that high heat can alter the shape of your basketball shoes. 
Rubber shoes are at risk of losing their effectiveness when heated, making them more likely to tear and break during physical activity. Store your shoes at room temperature and hand dry them for the longest-lasting performance.
So can you put basketball shoes in the dryer or not? You can but we would not advise that you should.
Conclusion
Can you put shoes in the dryer? Of course, ONLY IF they're made of materials that allow them to. There are shoes made of synthetic materials that can handle a tumble in the washer or dryer. You can machine dry most tennis shoes and canvas shoes.
However, if your favorite pair of kicks features a premium leather build and/or have suede, rubber soles, or fabrics that are prone to shrinkage and other deformations, it might not be advisable to throw them in the dryer.
There's nothing wrong with following the manufacturer's recommendations unless you want your shoes to fall apart sooner than they should!
If you have questions, please leave them in the comments below. We'll do our best to help you.