The best outdoor basketball shoes do not only have traction which is deep and wide, but also light and flexible midsole, durable rubber outsole, and an excellent overall fit. These features combine to make the Jordan Jumpman Team 1 the top outdoor basketball shoe on the market.
Good basketball shoes for outdoor courts are essential. When you play on an outdoor court, you'll likely be dealing with a rough surface, changing weather, and everything else that comes with the great outdoors. 
To get through the season with your joints and ankles intact (and so you can continue to play), it's best to invest in a high-quality pair of shoes like the Jordan Jumpman Team 1.
Basketball shoes have to perform specific tasks. Whether you're a beginner or a professional athlete, you'll want the best shoe for your specific playing style. 
Whether that's a shoe with more ankle support, something comfortable, or a firm grip on the floor, your choice will reflect your personal preferences and athletic ability.
When choosing outdoor basketball shoes, brand and reviews are just the starts. Price is also an important factor that plays a big role in determining which pair you'll stand by. 
More affordable options may not be as durable, but they still give the performance you need to get your game on.
We've narrowed down your options. See our picks for the best outdoor basketball shoes and keep on reading below.
Best Outdoor Basketball Shoes in 2021
10 Best Outdoor Basketball Shoes Reviewed
 There are hundreds and thousands of articles on the Internet where people recommend basketball shoes – you can find lists even on comparison sites like "Best Outdoor Basketball Shoes 2021 [Most Durable Picks]". 
Here is a list not only with their links, but also their very detailed reviews and a buying guide with an inclusion of a video or two which helps clarify the factors you need to consider when buying the best outdoor basketball shoes for you. 
Style sometimes has its place in basketball!
Jordan Jumpman Team 1 – Best Overall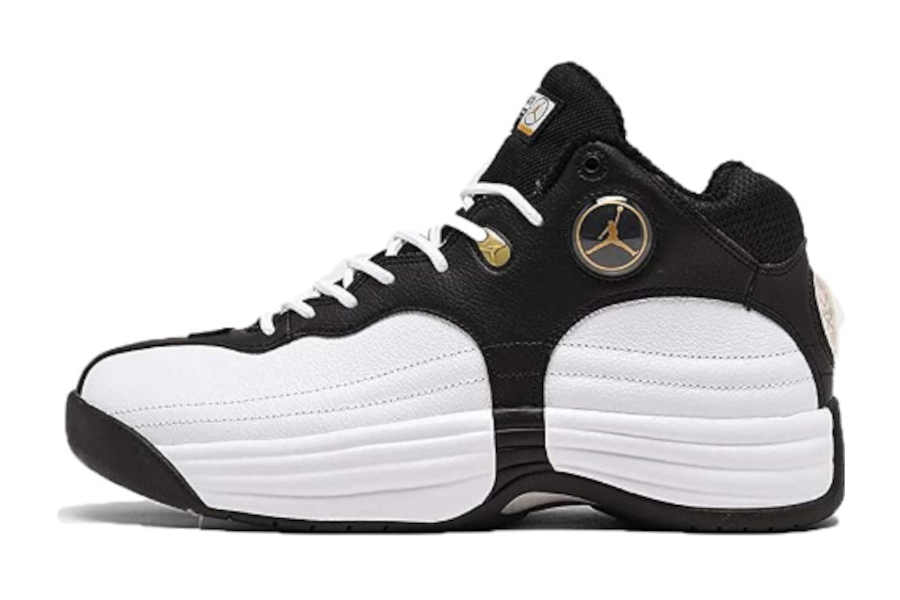 The Jordan Jumpman Team 1 Basketball Shoes draw inspiration from the original Jordan. They have premium styling that will get you noticed on the court, but their performance won't hold you back. No wonder why these are the best outdoor basketball shoes Reddit users who love basketball would always recommend.
They're crafted with textured synthetic leather and for comfort as well as style. A rubber outsole ensures traction while the shoe's midsole provides a springy feel so you can react to other players on the court.
Leather and nubuck upper provide a premium on-court feel, while the Nike Zoom unit in the heel and forefoot propels you forward with every step. A phylon midsole provides a soft, comfortable landing with every stride.
The Jordan Jumpman Team 1 Basketball Shoes has a multidirectional traction pattern, providing you with excellent grip when you need to pivot or turn at a moment's notice. 
The heel-to-toe transition is easy for the Jordan Jumpman Team 1 Basketball Shoes, and the shoes are super durable — even with their well-cushioned interiors.
The Air Jordan Jumpman Team 1 Basketball Shoes is a relatively new shoe with an excellent balance between style and performance; it's proven extremely popular among both casual athletes and serious pros.
We never thought that these would be our overall best outdoor basketball shoes. Reddit turns out to be right after all.
Under Armour SC 3Zero – Runner-Up
For our ultimate pick for the best basketball shoes for outdoor courts, we have Under Armour SC 3Zero basketball shoes. These are for those who love to play outdoors and want something new other than Jordans.
These shoes provide great stability and cushioning, which makes them suitable for running around. It is undeniably the best basketball shoes for outdoor courts.
These shoes have durable synthetic leather and mesh construction that offer comfort and breathability, while an internal midfoot shank helps to improve your stability as you run. 
You can also enjoy a comfortable wearing experience thanks to padded collars and tongues, and cushioning EVA sock liners.
Exhaustive research and testing led to an unconventional rubber sole design that's unlike anything else on the market. The 3Zero Rubber Sole is durable, has a large surface area for traction, and provides good grip and control on outdoor surfaces.
Under Armour SC 3Zero has a half bootie construction for lasting comfort and is also adjustable. They are the best basketball shoes for outdoor courts that provide optimum traction and grip.
Nike Air Versitile Iii – Best for Casual Use
Fancy awesome Nike kicks? You're going to enjoy an outside game of basketball more with our third best outdoor basketball shoes.
Nike has been one of the most popular shoe brands in the world for decades now, and it is continuing that trend with its arsenal of basketball shoes. 
The Nike Air Versitile Iii are the best Nike basketball shoes for outdoor use since they are specially designed to provide players with what they need while playing: a comfortable experience, speed, and traction for playing outdoors.
The nubuck and mesh upper of these Nike Air Versitile III shoes make for a comfortable fit with a breathable interior and an extra-grippy rubber sole. These are perfect for the outdoors, and they'll keep your feet comfortable in a variety of conditions.
These outdoor basketball shoes safeguard your ankles with the extra padding on the Achilles. You can wear the footwear during vigorous play in NBA games, as the feature helps protect you from bumping into other people while jumping and running over rocky, uneven fields.
With a half-bootie design and breathable mesh construction, the Flystepper basketball shoe delivers exceptional comfort. The overlays have cut-outs for breathability and form to fit your ankle perfectly, while durable rubber protects your foot from the hard edging of the court.
Nike's signature visible Air in the heart of this shoe is as comfortable as it is fashionable. The upper blends seamlessly with the laces to support a design that is sleek and eye-catching. These are the best Nike basketball shoes for outdoor use.
Adidas Pro Next 2019 – Best Value
If you're looking for the best Adidas outdoor basketball shoes that look as good as they perform, you'd be hard-pressed to find a better option than the Adidas Pro Next 2019 Basketball Shoes. 
These shoes have a durable design that combines beauty and performance. They feature an innovative traction pattern that provides traction during outdoor games and practices. They offer superb comfort along with breathable mesh uppers.
Adidas Men's Pro Next The 100% leather upper, textile panels, and premium synthetics keep feet protected no matter what the game. The zonal traction pattern in the forefoot provides enhanced grip through quick turns and sharp stops.
The Cloudfoam midsole feature of this shoe provides resilient cushioning with every step for exceptional comfort that lasts all day long.
The Pro Next is a superstar among affordable shoes and will win you over with its pep and vigor. Made of mesh, this shoe will keep your feet cool even in hot intense games.
Its cupsole design that's built high and solid, can keep the most agile of dribblers in your sight. These cleats will give you a more comfortable fit thanks to their stretchy construction. It is the best Adidas outdoor basketball shoe for a reason.
Adidas Dame 5 – Best Traction
When it comes to the Adidas Dame 5, its motto is true: "Be Yourself." The shoe's classic style is naturally bold and stylish in a way that it doesn't require any kind of bells or whistles. It also has excellent grip making it the best traction basketball shoe for outdoors.
Adaptive cushioning and non-slip surface technology give these NBA basketball shoes from Adidas outstanding traction. They mould to the shape of your foot, providing a comfortable experience on the court.
The built-in mesh provides you with the best custom-tailored fit for each of your actions. In other words, it's a shoe that matches whatever style you choose to play in the most comfortable way possible.
This pair of outdoor basketball shoes have an extra layer of cushion embedded into the sole from the inside, making it bouncy and supportive. It is also providing you with exceptional stability. 
Just between the bootee and the collar is a breathable mesh layer to ensure a perfect fit for your foot. Overall, this pair is lightweight with the best traction control on the market.
Treat pattern rubber outsoles is also this shoe's special feature. It is a dotted texture that mimics the look of an ice-cream cone but instead, it's built for traction. Adidas Dame 5 holds the title for the best traction basketball shoes outdoors.
Under Armour's Spawn – Best Low Top
Under Armour's Spawn Low-Top Sneakers are an inexpensive way to enjoy a high-performance shoe. Instead of sacrificing comfort for the sake of weight, Under Armour has designed a shoe that puts both at its core. 
Under Armour is for moving with you, whether you're playing sports or just walking around the city. These shoes are the best low-top outdoor basketball shoes.
Low-top Under Armour sneakers have a durable synthetic and great textile construction. This gives them both long life and excellent support, which means they can withstand the high intensity of basketball games and keep you safe.
In addition to the technical features, Men's Spawn from Adidas also offers a great look and feel. The mesh upper breathes much better than your average shoe, and the Die Cut EVA sock liner is soft and comfortable against the foot. This allows you to play harder for longer without any discomfort.
The Micro G foam on the midsole of this footwear also offers both comfort and responsiveness. Enjoy explosive takeoffs when running or jumping.
The outsole design makes sure you always have a strong grip on multiple surfaces. The low-top design lets you move freely, making it the best low-top outdoor basketball shoe and allows you to play aggressively.
Adidas Harden Stepback  – Best Budget-Friendly
Adidas has broken into the basketball sneaker market with a budget-friendly outdoor model. The Adidas Harden Stepback offers an unbeatable price and quality combination thus garnering the best cheap basketball shoes outdoors for this list.
The Herringbone traction pattern made popular by the Harden Vol. 1 is legendary, but it's not perfect for every court. Now, the Create Your stepback shoe takes what's great about the original and twists it. 
These shoes' impact protection is firm and responsive, while the bounce cushion is soft and forgiving.
Featuring a herringbone outsole that has a new material treatment, the shoe grips as well as ever on clean courts but also doesn't mind if you're taking your game to the streets or playing on dusty courts.
On the other hand, the shoe also attracts dirt easily. Because the upper is fabric instead of leather, it's not the easiest to maintain as it should be considering its price point. But, it is still the best cheap basketball shoes outdoors.
Nike Lebron Soldier XIII SFG – Best Top Rated
Nike's LeBron James' "Soldier" series with Nike Lebron Soldier XIII SFG is widely known for its performance and quality — and not without a reason. 
The shoe got its name from LeBron's admiration for the American troops, and the unique design embodies LeBron's passion to help serve those who serve America.
The Lebron Soldier XIII SFG encapsulates all of the elegance and style of the LeBron soldier series with a unique high-top design and extended tongue for support and comfort. 
The dual straps on this model ensure that your feet stay in place no matter how much you're running or jumping, making it a favorite for athletes and fans.
With the durable rubber outsole with a herringbone tread pattern, this shoe delivers control over multiple surfaces, especially outdoors while keeping you comfortable and stable during your run. 
The SFG Zoom Air unit in the heel and the foam-padded collar work in tandem to create a powerful lift off the ground, giving you that extra burst forward.
Nike Lebron Soldier XIII SFG is absolutely a shoe to beat when it comes to being the best-rated outdoor basketball shoes.
Nike Men's Air Precision – Best for Wide Feet
If your style is not all about the flash, but more about comfortable hoops and a reliable shoe, you'll love the Nike Men's Air Precision. 
This low-key pair has sneaker staples like a padded collar and durable rubber soles perfect for men, with a great fit that helps you move without compromising your style.
The Nike Air Precision has a rubber outsole that provides superb traction, while the lightweight Phylon midsole offers responsive cushioning. For the best men's outdoor basketball shoes, this pair from Nike is a great choice.
This Nike Air Precision is great for men who are looking for a sports sneaker with great shock absorption and protection and also fits wide feet comfortably.
It's a lightweight, soft-engineered leather sneaker that delivers comfort in every step. A TPU heel clip gives additional support and stability. Perfect for men who want the best outdoor basketball shoes.
Under Armour HOVR Havoc 2 – Best for Women
The Under Armour Women's HOVR Havoc 2 is an ultra-light outdoor basketball shoe that combines the best technology from the brand. It is the best women's outdoor basketball shoes.
Lightweight and extremely comfortable, for you to boost your performance, allowing female players to complete training sessions or game plays without feeling uncomfortable.
Under Armour's commitment to lightweight comfort, flexibility, and supreme cushioning has never been as evident as it is in the Under Armour Women's HOVR HAVOC 2. 
With its full-length micro-moulded upper, this shoe hugs your foot and conforms to the shape of your ankle for a perfect fit. The shoe's extra thick outsole is both flexible and reliable, whether you're working on shooting drills or hitting the court with friends.
These shoes are by far the best women's outdoor basketball shoes that female athletes will adore.
Best Outdoor Basketball Shoes Buying Guide
Make sure you have the right pair for your outdoor court. If you're buying basketball shoes for outdoor courts, make sure they have all these factors below.
Durability

Durable Upper Material
Durable Rubber Outsole

 Traction-Traction Pattern
Comfortability-Comfortable Cushioning
Affordability-Budget Friendly
Rubber Outsole
The outsole is the most exposed part of a shoe; it suffers from the harshness of the court surface. Should it be fragile enough to fall apart from the surface, then there's a chance for the shoe to end up with holes in its soles or a flimsy grip.
Shoes with a solid and dense rubber outsole are best for asphalt court conditions. They provide great support, ensuring your feet will last as long as the shoes.
Upper Material
Basketball players are notorious for stepping hard on their opponents' toes. The sudden burst of force causes acute pain, which can last even after the game is over. 
While basketball shoes have a design to absorb most of that impact, they must be from durable materials like mesh and synthetic leather — with reinforced stitching throughout to prevent ripping.
In addition to fast moves, sudden stops are also a frequent occurrence in basketball. Make sure the upper material is durable enough to hold up your foot — lightweight and breathable mesh or fuse will be best. 
Proper ventilation will keep your feet comfortable and dry, giving you more time to go on the court!
Traction
The outsole of the shoe has a special traction pattern designed to give you better outdoor control and grip on a variety of different surfaces. The deep grooves on the outsole are great because they attract much less dirt than conventional traction patterns. 
As a result, the bot will stay clean and have a great grip on outdoor surfaces for a long time.
A herringbone pattern is a popular choice for outdoor courts. This particular design offers solid traction and better control, allowing players to move quicker in any direction. The pattern is also great for multidirectional moves since it naturally widens the court space.
Comfortability
Basketball courts are different to play in. Outdoor courts are not only hard on the knees but they're also more likely to result in injuries. Playing indoors, however, is the best way to double your fun and reduce the risk of getting hurt while getting a great workout.
When you play basketball, you need a shoe that can offer you support in all the right places. Especially when outdoors, you'll want to have strong, durable soles that can withstand heavy use. 
For outdoor games, choose your footwear from a supplier with some of the most comfortable midsole cushioning and highest-quality materials.
Affordability
Like any other sports equipment, a basketball player's shoes have an average lifespan of a couple of seasons. So instead of buying expensive basketball shoes, we suggest purchasing an affordable pair of basketball shoes. 
They'll be cheaper to replace, and they'll perform just as well on the court. Find the best budget-friendly pair without the need to sacrifice the necessary features, like traction and durable outsoles.
Here's a video of the best outdoor basketball shoes by Chris from WearTesters showcasing their top picks for best outdoor basketball shoes in 2021. Check it out!
Conclusion
Basketball is one of the most physical sports and fans will tell you no player can get into the game without wearing a pair of good outdoor basketball shoes. That is why we recommend the Jordan Jumpman Team 1 as a quality investment.
When you're playing on an outdoor court, you want to make sure you're wearing a pair that offers stability and lateral movement, but also flexibility. 
The only way to achieve this balance is with a premium shoe like Jordan Jumpman Team 1 that's designed to perform under pressure.
For women, the Under Armour Women's HOVR Havoc 2 offers great features like maximum comfort and support while playing basketball outdoors. An affordable option for women as well!
We recommend this for women who want an outdoor basketball shoe that delivers comfort and performance. Its sturdy sole and padded upper combine with an ergonomic design for the ultimate in cushioned comfort.
The Adidas Harden Stepback is for players who want an overall budget-friendly outdoor basketball shoe that's got the signature cushioning and traction from the brand. It's built for outdoor use, so it works well on hard courts or running through concrete streets.
We hope you've enjoyed our guide to the best outdoor basketball shoes for you. Drop us a comment and tell us about your experiences. Also, don't forget to share this article with your friends and family.