If you plan on winning the next wrestling match, then you'll need the best wrestling shoes on the market. The Asics Matflex 6 has all of the features you'll need to win as they are incredibly durable and have plenty of ankle support to last all season.
A wrestling shoe should be carefully tailored to the contours of your foot. The best designs have a natural arch that allows you to stand on your toes without the fear of hurting yourself. 
It should be tight around the front and back of your foot but have enough slack room for a comfortable fit around the midfoot. The Asics Matflex 6 is the best wrestling shoe that also comes with an insole board that supports your ankle.
The best wrestling shoes are necessary because they are specially designed to protect both your feet and ankles. With thick soles and yet a lightweight build, they can let you perform at your best. 
They give you great ankle support and protect your feet from injuries without weighing you down. 
Consider your needs first before choosing the best wrestling shoe. Do you want something with a low profile? Or are you looking for stability and support? Perhaps you need to be agile. 
Look for mesh or open-laced shoes. If you have small ankles, higher-cut shoes can do the trick. 
To make sure that you end up with the perfect shoe, you need to think about more than just how much you weigh or how tall you are. Different brands have different styles, and different styles will fit your feet differently. 
We've gathered the best wrestling shoes for you. Check out our list below.
Best Wrestling Shoes on the Market
13 Best Wrestling Shoes Reviewed
At last, here's a comprehensive list of the best wrestling shoes you could possibly find online or in stores. There are so many products out there to choose from which makes our job all the more difficult!
Anyway, we hope you find this list fruitful and would love to hear what you think about it.
ASICS Matflex 6 – Best Overall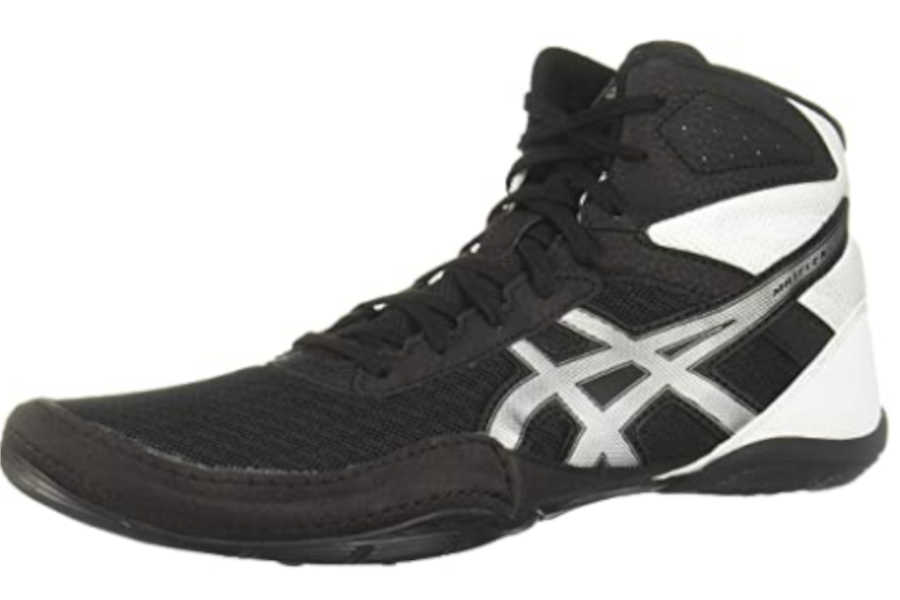 ASICS is a brand that has been making shoes meant to stand the test of time. The Asics Matflex 6 is no exception, with its durable design that will surely last. You can choose whether to be flashy or conservative with your style since it has a wide color range.
The Matflex 6 is a training wrestling shoe that you can also wear on the mat. With its gum rubber sole, you'll not only be able to grip and stay in place when you need to, but you'll also have the traction needed for explosive movements.
These wrestling shoes not only do a great job of protecting the ankles with their high tops but the Matflex 6 is also available at a more affordable price point.
They are amazingly the best cheap wrestling shoes that have all the amazing features of a great wrestling shoe.
Asics Matflex 6 is our overall best wrestling shoe that boasts affordability that does not sacrifice quality and durability.
These shoes are the best cheap wrestling shoes and are top of our list. It is also currently the best wrestling shoe in the market.
And did we mention that the ASICS Matflex 6 is one of the best deadlift shoes as well? Yup!
Adidas Mat Wizard 4 – Best for Youth
The Adidas Youth Mat Wizard 4 has a design that's built to perform, just like its adult counterpart. Its unique material makeup makes for an attractive shoe, perfect for everyday performance and play.
Now, if you're wondering why this is one of the best wrestling shoes out there, here are your further answers:
Adidas's Mat Wizard 4 shoes have a design that's for agility and comfort. With the trio of a mesh, rubber sole, and stretchy TPU upper, they'll mold to the shape of your feet for a custom fit that doesn't slip or slow you down on the mat.
The Adidas Mat Wizard 4 is for the earliest stages of footwork training. These wrestling shoes have a full rubber outsole with aggressive traction to help you to jump on the field. 
The EVA midsole wedge cushions your feet during training and helps to keep the youth in the perfect attacking position. 
It also has an anatomical shaped tape on the tongue and heel that not only looks great but ensures maximum comfort for growing feet.
In professional testing and user reviews, the Adidas Mat Wizard 4 has achieved high marks for its superior shock absorption, flexibility, and ventilation. Thus it is no question the best youth wrestling shoes.
Speedsweep VII – Best Value
When buying a pair of the best wrestling shoes, stability is key to preventing injuries during an intense match. The Nike Speedsweep VII wrestling shoes do the job, making them the best Nike wrestling shoes for the value they offer.
Being one of best wrestling shoes out there, the Speedsweep VII have rubber soles with multidirectional traction so that you can move swiftly and confidently across the mat.
Overall, the Nike Men's Speedsweep VII provides unmatched comfort, durability, and breathability. From the mesh upper to the Phylon midsole, Nike puts comfort at the forefront of design. It is providing you with a dry foothold that can stand up to any competitor.
These shoes have excellent cushioning. Its EVA sock liners provide comfort and protection for your feet. Whether you're practicing takedowns or catching kicks, you can be sure that your feet are in good hands when you lace up these shoes. 
They have a great design and they are one of the best Nike wrestling shoes in this product category.
ASICS Split Second 9 – Best for Stability
The ASICS Split Second 9 sits among the best Asics wrestling shoes on our list because it provides stability and speed, which are the top two features you need on the mat. 
When you're learning the ropes in wrestling, you need shoes that allow you to stay on your feet while giving you excellent support. You need one of the best wrestling shoes like the Split Second 9.
These shoes are light and flexible enough for you to take on any opponent, but they also offer a tight fit to help prevent injuries.
ASICS Split Second 9 enables you to take the initiative in your matches. The shoes, weighing only 2 pounds, have a split sole design and have seamless lightweight material to keep you agile and flexible on the mat or in the ring.
This is also complemented by a high-rise mesh collar that keeps your ankles and feet from tiring out too early in the match. 
However, this shoe comes with an innovative tread pattern that's designed to help you maintain your balance no matter how complex your moves get.
The ASICS Split Second 9 is the best wrestling shoe available because of its split-sole design, lightweight frame, and attractive look. The shoe's upper part has synthetic and mesh fabric to ensure a durable and flexible fit for any sized foot. 
The design boosts traction while the split-sole construction makes it super comfortable to walk or run around in. It is the best Asics wrestling shoes for sure.
Combat Speed 5 – Most Comfortable
Adidas Combat Speed 5 is one of the best Adidas wrestling shoes on the market today because it brings about an excellent combination of comfort, functionality, and aesthetics. 
This wrestling shoe offers the perfect balance of comfort and stability. The split suede leather outsole, die-cut Eva midsole, and rubber sole come together to give the wrestler complete control over their feet — and the space around them.
The split-suede leather outsole of this wrestling shoe provides a firm foundation from which to control and execute moves.
The Adidas Combat Speed 5 has multiple varieties to choose from, with price tags to match. The more expensive styles can cost around three times more than the budget-friendly style, but all in all, are worth the investment for advanced or professional wrestlers.
These shoes are among the best wrestling shoes that you'll truly get your money's worth. 
ASICS Aggressor 4 – Best for Pros
The ASICS Aggressor 4 is the favorable choice for advanced or professional male wrestlers. The ASICS Aggressor is a line of wrestling shoes that's been doing its thing since 2009. To this day, there's only one model that we're loyal to the Aggressor 4.
The ASICS Aggressor is a classic men's wrestling shoe that's known for its breathable collar and durable design. But there's more to this footwear than meets the eye. It feels like a cushion of air is into it.
This wrestling shoe has vents, a design to combat the problem of moisture building up inside. It reduces your chances of developing fungal infections, which are usually caused by sweating and having a wet, warm environment.
This wrestling shoe also comes with a duo-sole outsole that significantly reduces the shoe's weight and makes it highly flexible.
This wrestling shoe is excellent for ankle support. Its collar reaches up above your ankles and provides a stronghold, preventing you from misstepping or spraining the ankles.
Altogether, the ASICS Aggressor 4 is the best wrestling shoe for men, but it has one major weakness, the lack of its grip in wet mats.
ASICS Snapdown 2 – Best for Women
The Asics Snap Down 2 is a high-quality wrestling shoe for competitive female athletes who want top performance without having to shell out too much cash. 
With breathable mesh and a lightweight design, it's great for training and tough competition. These shoes are the best wrestling shoes for women.
The outsole of the Asics Snapdown 2 has a design that provides a wrestling-specific grip and flexibility to help you through every move. Developed for wrestling, this shoe uses the Serra traction pods that give you a better grip on the mat so you can always secure the best moves.
The new upper of the Asics Snapdown 2 features a blend of durable synthetic materials and breathable mesh to enhance flexibility and breathability. It's almost like you're wearing nothing.
These features are perfect for women who want a lightweight wrestling shoe but provides ample support during practice and matches. The Asics Snapdown 2 is the best wrestling shoe for women and the features speak for themselves.
ASICS Matflex 5 – Best for Beginners
Wrestling requires a combination of flexibility and technical prowess — you need to be in control of your body to excel. 
ASICS Matflex 5 will give you that extra edge: its innovative design encourages speed and agility, while the tight-fitting upper gives you a level of control over your entire body. The result? Improved performance will help you take your wrestling skills to the next level.
This wrestling shoe has 1,005 textiles and synthetic materials and features a breathable collar. What's more, it's resistant to odor and mold, so it can muffle sweat and keep your feet dry. This protects you against the athlete's foot, too — making the shoe easy to maintain.
Each pair of shoes feature a rubber sole that fits comfortably around your feet. It provides the perfect bounce, so you can move around the mat with ease. Each shoe features enough range of motion so that you can perform complicated pivots and sharp turns.
ASICS Matflex 5 Wrestling Shoes have a protective rubber sole with gum for traction, which lets you move around your opponent without slipping. This sole is light and highly flexible, allowing for quick transitions between offense and defense.
The upper of the shoe provides total support for your feet — these shoes are for tough situations. These shoes are the best wrestling shoes for beginners and intermediate players, but they might not be suitable for competitive professional wrestling.
Otomix Stingray Escape – Best Lightweight
Otomix Stingray Escape is a good option for grapplers who are looking to up their wrestling game. Despite having a design for combat sports like Muay Thai, fighters in MMA and boxing use it because it strikes the perfect balance of functionality, durability, and style.
Furthermore, unlike other wrestling shoes that only excel in one category, this shoe is a jack of all trades that excels in each of the aforementioned categories.
With an outsole that is thinner than a dime, the Otomix Stingray Escape Wrestling Shoes are comfortable and flexible shoes that can help you wrestle faster and better. 
They feature a suede collar that allows for airflow and keeps you cool and a Vibram grip sole for excellent traction on the mat.
An excellent wrestling shoe with a vibrant mix of colors, the Otomix Stingray Escape features a unique design that allows wrestlers to perform at their peak. It is also the best lightweight wrestling shoe.
Adidas Pretereo III – Best for Grip
The Adidas Pretereo III offers unmistakable style and a lightweight design that makes it a premier pair of wrestling shoes for every grappler. 
Offering a snug fit right from the beginning doesn't require a break-in period — making every wrestler on your team happy.
Made with the same traction as wrestling shoes used in the London 2012 Olympics, this wrestling shoe offers excellent grip on even, wet mats and surfaces. The anti-slip lining prevents you from slipping all the time so that you can get ready for the next move. 
Its lightweight design and single-layer mesh collar added to the amazing traction provide a comfortable fit and great performance.
If you're a wrestler, then the Adidas Pretereo III is the best grip wrestling shoe out there. It provides you with comfort and a strong grip on the mat, so you don't need to worry about slipping and injuring your feet during practice or competition.
ASICS Cael v7.0 – Best for Wide Feet
The ASICS Cael v7.0 is the first wrestling shoe with 8 lace-to-toe options. This makes the shoe a perfect fit for anyone who likes to pull off high-level moves in these shoes. 
You can make adjustments to accommodate varying ankle strength and lacing that can have a significant effect on how the shoes perform in the ring.
This shoe has a combination of breathability and support. The collar has Escaine, a synthetic material that provides powerful support while also being incredibly light and breathable. 
Meanwhile, the open mesh prevents overheating, so your feet will stay cool no matter how active you are.
However, some customers have noted that the shoe is a bit slippery to wear. While the non-split sole is an excellent quality, its design also puts a Cael Sanderson signature on the heel of this shoe. 
This lightweight quality has received praise from some customers who have found their weight to have a reduction of a bit over a pound and a half — making it ideal for training and competition.
These shoes are undoubtedly a popular pick among wide-footed wrestlers. They are the best wrestling shoes for wide feet for a reason.
Adidas Adizero 8.0 – Best Aesthetics
The Adidas Adizero 8.0 is one of the best-looking wrestling shoes that stand out on this list, and for good reason. 
These high-end shoes from ASICS are a great match for wrestlers. The lightweight and durable design are perfect for wear during rigorous training sessions, while the mesh upper offers enhanced breathability and comfort. 
The Adizero 8.0 strikes a solid balance between slippery and grip, allowing its wearer to pull off virtually any move during a wrestling match.
The mesh upper on the Adidas adiZero 8.0 is incredibly breathable and quick-drying. However, this can be its downfall, as you can't clean the shoes effectively. 
As a result, they tend to get dirty faster than most pairs. At a weight of 1.3 pounds for men and 0.9 pounds for women, they are one of the lighter pairs on our list.
These shoes will catch your eye. It is the best-looking wrestling shoe that you can find.
ASICS JB Elite III GS – Best for Kids
The ASICS Kids JB Elite III GS wrestling shoe is one of the highest-rated and best kids wrestling shoes there is. These wrestling shoes are the best split-sole design models available in the market. 
The sole style makes them highly functional, whether your kid is a novice or an experienced wrestler, he or she can benefit from its enhanced grip and stability.
The split-sole design provides more flexibility at the heel and toe than traditional wrestling shoes — making your kid a formidable force on the mat.
This wrestling shoe has a thinner tongue design than most brands. This is to lessen the chance that it cramps while still providing enough security around the ankle for a stable fit. 
The shoe was also made to get the laces up quickly, which is ideal for young wrestlers who don't want to spend extra time tying their shoes.
A few reviews have pointed out, though, that the split sole tends to peel off over time. This is a minor oversight that can easily be redone by future manufacturer's runs by using better adhesive.
Nonetheless, these shoes are the best kids wrestling shoes that you can buy for your kids who are just doing it for fun or for competitions too.
Best Wrestling Shoes Buying Guide
Choosing the best wrestling shoes depends on a lot of factors. You will need to look into the comfort, traction, material, and weight.
Comfort
The first thing to look for in wrestling shoes is comfort — most importantly, the way they feel around your feet. The best shoes should feel like an extension of your body. 
One of the biggest features you can look for in wrestling shoes is a solid grip, which makes it easier to grapple with your opponent and save yourself from falling.
Traction (V-shaped and Circular)
There are different types of traction on wrestling shoes, but the most important part of a shoe is how well it grips the mat. The traction style you choose should be the same as your style in the ring.
The traction of your shoes depends mostly on the style and weight you're competing in.
V-shaped traction is popular with wrestlers in the heavyweight category.
These wrestlers need a good grip to keep their opponents from escaping, which is why they use their V-shaped traction.
This design allows them to keep their feet firmly on the ground while they attack.
The circular grip is most effective for lighter wrestlers as they need to cover more angles in a short period. Their agility and rapid response contribute greatly to this necessary style of grappling — an advantage that circular grip provides.
Material
What's the best type of material for wrestling shoes? Although none of the options are bad, mesh, leather, suede, and nylon are all great materials for wrestling shoes. 
Each material has its unique characteristics — mesh is lightweight and breathable; suede is soft and durable; nylon is stretchy and flexible; leather is sturdy and tough.
Weight
The weight of wrestling shoes can affect a match greatly.
For starters, they are one of the items that are mandatory for all wrestlers, and if you're wearing heavyweight shoes, you will find it difficult to move around on the mat as easily as someone who is not wearing shoes at all.
Conclusion
When it comes to wrestling, the most important thing a wrestler can do for themselves is to purchase a pair of well-made wrestling shoes. 
We recommend the Asics Matflex 6 because its durable rubber outsole offers traction and stability, while its breathable mesh upper provides excellent ventilation and flexibility. It is the best-selling wrestling shoe in the market too.
The Asics MAtflex 6 is the most affordable wrestling shoe on our list. However, that doesn't mean it's any less great than the more expensive shoes. It's not just a value buy but it performs just as well as the rest of the competition.
For women, we suggest Asics Snap Down 2. Its lightweight design gives female wrestlers a superior grip on the mat and also offers a versatile option to wear when they're not training.
And that's a wrap for today's list of the best wrestling shoes. Tell us in the comments which pair you think is the best, and don't forget to share it with your wrestling friends.