Have you ever suffered from foot blisters simply because of ill-fitting shoes? Well, I have and even sought out a solution to stop blisters on the heels of my feet caused by shoes that were the wrong size. So before you buy a shoe, be sure to check the shoe size chart to find the best fit and avoid blisters and other ill-fitting shoe problems.
Below you'll see shoe size chart tables and a measuring guide to help you find the right size of shoes.
#1 Kids Shoe Size Chart
If you're going to buy your kids or little nieces or godchild a shoe, it helps to look at the kid's shoe size chart. Chances are they won't enjoy wearing shoes that are either too tight or too loose — and this could even lead to foot blisters!
Use the kid's shoe size chart below to guide your search. We laid them based on average shoe size by age chart.
Baby Shoe Size Conversion Chart (0-12 Months)
Walker Shoe Size Conversion Chart (12-24 Months)
Toddler Shoe Size Conversion Chart (2-4 Years)
Little Kids Shoe Size Conversion Chart (4-8 Years)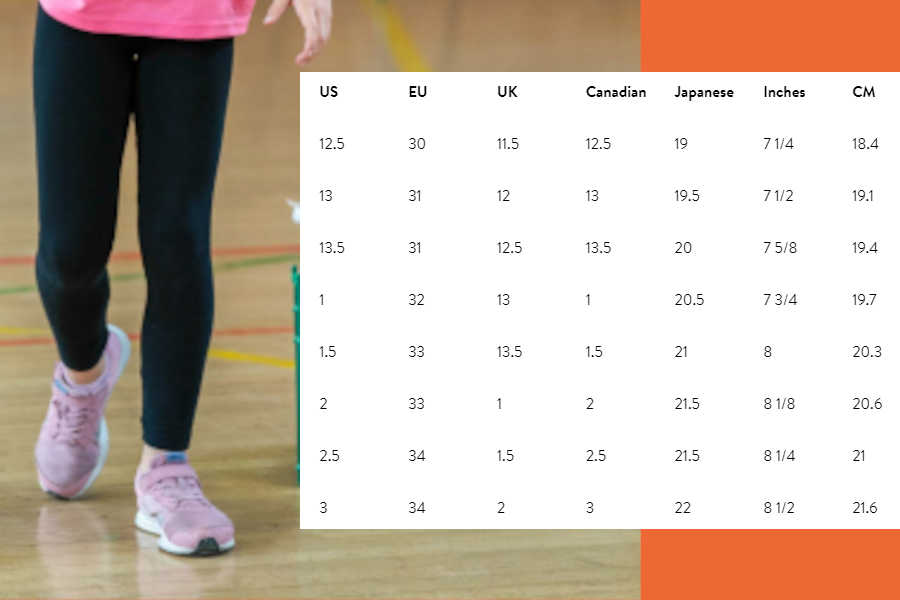 Big Kids Shoe Size Conversion Chart (8-12 Years)
Measuring Guide
You can measure your child's feet by downloading and printing our guide or following these easy steps:
1. With your child standing on a flat surface, place a piece of paper flat underneath their feet.
2. Mark the longest toe and heel with a pen or pencil.
3. Use a ruler to measure the distance between the marks and compare it to the kids' shoe size chart provided. If your child has larger feet, use the largest size that fits within your budget.
4. You need both feet measured.
2# US Shoe Size Chart
Different countries have different shoe sizes. In the US, for example, a size 9 is extremely different from a size 9 in Italy. To help you out, below are shoe size chart illustrations that cover men's and women's in the US, inches, and centimeters.
We're not going to include kid's here since they're already found above in the kids' shoe size chart section.
Men's US Shoe Size Chart
Women's US Shoe Size Chart
I also included downloadable and printable shoe size chart guides here. You can use it to determine your correct shoe size. Click this link if you're a woman, or click this link if you're a man. Use the chart's instructions to take measurements from your foot, and then plug them into the chart to find your perfect fit.
3# European Shoe Size Chart
European shoe sizing isn't broken down by age or gender, unlike other sizing systems. In the US, for example, there's a different system for kids' shoes than there is for adults. In Europe, this is not the case—children and adults share the same size range.
There are some exceptions to this. Asian manufacturers typically produce shoes in their own size range (usually smaller).
Unlike the U.S. shoe sizing system, where men's and women's shoes are almost entirely different due to the difference in their feet, shoes in European countries all pretty much use the same sizing.
A size 42 in Italy is the equivalent of a size 9 in the U.S. — and is hence unisex.
One popular myth about shoes that use the European sizing system is that they are made in Europe. Although some manufacturers do produce these shoes abroad, others continue to make them in the US and other locations.
It is simply referred to as "European" sizing because that's where its origin is and not because all of its shoes are manufactured there.
4# New Balance Shoe Size Chart
Trying to figure out the right shoe size for the New Balance shoes you want? No worries. New Balance offers a detailed sizing chart — both in US and UK sizes — that makes it quick and easy to find the right fit. And with half sizes up to women's 14 and men's 13, you can count on finding your perfect fit with ease.
Men's New Balance Shoe Size Chart
New Balance also has a handy measuring tool that you can print to help you get the right fit, regardless of the style, width, or size you need. Click here to download for men. Or, you can visit their website and look at their shoe size chart for men, women, and kids in the US, UK, and Europe.
Women's New Balance Shoe Size Chart
Women can find out their shoe size with New Balance's printable measuring guide. They also provide one. Click here to access it.
New Balance Kids Shoe Size Chart (0-4 Years)
New Balance Kids Shoe Size Chart (4-8 Years)
New Balance Kids Shoe Size Chart (8-12 Years)
You can also download New Balance's printable measuring tool here.
#5 Converse Shoe Size Chart
Thinking of buying Converse shoes?
That's great!
But before you do, know that Converse is doing its best to ensure that whoever gets their sneakers and apparel will be happy. So they also made shoe size chart guides. They're easy to read.
On their website, Converse lists a variety of size charts for all their shoes. You can also find the appropriate chart for any shoe on its individual product page. Converse has even provided a measurement tool to make sure that you'll have the perfect footwear for your feet.
But I took the time to get them and show them here to save you the hassle. Check them out below!
Infants & Toddlers Converse Shoe Size Chart
Kids' Converse Shoe Size Chart
Men's Converse Shoe Size Chart
Women's Converse Shoe Size Chart
What I like about buying Converse shoes online is that you can make sure your new pair of sneakers fit perfectly. Just add a half size up and then a half size down to your shopping basket, then return one of the two pairs that don't fit.
And shipping is free on all orders! They'll even cover the cost of sending anything back for any reason within 30 days of delivery.
#6 Puma Shoe Size Chart
Get to know your shoe size and how PUMA shoes fit before you get them. Few things are worse than waiting for an order of new trainers, only to find that they don't fit right.
So I decided to include PUMA shoe size chart guides here. I want you to be able to rock your new shoes, but with a fit that's just as fresh as the kicks themselves.
Check out the charts below or you can visit the PUMA shoe size chart guides on their website.
Men's Puma Shoe Size Chart
Women's Puma Shoe Size Chart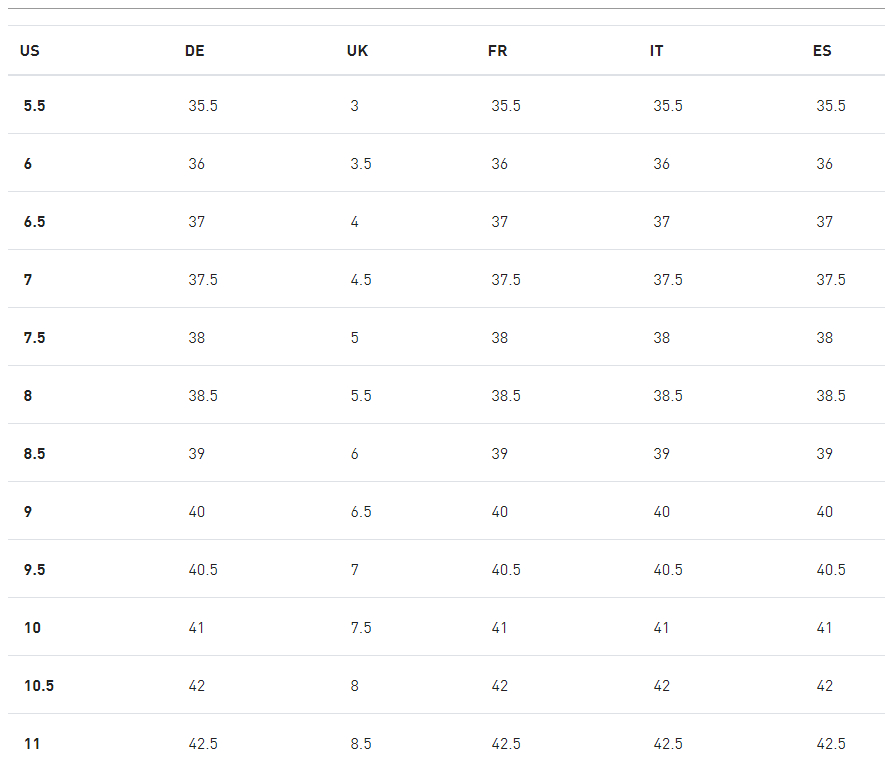 Unisex Puma Shoe Size Chart
Toddler Puma Shoe Size Chart
Little Kids' Puma Shoe Size Chart
Junior Puma Shoe Size Chart
#7 Nike Shoe Size Chart
Unsure of which Nike size is right for you? The Nike shoe size chart for men, women, and kids can be found below.
If you're on the main Nike website, just navigate to one of these sections and use your mouse to hover over any product. 
On the top right corner of every single product page is a section titled "Size Chart" with links to the appropriate size chart for each category (e.g., "Women").
Kids' Nike Shoe Size Chart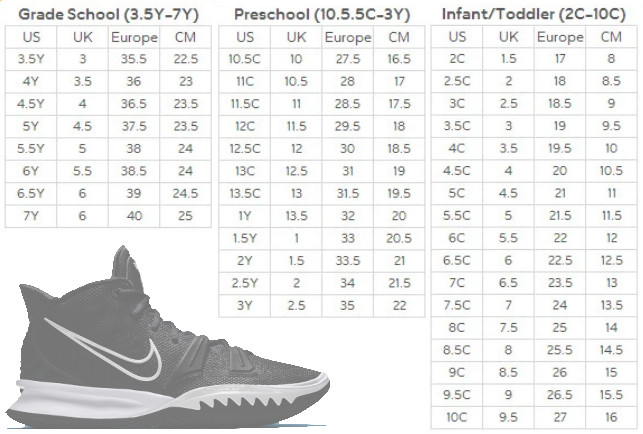 Men's Nike Shoe Size Chart
Women's Nike Shoe Size Chart
#8 Adidas Shoe Size Chart
If you're anything like me, you hate having to guess the shoe size online. Whether it's a pair of shoes for work or a pair of kicks for a night out, the last thing I want to do is send back a pair just because they didn't fit for me or the person who's going to wear them.
Luckily, Adidas makes it easy to find your right size with its size chart for every Adidas shoe.
How to Measure Shoe Size
1. If you're looking for the most comfortable and ideal fit, measure your feet in the afternoon. This may sound a little crazy — but it's actually true! As your feet swell during the day, they make shoes feel more cramped than usual.
Measuring your foot at any point before 5 p.m. will ensure that you get an extra millimeter of wiggle room!
2. Wear your most comfortable pair of socks when trying on shoes. The sock thickness will let you see how much room your shoes have, so you can get a better idea of what size they are in real life.
3. Feet are tricky to measure, and one of the most common mistakes is measuring from the tip of the big toe. This causes you to have shoes that are too long, which increases your chances of getting blisters, corns, and calluses.
To be safe, you should measure from the most protruding toe if you have a high instep or small size feet. If you have larger feet, try measuring from your heel instead.
Shoe Size Converter
If you're planning on buying shoes online, you need to make sure your shoe size will fit. Instead of worrying that a shoe won't fit, use this handy converter tool to convert your shoe size into other common shoe sizes — so you can buy your sneakers with confidence!
Shoe Sizing Tips
When you buy shoes, there are a few things you should keep in mind. Here are our recommendations that will help you choose the best pair of shoes for you:
1. Precision is Key
When shopping for new footwear, it's important to ensure you're buying the appropriate size.
Note that sizing is important for all shoes — not just the ones you already own. As your feet age, they tend to change in size (even when you are buying the exact same style of shoe).
Some conditions such as pregnancy, diabetes, or nerve impingement can cause your feet to swell and grow.
2. Double Check!
If you're at all nervous about your sizing, it's best to double-check before purchase. Many people have feet that are slightly smaller or larger than average.
If your feet are wider than average (in the case of shoes), or if your shoe size is slightly bigger than the average shoe size, you should be aware of this fact when ordering online.
3. Factor in Orthotics
If you or the person you're buying shoes for have a foot ailment, you'll want to factor orthotics into the sizing process.
Not all insole thicknesses are the same. If your inserts are thick or multiple layers, the footwear could feel smaller than it is.
If this is the case, we recommend that you size up half or full-size — depending on the severity of your injury and the thickness level of your insoles.
4. Keep the Proper Fit
It's important to keep the proper fit of your shoe in mind to avoid long-term foot problems. Your feet shouldn't be slipping in and out of your shoes, nor should they be experiencing any discomfort.
Wearing uncomfortable shoes can worsen existing foot problems or cause new ones to develop, like calluses or corns on the bottom of the feet where friction is occurring.
Conclusion
​Before purchasing shoes online make sure that you're aware of your size, especially if buying from a new brand or company that you're unfamiliar with.
You'll want to double-check the shoe size chart provided by the retailer to ensure you have the right fit.
It's always best to try on shoes rather than buy online, and if you don't have access to a physical store the return policy is something to consider before purchase.
If you need help with the shoe size chart guides above, leave a comment below! We'll be happy to help you out and answer any questions you have. Thank you for reading, and we hope you enjoyed this article!