If you're looking for the best shoes for walking on concrete, then the Columbia Men's Waterproof Boot and Women's Go Walk Joy Walking Shoe from Skechers Performance are your best bets. 
When you're on your feet for lengthy periods, keeping your body stable is essential. Shoes that offer stability are what you need while maintaining a comfortable fit. 
Walking in regular shoes is not good enough, what do you do? You invest in good-quality footwear. Always choose the best when it comes to your walking companion because trust me it pays to wear the best shoes. 
The Columbia Men's Waterproof Boot and Women's Go Walk Joy from Skechers Performance are the perfect pair of shoes for walking on concrete. Both models feature a lightweight, durable design that provides comfort and stability. 
These shoes will both serve their purpose and earn your money's worth. That's because of their many great features: high-quality, comfort, and long-lasting. 
Although both shoes are useful in their way, you will ultimately want to consider your unique needs when choosing a pair of shoes. 
The Columbia Men's Waterproof Boot is perfect for long days on trails. It has an ankle-high design and sturdy construction that holds up through rainstorms and rough weather. 
Meanwhile, the Women's Go Walk Joy has an ultra-lightweight design that allows women to keep moving! And with multiple color options available, you're sure to find a hue that matches any outfit. 
Got a special teacher in your life you want to buy shoes for? Head to our "Best Shoes for Teachers" article.
What are the Best Shoes for walking on Concrete All Day?
11 Best Shoes for Walking on Concrete All Day Reviewed
Check out these best shoes for walking on concrete, which include comfort features that can take the pressure off your legs and feet. Keep on reading to know more and take your pick from our list of the best shoes for walking on concrete all day!
Columbia Men's Waterproof Boots are all about versatility. Available in leather, suede, and mesh, they're perfect for remaining stylish on a budget — and for any kind of weather. 
The bouncy effect provided by these shoes makes them ideal for long walks and light hiking.
The high 1.5-inch heel is not only stylish but also functional. It helps to absorb more shock when you're on the move, giving you even more comfort for walking on concrete all day. 
Featuring a rubber sole, these boots are ideal for workers who spend most of their time on concrete floors. The different lugs provide traction and ensure safety in slippery environments. 
These waterproof boots go higher up on your ankle, which contributes to ankle support and safety. Plus, the boots have a lightweight construction that contributes to ease of movement during long walks. 
The Columbia Men's Waterproof Boot will not only keep you comfy, but they'll also keep your feet dry in wet areas. These shoes are only one of the best shoes for walking on concrete. Read on to find out more.
Skechers Go Walk Joy – Best Women's Shoes for Walking on Concrete
The Skechers Go Walk Joy gives you the ultimate walking experience. But how did it land to this list of the best shoes for walking on concrete?
Well, it has innovative 5Gen midsole technology, a well-developed mesh fabric upper, and an ultra-comfortable Goga Max insole. 
Walking in concrete is like walking on clouds with Women's Go Walk Joy. They are very lightweight, so you won't feel tired even on long walks or standing. 
The soles have shock-absorbing material, so they help reduce any pressure on your feet. In addition, you can take it on and off without tying laces — that's very convenient! 
The Goga Max high rebound footbed is the Women's Go Walk Joy Walking Shoes' striking feature. This relieves stress on your joints and muscles, reducing the likelihood of pain. By absorbing shocks from walking on hard surfaces, it boosts your comfort, while maximizing the longevity of your footwear. 
These shoes have a 1.25-inch raised platform that offers the perfect blend of comfort and support. It makes them easy to wear all day long for working women without experiencing aches and pains.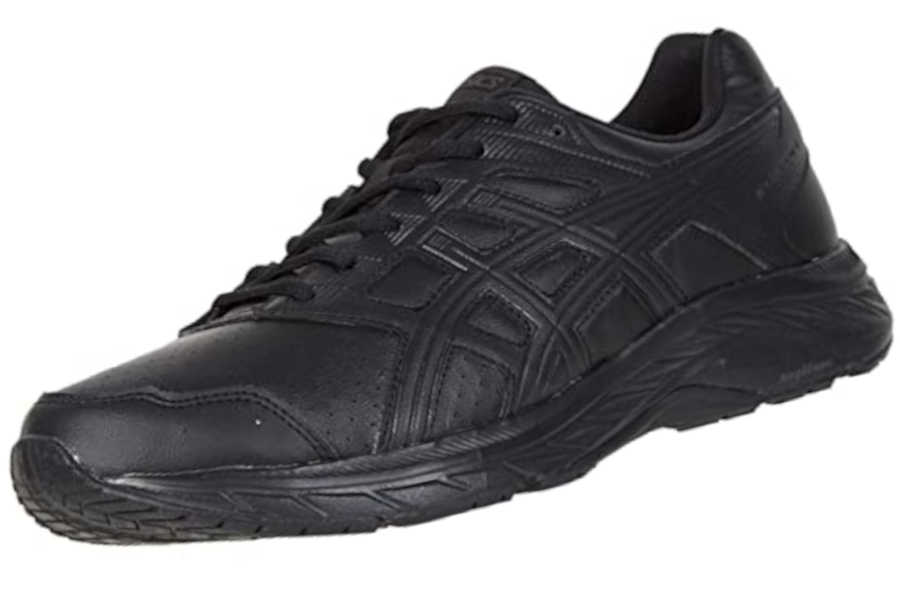 Designed for men who have to stand all day and undeniably one of the best shoes for walking on concrete, the Asics Gel-Contend 5 SL Men's Walking Shoes provides comfort, cushioning, and support.
Its rubber outsole gives you traction and durability on concrete surfaces. The Biomorphic Fit upper is a mesh material, designed to help with breathability and ventilation.
A synthetic overlay allows for a light and airy feel. Also, the breathable lining adds support while promoting all-day comfort. 
The shoes come with Ortholite sock liner which offers unparalleled comfort and moisture control. Meanwhile, the midfoot cage provides support that helps you walk on concrete all day. 
These Asics shoes feature a memory foam heel that conforms to the shape of your foot. Thus, delivering personalized compression. Its stretchy material supports feet without irritating your skin. It is also keeping you feeling snug but still able to move freely throughout the day. 
With their removable insoles, it will work for men who also have orthopedic needs. And for men who suffer from overpronation which is, their feet tend to roll inward as they walk.
The Duomax support system of these shoes will help eliminate that stress by reducing potential foot strain. 
The Skechers Sure track Trickel is not only the perfect work shoe for men and women but also – you guessed it! – one of the best shoes for walking on concrete!
It features a slip-resistant sole, a padded collar, and an interior lining that provides comfort and support. The shoe also comes with a safety toe for protection from heavy-duty work environments. 
These shoes have a perforated upper that allows air to flow through your feet. It also keeps them cool and comfortable. The flex-sole absorbs shocks from the ground which lessens the impact on the foot while protecting from blows. 
A removable insole topped with memory foam cushions every step you take. The Sure Track Trickel comes in medium width. The wide and narrow sizes are also available. You can try out the wider version of the shoe if your heel is particularly narrow. 
The Saucony Progrid Integrity ST2 Walking Shoe, also popular among women is lightweight. These walking shoes have a padded tongue and collar that provide maximum support. 
But here are what really makes these shoes one of the best shoes for walking on concrete:
The ProGrid Integrity has a plush, highly responsive midsole that combines with a durable outsole to offer great stability for indoor or outdoor walking in concrete.
Not only do these durable shoes look great, but they're made to last. With an extra-long outsole feature designed to handle hours of wear, you can feel confident walking on concrete all day. 
The shoe's foam midsole cushions your foot and absorbs shock. Meanwhile, the PU leather upper provides a comfier fit and lasting durability. The popularity of this walking shoe is undeniable but performs low on wet surfaces. 
If you're going to be on your feet all day on rainy days, you might want to reconsider a more slip-resistant shoe. This model doesn't offer great traction but if you're walking indoors then this shoe is just what you need. 
The New Balance Men's MW411v2 Walking Shoe is all you need for best shoes for walking on concrete. This all-rounder's breathable upper material keeps your feet ventilated. Its high-density foam also offers the right level of cushioning and support. 
These are well-made shoes with great breathability and shock absorption. They feature a durable outer sole and a padded heel, making them comfortable to wear. However, after a year or two, the shock-absorbing sole can become worn out. But, you can always buy new soles. 
The insole is of course removable, and you can swap it out for your orthotic if you´d like. With plenty of breathable perforations on top, the upper helps to keep your feet cool and dry. It is a necessity for long days on your feet. The lace-up closure ensures a secure fit, helping you avoid slips during the day. 
The New Balance MW411v2 offers breathability and affordability without sacrificing quality. Although the shoe is reasonably durable and has decent arch support it is not as long-lasting. 
When you spend long hours at work, you want a shoe that's easy on and off. The Rockport Men's Eberdon Loafer makes it easier to slip on your shoes, sparing you the bother of tricky lacing or dealing with annoying zippers. They're the perfect ally for those working and walking long days. 
Rockport Men's Eberdon Loafer is a shoe that has the perfect balance of form and function for anyone needing a good walking shoe to wear at work. 
The leather upper is durable while foam cushioning provides impact protection. You can wear these shoes all day at work and you would wonder if they are even there. The flexible rubber soles make for a no-slip grip on surfaces. 
If you are walking on concrete all day at work then these shoes are effective at reducing foot fatigue. Whether while walking on flat ground or up and downstairs. Men who wore the shoe for extended periods say that it is comfortable, stylish, and of great value. 
Dansko Women's Patti Clog – Best Shoes for Walking Long Distances on Concrete 
These Dansko Pattis are the ultimate in attractive comfort and style. With a breathable design, you'll look chic while staying put on your feet for walking a long distance. It has a slip-on design for quick put on/take off and effortless style. 
The Nubuck leather used for the uppers of these clogs breaks in quickly. It feels like a second skin after just one wear. The traditional materials that make up the uppers promote proper foot health. This means you can walk comfortably for longer distances. 
Dansko uses a composite material called DNA which shorts for Dan-Spo Antifungal. It is durable and water-resistant. Designed to resist odor and staining, this material is perfect for individuals who will be wearing their clogs for long periods. Also good for those with professions where they work in wet environments. 
The outsole provides traction and durability, with slip-resistant airbag technology built-in for stability. You can feel safe and confident when walking long distances on concrete. 
Lastly, the unique shock-absorption design of the heels which is 1.25 inches and a platform of .75 inch allows your feet to feel cushioned. 
The Nike Flex Experience 8 shoes have a minimal, flexible sole that allows for a close experience to going barefoot. Underneath, there is still a comfortable cushion. This simulates a barefoot feel while delivering protection and grip. 
The rubber outsole delivers excellent traction for those who like a minimalist shoe. Its great feature that's common but essential is they are light as air. The combination of a midsole and an outsole construction results in a reduced amount of rubber on the sole. It makes your shoes less heavy. 
A gripping pattern on the tread and a comfortable fabric upper let you enjoy the best comfort too. 
The Nike Flex Experience 8 shoe hugs your foot while encouraging a natural gait. Its flexible mesh element at the heel and strategically placed flex grooves on the outsole allow for a range of motion. That makes it perfect for walking and more so for running.
If you're looking for a new lightweight pair of sneakers that's just right for a casual stroll. Nike presents the perfect choice. Nike Flex Experience 8 is versatile which makes it the best Nike shoes for walking on concrete! 
The Merrell Gust Slip-On is comfortable, functional, and can match almost anything. It doesn't just look good — it helps you navigate through your day without worrying. Stand and walk all day on concrete floors without getting wary of your shoes.
These shoes have a built-in Ortholite footbed, which means that every step feels like a cloud. No more achy feet at the end of a long shift; try it once and you'll never go back. Odor-neutralizing technology keeps your sneakers smelling fresh from walking and standing all day. 
You can't compete with another great feature of these shoes. It has an anti-microbial lining. The lining wards away odor and keeps your feet smelling good all day. If you're someone who wants added height as well then this is perfect to make you a tad taller. 
This shoe doesn't just give you additional 2 inches, but you can feel like you're walking on air too. The shoe's height is due to the inclusion of air cushioning. It ensures that workers who spend their days standing and walking on concrete feel comfy. 
The Reebok Sublite combines lightweight comfort with flexibility for truly unique work steel toe shoes. The shoe's midsole is a sublite foam that provides maximum comfort and freedom while on the move. Add to that deep flex grooves and a multitude of vents, and you end up with a shoe that can wear and walk on concrete. 
The mesh uppers are extremely breathable, while the rubber pads on the heel and forefeet provide traction for longer-lasting comfort. The combination of these two features means that your feet will feel relaxed all day long. 
These shoes have a safety toe and a footbed that massages your feet to relieve pain and pressure. The soles have rubber, with deep grooves for maximum traction on slippery surfaces. 
On top of this, the shoe has a low-cut feature that is almost guaranteed to keep your feet safe from harm. This is perfect for anyone who spends most of their day on their feet. 
The shoe also supports ankle mobility and doesn't cause heel pain. That is thanks to its flexible material. However, it is not classic leather upper and might not be completely waterproof. But, it does provide you with enough protection while walking on concrete floors. 
Best Shoes for Walking On Concrete Buying Guide 
When buying new shoes, you need to be sure that they are not only comfy but that they also can handle your needs. So to make the best choice possible, you should know what to look for. 
Balance and Stability
If you work in an office or retail environment, you know that it's important to wear the right shoes for the job. And when you're on your feet all day, it's not just about the practicality of a comfortable pair of work shoes. You need a shoe that supports your natural movement and keeps you balanced. 
Cushioning and Comfort
While good shoes have many different attributes. There's one trait that stands head and shoulders above the rest: comfort. A good shoe should feel soft and cozy on the inside, cushioned by a layer of foam or gel. 
Great Insole and Outsole
Insoles can make a crucial difference in choosing the right shoes. They are particularly important for people who suffer from a variety of ailments. These include people with flat feet, high arches, or serious pronation; an insole can help provide relief. 
The rubber outsole should also be sturdy and thick. This absorbs most of the impact when you walk on hard surfaces. A durable rubber outsole will allow you to work for extended hours without worrying. It reduces the chances of a foot injury occurring due to pressure against concrete. 
Arch Support
Wear and tear is unavoidable from walking, so your shoes must give arch support. This will help prevent injuries from high-impact activities as well. Also with pain from standing for long hours on concrete for multiple days at work. 
Safety Features
A good pair of work or walking shoes will keep you protected, no matter what you're working on. Basic safety features include steel toes and slip-resistant soles. 
Other features to look out for are strong laces and waterproof insoles can be a lifesaver. Especially effective when you're working and walking in physically demanding conditions with concrete floors. 
Flexibility
When you're walking on the job, you want a shoe that offers flexibility. You should look for some extra space between your toes and the front of the shoe. That way you know your foot is getting plenty of air. 
Select shoes with enough width to ensure that the heel stays put. But, it is still allowing constant movement from the ball of your foot to your toes. 
Conclusion 
The Skechers Women's Go Walk Joy Walking Shoe is a great choice for every woman who is looking for casual shoes. Its features provide immediate comfort and support. It has a fabric lining that can dissipate heat and wick moisture away from the foot. 
Undoubtedly the best part of these shoes is their lightweight design. No longer will you feel like you're lugging around a ton in your shoe! With its shock-absorbing base, you'll never feel like your feet are putting in more work than they should be. 
Columbia Men's Waterproof Boots on the other hand are great for men who work in a retail environment. For someone who needs to spend a lot of time on concrete floors. They give your feet a bouncy feel and keep your ankles supported. 
When you're walking on concrete, discomfort is inevitable. That's why comfortable shoes can help reduce pain and boost your efficiency. But, it only applies if you choose the ones that are right for your step. 
Choose shoes that have safety features when you're working in hazardous environments. You may visit Amazon for the latest prices of the shoes listed above. 
Choose the best shoes for walking on concrete now and tell us in the comments which one you fancied!