There are tons of good-quality shoes out there, but when it comes to the best shoes for vet techs? We're ready to crown the Merrell Jungle Moc our champion. 
Perfect for both indoor and outdoor veterinary work, this comfortable shoe will keep your feet feeling great all day long. You'll like its look so much that you're sure to order a second pair!
If you're not entirely sure that the Merrell Jungle Moc is the best shoe for you, check out our list of top picks below.
Vet techs are the unsung heroes of animal care. When an animal comes to the vet, you have to be able to read your patient's non-verbal cues. 
Animal patients can't tell their vets where they hurt — instead, vet techs help diagnose diseases and injuries through observation and communication with pet owners.
They need to look for certain signs that indicate where it hurts and what it's feeling — a change in behavior, a certain posture, a particular body language, or even the way they breathe.
For those working on a farm or ranch, cowboy boots are a must-have, but their functionality has limits. They're great for riding a horse on a trail ride, but they don't hold up as well in the barn. 
The wide shafts and bulky designs are overkill in the dirtiest areas of an operation, where getting down on your knees to tend to a cow or calf is inevitable.
Plus, consider the material as well. 
Animal lovers who have a strong aversion to leather include people in the veterinary sciences — some would rather not kill animals for food and clothing. That's why they steer clear of leather and opt for vinyl, plastics, and faux leathers instead.
One of the reasons people love their running shoes is that they are so comfortable — but unfortunately, that comfort makes disinfecting them harder. 
Shoes with cloth material are not as easy to sanitize as ones with synthetic material. And even if you wear booties over your shoes, it's still not quite the same as getting an expert cleaning. 
Even worse than dirty shoes are dirty sneakers, which can harbor harmful bacteria that lead to a variety of diseases.
Our Best Shoes for Vet Techs
6 Best Shoes for Vet Techs of 2021 Reviewed
Here's a list of the 6 best shoes for vet techs. All of these models are built to stand up to long hours and stressful conditions and some veterinary footwear come in designs that will impress any animal lover.
Whether you need comfortable footwear for a busy day on the job or sleek, versatile shoes that can go with any kind of outfit, there are many options out there. 
One of the best shoes for vet techs that fits the bill is this awesome Merrell Men's Jungle Moc Slip-On Shoe, which is designed with trendy looks and practical features in mind.
Honestly, we highly recommend this shoe if you're looking for one of the best work shoes for vet techs. 
Plus company takes customer care to the next level by offering refund guarantees; if you're not satisfied with their Jungle Moc, they'll be happy to give you your money back. 
Footwear for the wild outdoors — sturdy and durable with waterproof properties, this veterinary footwear is perfect for everyday wear, as well as outdoorsy activities. 
You can expect a lot of splashes when you're helping out in a vet surgery, animal delivery, or other wet environments — but don't worry: the water will just glide off.
The bottom of the shoes features a super-grippy outsole that makes rushing, walking, and even running errands (or chasing animals) a breeze.
Whether you're a vet or a vet tech, these shoes are the sleeping lions of your shoe collection. They're simply the best shoes for working with animals.
The quality you expect from Merrell is matched by safety features that can help keep you safe on the ground — whether you're among the lions at the zoo, or working among other animals as a vet at a local animal shelter.
Veterinarians, you're not going to find a better pair of shoes for your daily vet tech activities. These Jungle Mocs are specially designed to withstand the long hours of standing and walking that come with an entry-level vet tech job. 
Additionally, the underfoot is designed to maximize shock absorption and flexibility, so freedom of movement is never sacrificed.
You may be a veterinary technician, but that doesn't mean you can't look stylish. Do yourself a favor and get one of the best shoes for male vet techs: Merrell Men's Jungle Moc Slip-On Shoe.
Ladies! Don't worry – you can get the model for you here.
New Balance 608 V5 – Best New Balance Shoes for Vet Techs
It would be impossible to create a list of the best shoes for vet techs without featuring a pair of New Balance shoes. Enter New Balance 608 V5!
The durable leather shoes are equipped with loops on the back, which make slipping into and out of them incredibly easy. 
The loop and extra room in the width also make them easier to take off when you're scrubbing floors or dealing with messy situations in urgent veterinary cases.
Yes, these shoes aren't waterproof. But then again, no other non-leather shoes are either. The solid leather exterior serves as a much better barrier than other, non-leather alternatives.
The sneakers are comfy and durable. They feature a padded outer heel that helps absorb shock while keeping the shoe snug and secure without being too tight or too loose. 
A dual-density foam collar supports your ankles without rubbing the back of your leg — it's the perfect level of support for long days on your feet. 
The color is deep and rich, and the laces were soft despite being made with synthetic materials.
Caring for animals is a tough job that requires long hours at work. Fortunately, these shoes provide comfort and support that allows you to stay on your feet for long periods. 
The textiles in the lining are odor-resistant, keeping your feet fresh and dry during long shifts.
The full-length EVA foam midsole unit of this shoe is what gives it its lightweight and shock-absorbing features.
The ABZORB crash pad, made of isoprene rubber, is lightweight and responsive with great shock-resistant properties. It allows for a firm platform that supports your rearfoot and the rest of the shoe.
The midsole of the shoe is also a great bonus, especially when you're in a hurry. Due to its upraised edges, it creates a supportive barrier for your heel and forefoot, enhancing the stability of the whole shoe.
With the removable PU insoles that provide extra cushioning and arch support, you can wear these shoes to work, play, or anywhere in between.
At the bottom of these shoes, you'll find a durable rubber outsole with flex grooves that makes each step more comfortable and lets you walk or stand firmly without worrying about uneven terrain.
The rubber sole of the shoes will make you feel safe and secure, as it makes it easy to walk across rough terrain. 
Perfect for outdoor veterinary work, these shoes are made with a special rubber outsole to guarantee stability and durability. 
These traits have been rated excellent by testers. In addition, the extra front toe cover can help protect your feet against knocks.
There's a model for our female vet techs as well so don't fret.
Looking for the best Nike shoes for vet techs?
The Tanjun Running Shoe has a timeless design. It's made for busy vet techs who want to look professional and keep a low profile. 
The shoe's breathable mesh upper provides comfort while maintaining an attractive, sleek appearance.
The lightweight construction and reinforced synthetic material of the shoes make them a favorite among vet techs. 
Designed to offer flexibility in all directions, these shoes are also fitted with an open-toed design that promotes excellent air circulation, keeping your feet cool and fresh at all times.
The padded tongue and collar of the sneaker provide the comfort and support that's essential for veterinarians and vet techs. 
Additionally, the interior lining is soft and supportive so your footwear feels just right on you no matter where you go. Its cushioning and shock-absorbing midsole offer a firm yet forgiving platform for your run. 
It just lets you move with ease while letting you feel as though you're walking on a cloud. This is due to its lightweight yet durable design.
The shoe outsole's design is a direct result of feedback from veterinary technicians. The sole is lightweight, durable, and features a grippy traction system for slip resistance. 
As a result, vet techs will be able to move around the clinic with more confidence and agility, ensuring they can always lend a helping hand.
This shoe is perfect for vet techs with simple footwear preferences. It matches a range of scrub and casual uniforms, so you can wear your everyday shoes to work without abandoning your signature look.
Get the Nike Tanjun Running Shoes for women here and the model for men here.  
The Dansko XP 2.0 is not only one of the best veterinary clogs but also the ideal shoe for nurses, dental assistants, and even massage therapists. 
Offering water resistance and a seamless upper, it's also a cinch to get on and remove — especially when you're on your feet all day.
This clog has a very minimalistic design, but that doesn't mean it's uncomfortable. We could say that they're also one of the best work shoes for vet techs.
Here's why:
It features soft EVA padding and midsoles to ensure you don't feel discomfort, especially when running or walking long distances. The EVA material isn't too thick, so the shoe still maintains a lightweight feel. 
You can easily run around chasing animals in this clog all day without feeling fatigued.
If you've got bunions, plantar fasciitis, or other foot conditions, the Dansko XP 2.0 Clog will make your day. 
With its wider toe box, it makes room for your toes to spread out so you can walk more comfortably.
Dansko's Natural Arch technology relieves pressure on the balls of your feet, which is why it's such a popular feature in their clogs. 
If you don't have the foot support you need, simply take out the dual-density PU footbed and insert some special arch-enhancing insoles.
Got a stressful life?
This is something that you need to consider getting to make things a little easier for you. 
With its durable, lightweight design and slip-on application, it's comfortable enough to wear all day — even on your breaks! 
This slip-on also comes in any color you'd like, so pick your favorite or build a uniform with your colleagues.
Check out the latest price of the Dansko Men's XP 2.0 Clog here and the Dansko Women's XP 2.0 Clog here.
Vet techs need shoes that are super breathable and can keep up with long hours on their feet. So you need the best shoes for vet techs and the best crocs for vet techs in one: This Crocs Unisex-Adult Classic Graphic Clog is designed to do just that. 
Croslite™ material gives these shoes the cushioning and supports that busy veterinary professionals need, along with great grip. 
All Crocs footwear is machine washable, so vet techs can keep them clean all day long.
Crocs has solved the problem of wearing clogs that are not breathable, with ventilation ports that allow water and debris to pass through quickly. 
The slip-on design makes it a breeze to put on and wear around, with pivoting heel straps to help each step sit firmly in place.
It's also durable, thanks to its strong, flexible plastic material.
And not just for the poolside, beach, or gym anymore, these flip-flops are ideal for all sorts of places: the shower, walking in the park, or even gardening in your yard. 
Their traction-grip outsole can keep you steady on a variety of surfaces and their ventilated upper keeps your feet cool no matter where you wear them. They're simply one of the best shoes for working with animals outside or inside the clinic.
The Skechers Performance shoes for vet tech professionals were designed to reduce fatigue when you're on your feet for long periods. 
The high-performance shoes promote comfort and support, and they also have a shock-absorbing sole that helps you move comfortably across your clinic's hard flooring.
These shoes are so comfy that you'll forget you're wearing them. Inside, the soft fabric lining does a great job of keeping your toes happy all day long. 
The rubber bottom gives you some shock absorption and a broad heel strike makes for excellent stability.
The Skechers Performance Go Walk offers a variety of heel heights and styles, giving wearers a range of options to customize their look. 
The designs are available in a variety of patterns and colors, ensuring that they suit everyone's style perfectly.
Guys! You've to check out the Skechers Performance Men's Go Walk 3 on Amazon.
And ladies! The Skechers Performance Women's Go Walk 2 Slip-On Walking Shoe is the best vet clinic shoes for you!
Best Shoes for Vet Techs Buying Guide
For vet techs, comfy veterinary footwear is a must.
From standing and walking around for long periods to bending and kneeling in the vet's office, these professionals need breathable shoes that won't kill their feet. 
Many prefer canvas and mesh shoes — either will do the trick.
From a technical standpoint, the mesh is designed for airflow and breathability, while canvas is meant to provide a snug fit while being waterproof and durable.
Style
Everyone knows that a vet tech's job goes beyond dealing with animals. They also need to communicate effectively with owners. In some cases, that means dealing with the owner's emotions as well. 
When providing stellar customer service, it's important to look good doing it. And nothing says "stunning" like the best shoes for vet techs we've listed here to go with your outfit.
Comfort
Comfort is the key factor when it comes to the best shoes for vet techs. 
You might be on your feet for long periods, or you might need some shock-absorbing cushioning for quick movements around the clinic. 
Either way, you should be able to focus on your work without thinking about your footwear.
Search for shoes that minimize fatigue and pain caused by extended shifts. 
The model should have a stable outsole and an upper section crafted with high-quality materials that can be worn even after a long day at work.
Support
Having an outsole designed for comfort and support while you work in the shed or clinic is a must. 
Thick fabric adds extra comfort while the slip-repellent features keep your feet steady and secure over long periods.
Breathability
It's important to wear shoes that keep your feet dry and comfortable. 
For vet techs, this means wearing waterproof shoes with breathable options so that you won't have to worry about wet feet when you're running through the barn loft to treat a sick horse. 
Not all waterproof shoes are created equal, which is why it's important to choose a pair with a membrane that's waterproof, windproof, breathable, and lightweight.
Size
Finding the right shoe is a challenge for nearly all vet techs. That's because sizing can be unpredictable — many brands are made in multiple sizes and fit differently, so it's difficult to find the perfect shoe. 
Tried-and-true methods exist, however, such as ensuring that a shoe has enough room for swelling, wearing protective socks to prevent injury, and customizing shoes with arch support or insoles.
By the way, head to our shoe size chart guide if you need help with shoe sizing.
Intuitiveness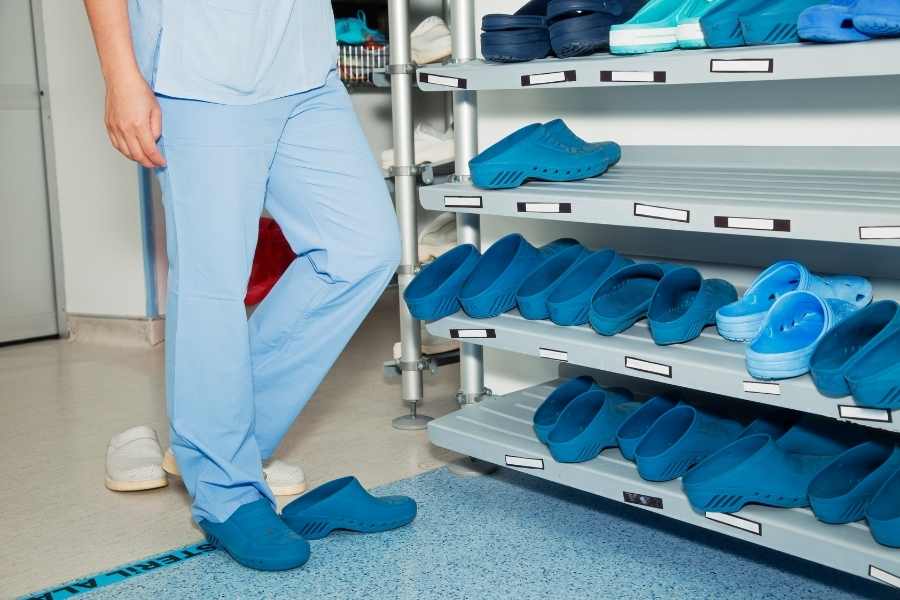 The design of the shoes is a major concern for most vet techs. 
The importance of easily slip-on and off shoes cannot be overstated. This feature helps techs spare time on laces, saving them valuable moments that can be used to provide better care for animals.
Durability
If you're going to invest in a good pair of shoes, it's important to know the different features that will affect how long they last. 
The best way to do this is by talking to a footwear expert. They'll be able to tell you what to look for in the best shoes for vet techs by discussing the materials used, the design features, and the durability of the shoe.
Conclusion
As a veterinarian technician, your feet take the brunt of your work. You have to stand all day long and work with animals. 
For protecting them and for yourself, you need the best shoes for vet techs that are comfortable and slip-resistant and won't leave you feeling tired at the end of the day.
We advise you to opt for Merrell Jungle Moc Slip-On Shoes because of their excellent protection, traction and cushioning. For breathability and comfort, Nike Tanjun Running Shoes make for fantastic vet tech shoes.
If you're a vet tech interested in purchasing the best quality pair of shoes, our list of the best shoes for vet techs will certainly help you narrow down your choices. 
However, as these things are always personal preferences, we recommend that you take the time to read expert suggested reviews, compare the pros and cons of different products, and eventually take the plunge.
We hope you enjoyed today's list of the best shoes for vet techs. Whether you're looking for a new pair for yourself or want to gift someone, select a pair or two from the list and comment below to let us know which one you've picked!