We've been in many different places online, researching what we feel are the best shoes for orthotics, and what we found that made the Saucony Echelon 8 stand above any other shoe is its superior quality, sturdiness, comfort, and high durability rating.
Finding the best shoes for orthotics isn't as easy as you may think because you have to consider many factors before making your final choice.
You have to look at the type of orthotic you're using, the brand and material, the nature of your job, and so on. 
That said, here's our list of the top twelve shoes that are suitable to wear with any type of orthotic and will provide all-day comfort and stability during your activities of daily living.
Best Shoes for Orthotics
12 Best Shoes for Orthotics – Best Reviews
We have scoured the web and checked with experts to determine which shoes are best for people wearing orthotics.
Saucony Echelon 8 – Best Overall
If it's a solid pair of trainers with all-around cushioning that you're looking for, then we guarantee you satisfaction with one of the best shoes for orthotics out there: Saucony Echelon 8. 
This shoe is ideal if you suffer from foot issues such as bunions, plantar fasciitis, and Achilles tendon problems. 
It comes with plenty of shock absorption and compression-molded foam that conforms to your foot like a glove. 
The blend of PWRRUN cushioning and spacious FORMFIT construction on these kicks allows them to make your run feel comfortable but without compromising on the amount of propulsion you get with each push against the ground.
And those features also let you use any orthotics you might be wearing or have enough flexibility so that you can move around quickly without feeling clumsy. 
You'll find these shoes very useful if you're one of those with flatter or wider feet who need to stretch their toes.
These shoes are versatile enough to handle everything from long-distance runs to heavy lifting sessions in the gym.
Many guys found these shoes to be the Best Men's Shoes for Orthotics, and a lot of the ladies also wished for a version of these shoes for them.
Don't fret!
The manufacturer was also able to produce another version of the same shoe model for women, and they're also our top pick for the best women's shoes for orthotics.
You can find it here: Saucony Women's Echelon 8.
ASICS GEL-Venture 5 – Best Runners
For runners looking for the best shoes for orthotics that will help them perform at a high level, we recommend you invest in a top-quality shoe that meets your specific needs. 
The ASICS GEL-Venture 5 is our best alternative to Echelon 8 because it has a removable sock liner for accommodating orthotics, which makes it supportive and stable, and provides maximum shock absorption with its rear and forefoot gel cushioning. 
The shoe comes equipped with a unique trail-specific outsole featuring reversed traction lugs for optimal grip and comfort for all types of terrains.
Additionally, the material used for this sole is an AHAR outsole that will help make sure that your shoes stay on your feet even during highly challenging wear and tear scenarios. 
For these reasons, if you're looking for the best running shoes for orthotics, make sure to check out ASICS' GEL-Venture 5.
They also made the same type of shoe for women; look at ASICS Women's GEL-Venture 5.
ASICS Gel-Venture 6 – Best Custom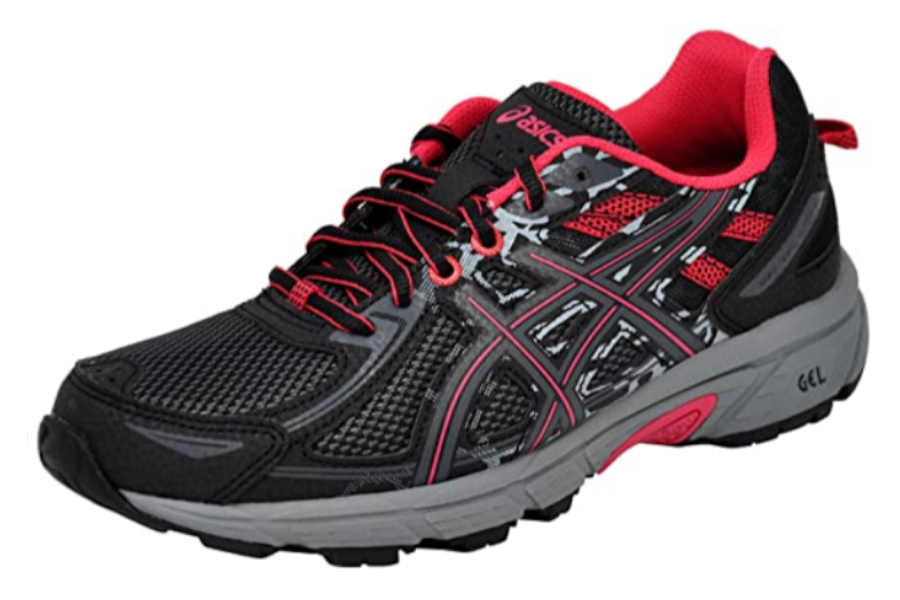 If you have a relatively narrow foot and want a shoe that will fit you snugly with an option to wear orthotics, then ASICS Gel-Venture 6 is your ideal choice. 
The ASICS High Abrasion Rubber (AHAR) Outsole means you have one of the best shoes for orthotics with highly durable outsoles. 
It comes with rearfoot gel cushions, which can help minimize shock during each step. 
These shoes are purpose-built for tackling trails, outfitted with a rugged sole and high-quality rubber for lasting comfort and traction. 
A removable insert lets you add your orthotics, perfecting the fit. 
So not only is the Gel-Venture 6 one of the best shoes for orthotics inserts, but it's one of the best lightweight and flexible shoes and one of the best shoes for custom orthotics out there as well.
And it turns out that the manufacturer had made yet another version of this model for women. Check it out here: ASICS Women's Gel-Venture 6.
Vionic Walker – Best Walkers 
Vionic walkers are one of the best shoes for orthotics, and here's why!
With a unique deep heel cup, these walking shoes provide excellent comfort and shock absorption. 
The molded footbed ensures stability and proper alignment while you're on your feet, so they're the right shoes to wear when running errands or going out with friends. 
You'll enjoy their Active Motion System (AMS) technology that makes them highly comfortable to wear anywhere you go. 
This Vionic Walker has a leather or suede upper to complete the look. 
At the same time, inside, you'll find a layer of soft air-supported dual-density EVA material for ultimate cushioning and stability. 
The American Podiatric Medical Association (APMA) deemed this product worthy of being recognized as a reliable pick for those who want to experiment with their style and gain some much-needed comfort during their walk/run.
Many have found these shoes one of the best walking shoes for orthotics, so the manufacturer also offered a female counterpart to this shoe model, which you can find here: Vionic Women's Walker Classic.
Rose Mary Jane – Best Women's Dress Shoes
Rose Mary Jane is one of the favorite options among the ladies in terms of the best shoes for orthotics. 
We love their classic look and versatility, which lets you wear them with various outfits. 
They come in sizes 5 to 13, so finding your perfect fit shouldn't be an issue. 
The hand-stitched soles provide good grip and shock absorption while also keeping your feet cool and fresh. 
These shoes are sturdy and long-lasting – they should last you up to five years with regular use. 
Drew Shoe's Rose Mary Jane is one of the best dress shoes for orthotics available on the market today.
If you are looking for comfortable dress shoes that can withstand several hours of standing or walking, then Rose Mary Jane might just be what you need!
Warren Cap Ox Oxford – Best Men's Dress Shoes
Warren Cap Ox Oxford dress shoes are ideal if you're looking for a comfortable and affordable dress shoe. 
There's a reason why these are our top pick when it comes down to men's best dress shoes for orthotics: they will hold up to any occasion, from casual dates to important meetings. 
Warren Cap Ox Oxfords are available in black and British tan, and they have a 100% leather upper and rubber sole. 
The oxford style makes them appropriate at work and in your everyday life, and they have a removable insole with orthotic inserts that provide arch support. 
These don't require extensive breaking-in before you can wear them comfortably all day long.
Saucony Cohesion 11 – Best for Athletes
Like all Saucony products, these running shoes come with a design with athletes in mind. 
Now, there's a reason why the Saucony Cohesion 11 ended up as not only our top pick for the best athletic shoes for orthotics but also our ultimate choice for the best tennis shoes for orthotics — and you're going to love it!
Thanks to their GRID Cushioning and supportive overlays, not only do these Saucony Cohesion 11s offer superior shock absorption, but they're also a favorite of distance runners and marathoners. 
The midsole also supports your joints and muscles, making them great shoes for those who have supination, under pronation, or/and high arches and need orthopedic support. 
If you have wide or flat feet and need orthopedic shoes, you can't go wrong with these options from Saucony. 
Plus, with these shoes being unisex, meaning both men and women can wear them, and both models being on sale for less than $100, they're definitely worth trying out!
adidas Tech Response – Best Golf Shoes 
Golfers with foot pain often look to orthotic inserts as a solution. 
Traditional inserts, however, can cause discomfort when worn with sneakers because they don't work with footwear. 
The Tech Response from Adidas has a design that specifically addresses these concerns.
That's why it's our ultimate choice for the best golf shoes for orthotics and the best Adidas shoes for orthotics.
However, many golfers found this one still falling short in giving them enough arch support. 
If you shop for shoes tailored explicitly to your orthotic needs and want an affordable option under $100, these shoes will be right up your alley.
Littleplum Sneakers – Best for Kids
Parents know that it's important to find comfortable shoes that will help support their kids' feet. 
Littleplum makes excellent sneakers, but they also come with an ergonomic design to help support children's developing feet; thus, the best kids shoes for orthotics as well!
Not only does Littleplum produce a wide range of colors and styles, but they also make shoes with removable insoles to accommodate orthotic inserts. 
With its breathable, anti-slip design, LittlePlum sneakers are exceptionally kid-friendly. 
Designed to appeal to various ages and genders and be comfortable enough for even the most active kids, the manufacturer made these sneakers for children looking to be on their feet all day!
Soft, comfortable, and supportive shoes for children in various dispositions, the bright colors found on these add interest to any outfit.
New Balance 608 V5 – Best Cushioning
New Balance designed their 608 V5 Cross Trainers to give casual and experienced runners a lot of cushioning and comfort on hard surfaces, especially if you have an orthotic insert in your shoe. 
This shoe does have some stability in it, but it's not as much as you might find in other shoes like Saucony Echelon 8 or ASICS GEL-Venture 5. 
This model has enough support, though for mild pronators who don't need extra-supportive shoes. 
Plus, reviewers mentioned that they could wear these running shoes right out of the box without any issues! 
For a super cushioned option that is supportive enough for mild pronators with orthotic needs, then we recommend looking at New Balance 608 V5 Running Shoe.
Who knows?! — You might just find these shoes the best New Balance shoes for orthotics.
And it turns out that the shoe manufacturer made a women's version of this model, and it looks fantastic too! 
So check it out here: New Balance Women's 608 V5.
HOKA ONE ONE Arahi 5 – Best Trainers
HOKA ONE ONE Arahi 5 is one of our top picks for the best HOKA running shoes for orthotics. 
It's basically a perfect blend of design and features that will benefit most people with orthotic needs. 
With anatomical support for your foot, solid cushioning, and a lightweight build, these shoes are definitely worth looking into. 
If you're having issues with pronation or even heel pain, then these might be an excellent option to check out. 
Valued somewhere between $188.95 to $335.40 on Amazon, you'll find the HOKA ONE ONE Arahi 5 one of the best shoes for orthotics and overpronation that's worth buying! 
For those that aren't sure if they need orthotic support or not, we definitely recommend starting with these shoes as they're very comfortable in general and still have an excellent asset for your feet!
There is an alternative model of the same shoe in a different color that is for women. 
If you'd like to see this version, please click here: HOKA ONE ONE Women's Arahi 5.
NIKE Tanjun Sneakers – Best Comfort
If it's the best NIKE shoes for orthotics you want, these Tanjun Sneakers will be worth every penny spent on them. 
They are designed with fabric lining, making them soft and comfortable to wear, while they also ensure that your feet breathe easily and remain sweat-free at all times. 
As a bonus, these sneakers have a Superfeet insole that absorbs shock on impact, so you can run and jump around freely without worrying about causing damage to your feet. 
The lace closure makes it easy to adjust how snug or loose you want your fit to be, and with adjustable laces, you can get a custom fit whenever you want it. 
If you're looking for comfort no matter where you are or what you're doing, then these shoes from Nike come highly recommended as one of the best shoes for orthotics.
Buyer's Guide to the Best Shoes for Orthotics
If you suffer from foot pain, you may be wondering what the best shoes for orthotics are. 
These shoes come with a design that provides comfort and stability to people who wear inserts or braces for their feet, but not everyone knows how to choose the right pair. 
To make sure you get comfortable, get supportive shoes that will last you years of wearing them; check out these essential criteria when buying your next pair of shoes for orthotics.
Application 
If you plan on getting the best shoes for orthotics to use them mainly for exercise, it's best to choose a shoe with added cushioning. 
The Arch Support rating will help you determine whether or not a shoe is a good fit, but pay attention if they are categorized as a running, walking, or cross-training shoe. 
You can also contact your podiatrist and ask him/her which kind of shoes they would recommend. 
Some brands you might want to look at include New Balance, Asics, and Brooks.
Material
There are many materials used in making orthotic shoes, but a good rule of thumb is that you should seek out shoes made with breathable, durable material. 
This allows your feet to breathe and lets them cool down as you wear them throughout the day. 
Leather is also a great option because it's a sturdy material that can easily conform to most foot shapes and sizes. 
Ultimately, there's no right or wrong material, but understanding what each type offers can help you make an informed decision on which pair of orthotic shoes is best for you.
Dimension
A vital aspect of a shoe designed with orthotics in mind is its dimensions. In general, you want shoes that are narrow and deep rather than wide and shallow. 
That ensures a snug fit that protects your feet without being too constrictive. 
Look for shoes with firm but not stiff soles, so they don't squeeze or pinch your feet uncomfortably. 
The width of any given shoe can vary, depending on manufacturer and style, so always measure yours against a pair of shoes you already own if possible; if not, be sure to try them on before buying. 
Finally, note that orthotic inserts tend to make shoes significantly more expensive than those without them—but if they're worth it to you (and offer enough support), then go ahead and make them a priority!
What is orthotics for shoes?
So, you suffer from pain in your feet or ankles? 
If so, it may be time to invest in orthotic shoes. 
They're specially designed footwear that can help realign your posture and reduce pain while improving your gait. 
It's also a good idea if you often experience blisters or corns on your feet. One of the most common conditions that orthotic shoes will correct is flat feet. 
These are fallen arches, where one or both of your arches (which support nearly all of our weight) aren't high enough when standing up straight.
Does using orthotics require me to buy more oversized shoes?
A common misconception is that you should buy shoes that are too big to accommodate your orthotic devices. 
That can lead to the bunching up of excess material around your toes, leading to blisters and discomfort. 
You should be able to wear a pair of non-orthotic shoes with no extra space around your toes, and you can still use orthotics if you have a larger than average foot size. 
If your current pair of shoes feel just a little too tight, don't buy another pair; instead, take out your current orthotic device and use it in an old pair of shoes or invest in slightly larger orthotic insoles instead.
Are my shoes going to accommodate orthotics?
If you wear shoes with low or no backs, you'll need footwear to accommodate your orthotics. 
It might be best to stick with closed-toed boots and shoe styles that have some height in them. 
This way, you don't have to worry about whether or not your shoes are big enough for your custom inserts; they just will be. 
On top of that, it can also help protect your feet from harmful UV rays (which cause tanning and burning). 
So, if there aren't any backless dress shoes in your wardrobe, consider investing in a new pair so that you're able to get proper use out of orthotic inserts and maximize their benefits.
Should my running shoes have orthotics in them?
Running shoes typically include a removable insole that provides some arch support. 
But if you have a specific condition, such as bunions or hammertoes, orthotic inserts may be necessary. 
That's because regular running shoes don't always offer adequate cushioning and support, which can cause pain and discomfort. 
In general, though, it's best to use these inserts when your feet need extra attention. 
If you wear them regularly without a specific problem that requires it, you could end up with more problems than you started with. 
And since they can be pretty expensive, they might not be worth the cost in terms of value. 
The biggest takeaway is that orthotic inserts are there to correct problems from existing issues—not prevent them from happening in the first place.
Does using orthotics mean removing the shoe insoles?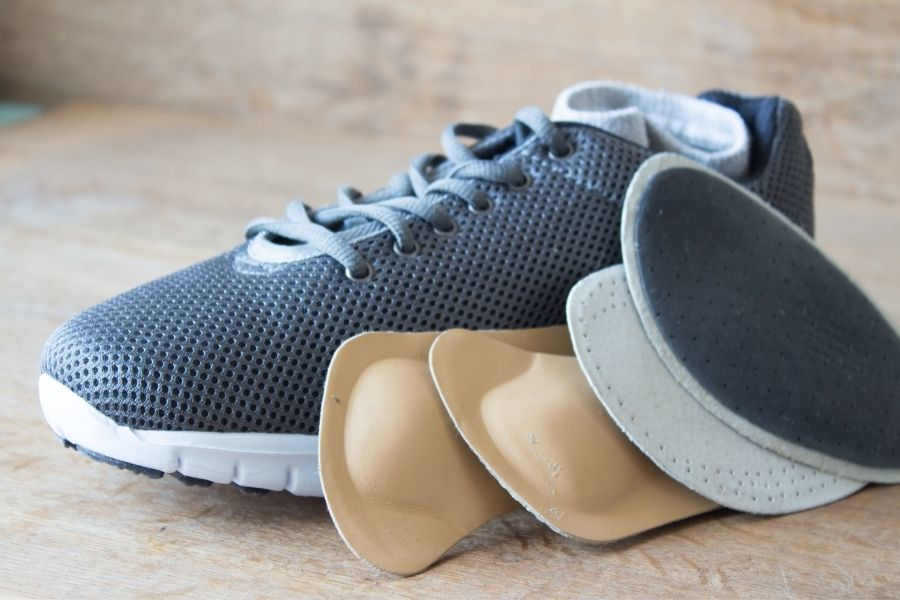 Yes, removing your current shoe insole is an essential step before inserting your orthotic inserts. 
But what about if you already have insoles? 
Whether or not you remove them will depend on their thickness and whether they contain other support features such as arch support or a heel cup. 
If your insoles are too thick to fit into your new orthotic shoes, you'll need to decide if it's worth removing them entirely or not. 
The decision really comes down to how important it is that they fit perfectly inside of your shoes.
What are the Best Orthotic Shoes for Plantar Fasciitis?
One of the most common foot ailments, Plantar Fasciitis, is an inflammatory response that originates from a thick ligament that runs across the bottom of your feet which becomes inflamed.
And that causes pain in both your heel and arch area.
It can sometimes travel up the inside of your leg too!
Walking becomes difficult and even painful if you suffer from plantar fasciitis as it forces your feet to adjust with each step. 
To relieve pain and return mobility, many people try out orthotic shoes—they come with orthopedic insoles that reduce heel pain or soreness, thanks to shock absorption. 
There are two most important things to keep in mind when purchasing orthotic shoes for plantar fasciitis. 
The first one is proper fit, and the other one is adequate support. 
They should be easy on the eyes and comforting to your feet – that's why we always recommend choosing boot designs that take the length, width, and depth into considerations.
If the shoes are not a good fit, then they might actually exacerbate your situation considerably!
Conclusion
Shoe shopping can be a frustrating experience even when you're not on crutches or sporting orthopedic inserts. 
Suppose you're looking to invest in the best shoes for orthotics.
In that case, we highly recommend that you explore the experience and functionalities offered by Saucony Echelon 8, a pair of running shoes that has gone through an extensive testing period regarding its effectiveness on orthopedic patients.
We encourage those specifically looking for this type of functionality to check out ASICS GEL-Venture 5 if that is your desired price range.
Alternatively, any other shoe we reviewed here might work well with your size and pace preferences, provided you have already made it clear from the onset what's most important.
It's critical to buy appropriately designed shoes to meet your needs and contain features like reinforced arches, stretchy uppers, deep flex grooves, and—of course—removable footbeds. 
These can all help prevent pain from recurring and keep your feet healthy so that you're free to enjoy a long life with proper footwear.
You won't regret it!
References:
https://www.prnewswire.com/news-releases/new-survey-reveals-majority-of-americans-suffer-from-foot-pain-259775741.html