After going out of your way to gather a lot of information including survey results, product quality reports, and consumer feedback from other customers, we can confidently recommend Orthofeet sneakers as the best shoes for sciatica sufferers.
Do you suffer from sciatica? 
Are you looking for the best shoes to relieve your pain and help you move more comfortably? 
You're in luck because today, we'll be reviewing the ten best shoes to wear when suffering from sciatica pain. 
We've considered many factors here, including affordability, comfort, style, and value for money. 
After reading this article, you'll hopefully find yourself one pair of shoes better equipped to aid your recovery.
Best Shoes for Sciatica Problems 
10 Best Shoes for Sciatica Nerve Pain Reviewed
Check out our recommendations for Sciatica shoes below that will keep your feet comfortable while also offering relief from your pain!
Orthofeet Sneakers – Best Overall
Well-cushioned and flexible, Orthofeet shoes come with a design that combats sciatic nerve pain, but there's more to these shoes that make them our overall best shoes for sciatica problems.
They feature a supportive footbed with a healthy dose of arch support and a zero-drop sole.
These shoes run true to size, though if you're between sizes or don't want too much extra room, go down a half size from your usual. 
They may not be as stylish as other shoes, but you won't care when your sciatic pain is gone. 
And, Orthofeet offers a 60-day satisfaction guarantee. 
They may not be perfect for everyone, but we think these sneakers deserve an award just based on their return policy! 
Overall quality is impressive—the stitching is solid, and there's no sign of loose threads or other significant issues.
All in all, these could be your best bet for alleviating pain associated with sciatic nerve irritation. 
Skechers Go Max – Best for Men
If you're looking for a comfortable pair of shoes that can address both ankle and lower back pain, then check out our ultimate choice for the best men's shoes for sciatica pain: these awesome Skechers Men's Go Max shoes. 
They provide excellent shock absorption with their Goga Max technology insole, they're slip-resistant (which is perfect if you suffer from sciatic pain), and they offer ample support with their padded  5GEN sole. 
The memory foam of these shoes conforms to your foot, helping ensure proper weight distribution, which may reduce pain in your spine and joints. 
You can wear these shoes anywhere you want and anytime you want with their easy slip-on design.
Plus, there are eleven different colors to choose from! 
You can't go wrong with these shoes being one of the best shoes for sciatica; give them a try if you need some relief.
Slow Man Women's Loafers – Best for Women 
While you might expect men to be more susceptible to back pain, women are actually almost twice as likely to develop sciatica.
Also, not everyone likes wearing boots or shoes with thick soles, but that can make finding a stylish pair of footwear a bit harder. 
That's where these beautiful loafer-style Slow Man Women's shoes come in!
These Women's Loafers from Slow Man feature a slip-on design to make it easier to put them on and take them off, as well as an ultra-thin sole that won't aggravate your sciatic nerve. 
These have a lightweight yet durable construction that makes them the best shoes for women with sciatica. 
A cushioned footbed also helps keep your feet comfortable all day long—perfect for those who need support but still want to stay on-trend. 
Reviewers say they're comfortable enough to be worn all day at work without hurting their feet or lower back, which is precisely what you want in the best shoes for sciatica.
ASICS Gel-Contend 5 – Best Runners
Our top pick for the best running shoes for sciatica sufferers is ASICS Gel-Contend 5. 
The shoe has excellent arch support and shock absorption. 
It's an excellent choice if you're looking to take it slow and easy on your sciatic nerve.
Not only does it offer support, but it also has style! 
Available in 10 different colors, you're sure to find a pair that fits your personality perfectly. 
Plus, it comes at a moderate price of somewhere between $53.03 and $138.75 compared to many of its competitors (the average price is $150). 
Even better? 
The Gel-Contend 5 also caters to those who suffer from plantar fasciitis, arthritis, or hammertoes.
And for the ladies, New Balance Women's W1260v6 makes for one of the best running shoes for sciatica problems and definitely the best new balance shoes for sciatica nerve pain out there!
Nike Revolution 4 – Best Tennis Shoes 
Tennis players often suffer from painful backs, but it's typically due to an improper tennis stroke. 
If you have back pain because of sciatic nerve issues, then you need to get yourself the best tennis shoes for sciatica to alleviate that pain. 
The Nike Revolution 4 features a low-profile design that offers stability, comfort, and shock absorption. 
The Nike Revolution 4 is our top pick for the best tennis shoes for sciatica because it has extra cushioning throughout—especially in high-impact areas like under your heel—and it's incredibly light.
Because the shoe is lightweight and flexible, that makes it ideal for any sporting activity you want to do—from tennis to crossfit.  
Being one of the best shoes for sciatica, it also has ample ankle support for added comfort. 
Finally, its ventilating mesh fabric helps keep your feet cool. 
At around $60.00 – $236.80, it's not cheap, and it's not expensive either, but every good player on tour wears Nikes, and these shoes will last you years if you take care of them properly.
Brooks Adrenaline GTS 20 – Best Work Shoes 
The Brooks Adrenaline GTS 20 is our #1 favorite for the best work shoes for sciatica because it has a uniquely shaped footbed that makes it a shoe that really supports your arch and your lower leg. 
That means even if you're on your feet all day, you should have no problem, even if it's just going to lunch or dinner with friends or coworkers! 
The other big upside to these shoes is that they come with a wide toe box, perfect for those who need extra space at their toes.
One of the best shoes for sciatica, the Adrenaline GTS 20 is also an excellent option if you're looking for a shoe that has plenty of stability. 
It will provide you with plenty of cushioning and ample support on your stride, whether it's on or off the pavement. 
And unlike many shoes designed to support your arch, its soft design actually makes it very comfortable to wear—even on the first impression. 
Many users had positive things to say about these shoes, one reviewer describing them as very comfortable and praising their cushioned sole.
Reebok Rb4041 Sublite – Best Steel Toe Shoes 
If you're looking for the best shoes for sciatica, specifically steel-toe shoes, to alleviate your sciatic pain while looking fashionable at work, you'll love Reebok's Sublite series. 
The Reebok Rb4041 Sublite is an excellent shoe with steel toe protection to boot. 
These stylish steel-toe options are comfy, durable, and, best of all, they won't put pressure on your back or hamstrings. 
Its design specifically caters to those who suffer from back pain—and it works! 
Many of our readers swear by these shoes, and one guy wrote that they had given me my life back. 
Plus, they're incredibly comfortable and offer a great fit. 
We're pretty sure you're going to find these the best steel-toe shoes for sciatica that fits comfortably without sacrificing support.
Timberland White Ledge – Best Hiking Shoes 
Hiking boots are great—not only do they look nice, but they're sturdy enough to handle a little rough terrain. 
They also have a thick sole that can cushion your foot while still providing some support. 
One of our favorite best shoes for sciatica pain is the Timberland White Ledge Mid. 
The Timberland White Ledge Mid is a great boot that won't put too much pressure on your back or feet. 
These shoes have a 100% leather upper, seam-sealed waterproof construction, and have a rubber sole. 
There are steel lugs at the toe and heel areas to help you keep your balance as you climb hills or walk on uneven ground. 
And, if you have mild pronation problems, you'll appreciate how there is a slight amount of arch support built into these shoes.
Skechers Equalizer 2.0 – Best Slip-ons 
Skechers Equalizer 2.0 is an excellent option for those suffering from chronic sciatic nerve pain. 
The slip-on style lets you get these shoes on and off with ease, and a non-skid sole helps you maintain your footing when running to catch a bus or taking an important call in a noisy room. 
You can even wear them in bed, which means there's almost no situation where you can't have these shoes nearby! 
These slip-on shoes are breathable and lightweight. 
They are also uniquely flexible, meaning they're easy to move around in. 
Despite being on-the-go footwear, these sneakers will ensure that you don't overdo it on your sciatic nerve, causing greater pain down your leg. 
Skechers Equalizer 2.0 Slip-Ons are the best shoes for sciatica nerve pain for those who spend most of their time moving around like teachers or nurses.
Crocs Classic – Best Clogs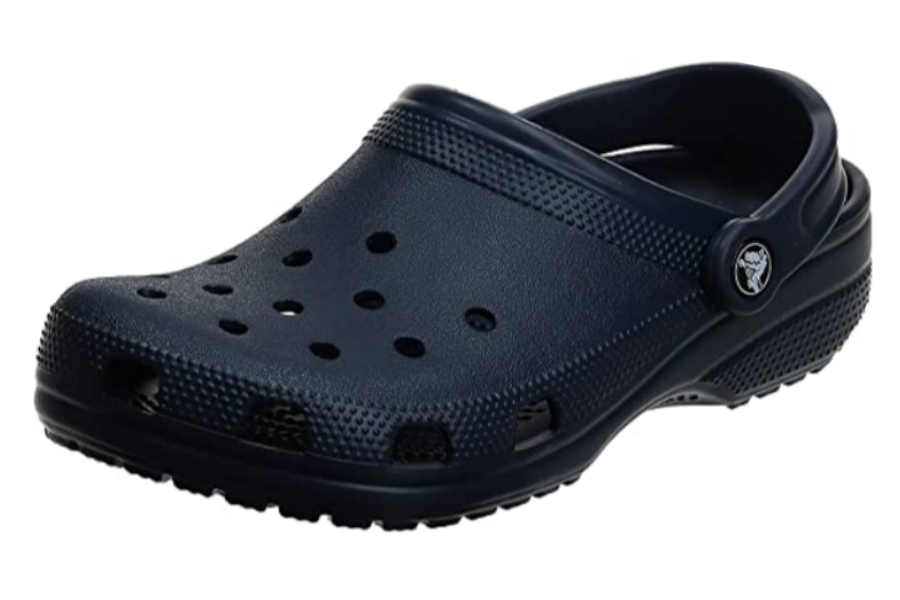 With a contoured, molded footbed and plenty of ventilation, these clogs work hard to keep your feet cool and comfortable. 
The Crocs Classic has a wide, roomy toe-box and is soft to touch, which makes it easy to wear all day long. 
The Crocs brand has a reputation for its high-quality footwear products and is often what medical professionals recommend. 
In addition, if your job requires constant standing or walking, its flat sole will give you good stability and prevent you from sliding. 
If you're struggling with sciatic nerve pain, check out these best shoes for sciatica at Amazon. 
A lot of people found them helpful with relieving their symptoms! 
Wear them with or without socks because they are 100% non-slip. 
Buyer's Guide to the Best Shoes for Sciatica
While there are many shoes advertised as excellent or great shoes for people with back pain, sometimes it can be challenging to figure out what to buy when it comes to footwear if you suffer from sciatica symptoms. 
Below, we'll go over all the primary factors you should look for when buying yourself a pair of shoes for your sciatica symptoms.
Material
For comfort, you'll want a pair of shoes with leather construction or other soft material. 
This way, your feet will be comfortable while supporting your weight. 
If you're not sure how much support you need, there are other factors to consider: 
For instance, if you have a lower-back problem with your sciatic nerve, try putting weight on one leg and see if it's too painful to bear—then get a shoe with more arch support.
Sizing 
You may find that you can get by with an off-the-shelf pair of shoes if your sciatic pain is not too severe. 
An excellent way to test whether a shoe will fit well is to try it on while lying down, with no socks on. 
Your toes should reach the end of the shoe, but be sure there's room for another half-inch or so of space at your longest toe.
Fit 
The Perfect Fit – Finding a great pair of shoes can be difficult when it comes to footwear. 
If you have sciatic pain, fitting shoes is even more of a struggle—and unfortunately, not all brands cater their products to sciatic sufferers. 
Before buying your next pair of shoes or boots, make sure you find ones with a design specific for people with back problems.
Support 
Regardless of which shoes you ultimately decide on, it's a good idea to start with a pair of support shoes. 
In general, these have a lot of room and are available at most athletic shoe stores. 
They come with a design that should give you as much room as possible so that your foot doesn't rub against your shoe.
Inner Collar
Ensuring that you're looking at a high-quality shoe with a supportive inner collar is crucial if you're going to treat your sciatic pain. 
The best shoes will include an extra level of comfort and stability from their extra-thick ankle collars. 
Also, try slipping on a pair of shoes at your local store.
If they slip off easily, they won't be much help when relieving your condition.
Comfort 
A common misconception with individuals who suffer from sciatic pain is that flat, soft shoes are best. 
These shoes allow your foot to spread out, which can cause additional stress on your back and aggravate sciatic symptoms. 
Ideally, you should wear a pair of comfortable shoes that have sufficient cushioning and support. 
You can do so by buying sneakers or walking shoes that have a removable insole.
Breathability 
Finding shoes that won't aggravate your sciatic nerve can be a challenge. 
If you have an active lifestyle, you probably want something with good ventilation—but all those holes can create a pressure point at your feet or ankles.
It will only increase any pain you might already feel from your sciatic nerve. 
In some cases, just wearing shoes that aren't very tight can help relieve some of that pressure.
Soft Outsole
The soft outsole is crucial if you suffer from sciatic pain because it helps cushion your feet. 
You'll want at least some degree of softness in your shoe sole if you are susceptible to back pain, which is especially true if you spend many hours on your feet at work.
Effectiveness 
How well does it absorb shock and reduce pressure on your spine and nerves? 
Is it rated as high arch or low arch? 
How about its drop measurement?
How far off your heel is your forefoot, an essential factor in preventing over-pronation, another major cause of sciatic pain.
Shock Absorption
When you have a pinched nerve in your back, you must look for shoes with shock absorption. 
This way, when you walk or even stand, your feet will be cushioned so that impacts from footfall aren't constantly bombarding them. 
It's also vital that you try on more than one pair of shoes so that you can find a model with proper shock absorption before making your final decision.
Conclusion
While finding a pair of shoes that fits your foot comfortably is hard enough, finding one that can help reduce pain from sciatica is even more challenging. 
Our top ten selections from best to very best from Orthofeet Sneakers and ASICS Gel-Contend 5 means nothing beats our top ten here.
However, if you're suffering from sciatic pain and want to see if any of these shoes can provide relief, it's a good idea to first consult with your doctor before wearing them. 
If they think they can help, they might be worth trying out—but always wear them with caution. 
Even walking around in them will give you an idea of how well or poorly they fit; keep in mind that sometimes it takes several tries to find one that feels good.