Avia Men's Avi-Verge Sneakers are our top pick for the best shoes for foot drop. They help correct the stride of a foot drop condition. These sneakers have an adjustable T-strap that fits securely in the center of your foot and is ideal for mild to moderate drop conditions.
Your footwear plays a crucial role in preventing foot drop pain in daily life; if you're suffering from this condition, look for shoes that offer you flexibility for better movement while maintaining support for your feet.
When it comes to foot drop, finding the best shoes can be difficult. You need to consider a lot of factors and aspects.
Always check if your shoe is from a reputable brand that makes products for people with foot drop like Vionic and Orthofeet. If you love sports make sure to buy from brands like Nike and New Balance.
Choosing the best shoes for drop foot also includes demographics like age, sex, and weight. Is it good for the elderly as well or does it fit a certain foot type, shape, and size?
Finding the right one for your drop foot is not as simple as it seems. When you have a drop foot, your muscles and ligaments cannot hold up your feet when you walk or stand, so you need supportive footwear that can help put things right again.
Best Shoes for Foot Drop of 2021
13 Best Shoes for Foot Drop Reviews & Guides
We've put together the best shoes for drop foot. We want you to be able to choose from a variety of options, so we made a list of the best ones for you. Keep reading to find out more about these amazing shoes.
Avia Men's Avi-verge – Overall Best for Men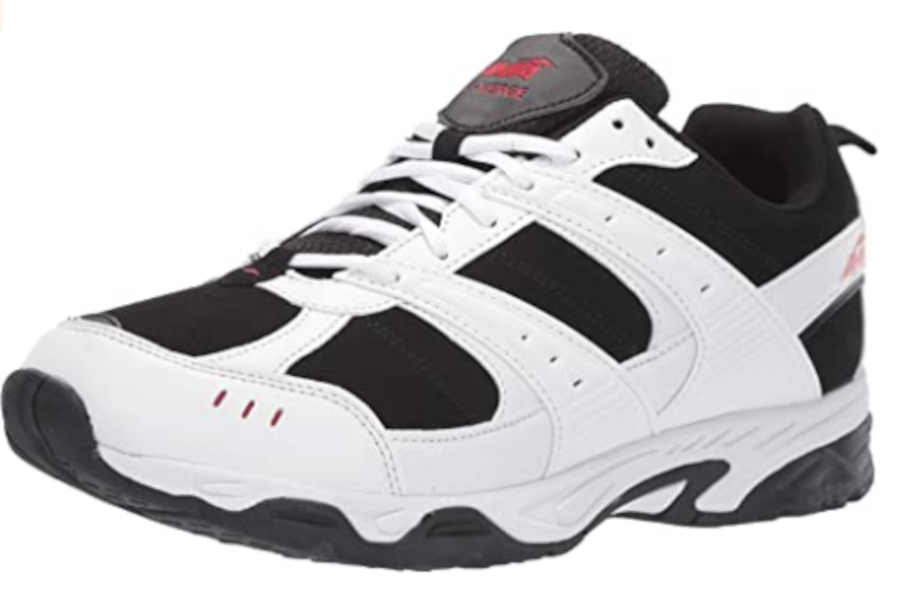 Our overall best shoes for foot drop and flat feet as well, Avia Men's Avi-Verge Sneakers boast a stylish, versatile design that puts comfort as its priority. Crafted of high-quality materials, they're extremely comfortable and built to last. It surely lives up to being the best men's shoes for foot drop.
Avia's Avi-Verge sneaker has a removable memory foam sock liner that adjusts to your foot's unique curves for personalized pressure relief. It's also available in wide sizes for men who need the extra width.
These shoes support your feet and stretch to meet the demands of any workout, whether you're hitting up the gym or working around the house. Their compression-molded EVA midsole provides exceptional shock absorption and cushioning.
And their anatomical heel cradle stabilizes the heel, providing superb support along with a secure fit.
Avia Men's Avi-verge shoes have only one goal: to elevate your look with comfortable and lightweight footwear that goes with just about everything in your wardrobe.
These technical sneakers have a durable synthetic upper that outlasts old-fashioned leather, grippy soles that won't mark the ground or get slippery, or leave behind unsightly scuff marks on gym floors.
The cushioning of these shoes are of superb quality making them the best men's shoes for foot drop. These shoes will allow you to walk & run with ease while absorbing all the shocks and preventing foot drops too.
Avia Avi-Verge – Overall Best for Women
Avia Women's Avi-Verge sneakers are the perfect choice for long days on your feet. They're made with breathable leather that's comfortable to wear all day. It's the best shoes for foot drop and they have enough room to slide in a pair of orthotics.
These women's shoes feature plush, lightweight memory foam in their sock liner, offering maximum comfort for all-day wear. Its EVA midsole technology gives each step brilliant shock absorbency to avoid foot drop and excellent stability while maintaining flexibility around the foot.
However, while the Avi-verge sneaker is durable, its quality control is questionable. Initial reviews indicate that the shoe runs a full size smaller than expected. Make sure to size up for a better fit.
The laces are also too long, requiring customers to cut them to secure a snug fit. But, could also be an advantage if you have wide feet and need extra lengths for your laces. Letting your feet breathe with these best shoes for foot drop.
Propét Men's LifeWalker – Drop Foot Brace
Propet has been putting comfort in the forefront since 1985 with its biomechanical footwear. The brand uses quality materials and modern technology to make shoes like Propet Men's Lifewalker.
The dual-strap design of the Propét Men's LifeWalker ensures that it is comfortable during long, hard walks. This is also to make sure your drop foot inserts with ease, that is why these are the best shoes for drop foot brace.
The shoes are also available in various width options, from narrow to extra-wide, so you can be sure to find a match for your feet.
The Propet Men's Lifewalker has arch support from Ortholite and built-in comfort capabilities that support your arches and reduce the impact on your feet. The insole gives you the freedom to customize its depth, letting you choose just how much support you want.
Made with cushioning Ortholite foam, these shoes keep your feet firmly supported as you walk, reducing pressure on your heels and joints as well as providing a cool sensation against your skin even with a drop foot brace.
Propet's Rubber outsoles provide flexibility and a firm heel counter keeps feet stable. These shoes are ideal for those with diabetes or those looking for extra cushioning and support.
The Hook and loop straps make securing these Medicare-approved shoes easy, and Propet's signature memory foam insoles offer all-day comfort.
These shoes may not have the best arch support for men with flat feet, but you can easily wear custom orthotics or AFOs while using them. These are the best shoes for drop foot brace.
Propét LifeWalker – Nice Drop Foot Brace
For over 30 years, Propét has been making comfortable footwear for anyone with hard-to-fit feet. This Propet Women's Walker is just among Propet's excellent creations for the best shoes for drop foot brace.
Constructed with full-grain leather and backed with a cushioning EVA midsole, these women's walkers from Propet will give you the comfort you want as well as the support you need.
While the herringbone rubber outsole gives you stability as you walk through airports, malls, and other high-traffic areas. The upper is fully adjustable for a secure fit that won't slip during your travels even with a drop foot brace.
Propet women's Walker is also a therapeutic women's shoe that provides support to women who are recovering from a foot or ankle injury. It has all of the features that a woman needs with its padding, removable insole, and Velcro strap.
The PU outsole of this shoe gives you the perfect combination of traction and shock absorption, so you can wear these shoes for your long-distance run or a short walk to work without discomfort even with an AFO.
This multi-width shoe offers an ultra-comfortable option for those with normal to high arches. An excellent pick if you're looking for the best shoes for drop foot brace.
Flex Experience – Most Comfortable for Men
Yet another one of the best men's shoes for drop foot brace, these Nike Men's Flex Experience Run 8 sneakers are an ideal choice for men with foot drop.
The unique design of the shoe provides support while making your gait easier and smoother. These shoes are the best running shoes for drop foot brace.
Nike Men's Flex Experience Run 8 shoes have uppers that are from a Nike Flex AirKnit material and have an adaptive fit. These shoes will be hugging every curve of your foot and giving you a soft, comfortable feel.
The outsole of the shoe has a design that provides flexibility with six flex grooves, allowing for a natural stride. The midsole is lightweight, thanks to injected construction. Rounded heels allow for a natural foot movement pattern and help prevent fatigue.
The outsole's textured pattern provides sturdy traction, minimizing the risk of slipping. It addresses the major concern about running shoes too which is the tread wear and sound. With all these features, it is the best running shoes for drop foot brace.
But unfortunately, it makes a squeaking noise when walking on marble or other smooth surfaces because of those patterns too. You can always tolerate this minor issue though since the features outweigh this simple concern.
Women's Run 8 – Most Comfortable for Women
This lightweight Nike Women's Flex Experience Run 8 Shoe is the best running shoe for women with foot drop. Their supportive sole offers foot drop sufferers increased stability while walking or running.
Women's Flex Experience 8 sneakers have a natural feel, these shoes also have light, flexible materials that fit your every step. There's also extra cushioning for long-term comfort.
With an Adaptive Ride™ sole, these shoes also provide a custom fit and feel that encourages a personalized stride that will power you through your day while running and into the night.
Designed with a knit fabric for a comfortable feel and mesh in the heel to promote breathability, these running shoes are as durable as they are sleek. The rounded heel will provide a more natural range of movement, keeping you moving freely during your run.
A sleek, structured toe box and ultra-lightweight mesh lining keep out unnecessary distractions to ensure that you not only love them at first but feel great while wearing them. These shoes are highly favored by women and are the best running shoes for drop foot brace.
Vionic Men's Walker – Best for Elder Men
Vionic Men's Walker has a design that minimizes pressure points and offers support and protection for your most sensitive foot areas.
This shoe has a goal of alleviating foot pain by focusing on biomechanics and proper fall alignment, making it the best shoe for elder men with drop foot on our list.
Your feet will thank you for the Vionic Men's Walker. Its removable EVA footbed is meticulously covered in soft textile and has a design to fit in the heel for an ultra-comfortable feel.
With .5″ of built-in elevation, you'll feel like you're walking on pillows. Excellent feature for your drop foot. While the rubber outsole ensures durability when taking on the day's challenges and makes your stride effortless.
They feature a leather upper and dual-density EVA technology for plenty of stability. Whether you're looking for men's shoes, active sneakers, or your drop foot, Vionic Men's Walker is what you need.
Vionic Men's Walker has built-in patented Active Motion System (AMS) technology and has a prime to protect even the most active of feet.
These men's shoes have a design that does more than just look good — they're supportive, and are the best shoes for elder men with drop foot.
Vionic Walker Classic – Best for Elder Women
Vionic Women's Walker Classic shoes are meticulously designed to provide both comfort and stability to ensure long-term use. An ultra-lightweight shoe that provides effective biomechanical support and for elderly women, these are the best shoes for elder women with for drop foot.
The Vionic Women's Walker Classic is specifically engineered to keep the foot from hitting the floor incorrectly from heel to toe. Additionally, the Women's Walker Classic will improve your foot's health with its built-in odor control, and it has a removable footbed for added depth.
This shoe features a polyester foot liner and foam base that provides an incredibly comfortable experience, while the orthotic-grade insole supports you with every step.
Its rubber outsole resists wear and tear while keeping your foot from slipping, and a heel counter provides added stability.
On the downside, some customers have reported that they need to order half a size or whole size up just like the men's version of this vionic. But, with its excellent features, sizing up is hassle-free when you'll get the best shoes for elder women with drop foot.
Orthofeet Men's Sprint – Best for Athlete Men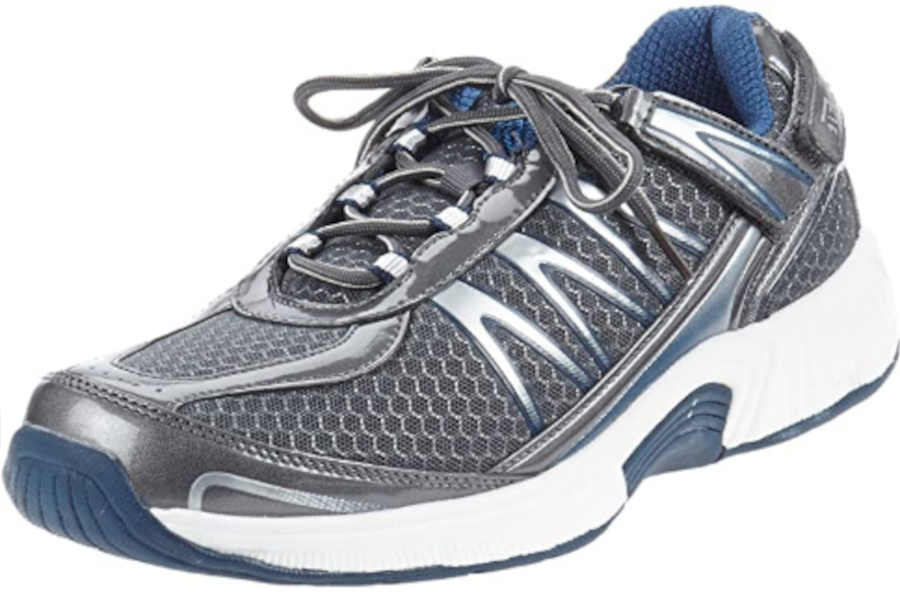 Orthofeet plantar fasciitis shoes like Orthofeet Men's Sprint have a specific insole to help manage pain from heel spurs, ankle pain, knee pain, and bunions.
Orthofeet Men's Sprint is also the best athletic shoe for drop foot! By reducing the pressure on your heel and supporting your arch, these shoes can be a valuable asset to your treatment.
With its built-in footbed and orthotic support, Orthofeet's technology takes the pressure off the sole while still providing maximum comfort wherever you go. You can run confidently even with a drop foot with this shoe and perform athletic activities.
Designed for an effortless fit, the breathable fabric construction can stretch to accommodate a wide range of foot sizes, while the unique therapeutic design helps ease pain and improve mobility across all joints especially for drop foot.
Whether you're dealing with diabetes or just looking for an extra bit of support, this pair of orthopedic shoes lets you walk in comfort. With its soft uppers and smooth interior lining, it's ideal for those who suffer from neuropathy as well and want lightweight men's shoes.
Made with a wider toe box to eliminate any pinching or pain, Orthofeet Men's Sprint gives you room to wear orthotics for extra arch support. These are the best athletic shoes for drop foot.
Orthofeet Shoe – Best for Athlete Women
Orthofeet Women's Athletic Shoe is specially designed to alleviate foot pain. With extra cushioning and anatomical arch support, these cushioned sneakers are great for people with foot issues such as plantar fasciitis, foot drop, or even tennis players who need a little extra support during games.
The ergonomically shaped shoes, along with multiple layers of cushioning, provide a very comfortable feel whether you're walking or running. With the perfect fit and an innovative design, this is the best athletic shoe for drop foot.
Orthofeet Women's athletic shoes are the best option for women with a wide ankle and wider calf. It's brand new design is wide and roomy to allow the toes to be at ease, regardless of what size you are.
When buying Orthofeet Women's Athletic shoes you might want to order a half a size up. The high back ankle support may cause chafing, especially for users with thin ankles. You might want to break in the shoes first.
With a lightweight foam used inside the shoe's outsole, Orthofeets are also very comfortable, they don't even feel like you're wearing orthotics or special shoes! This is why it's the best athletic shoes for drop foot.
New Balance Men's 813 V1 – Best Value for Men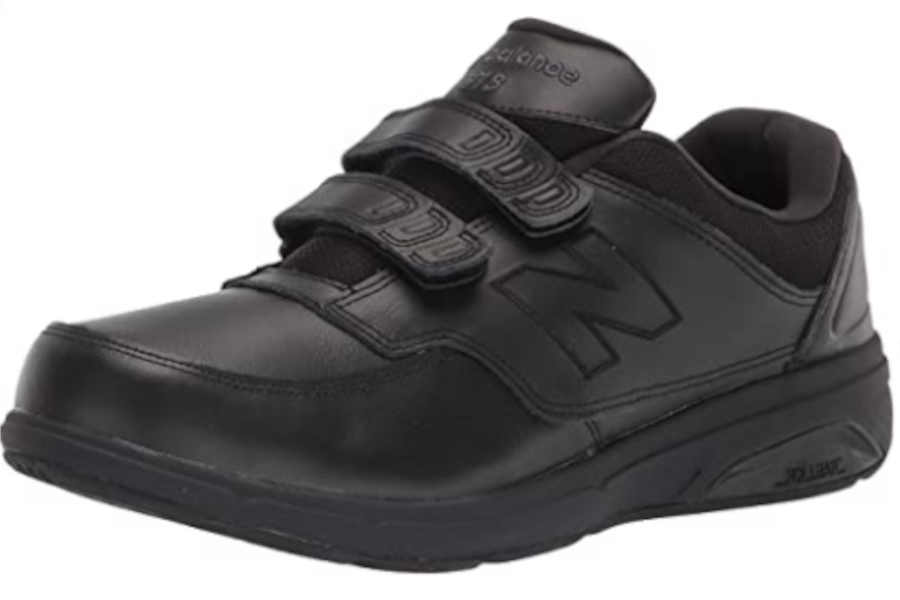 New Balance is a popular brand of shoes known for their wide range of width options. They're a favorite among athletes, particularly runners who require added support and stability for their feet. New Balance Men's 813 V1 is the best New Balance shoes for drop foot.
This shoe has removable insoles that you can replace with a custom orthotic. The proprietary Abzorb cushioning in the heel helps absorb shock, while a polyurethane midsole provides stability and support.
If you have high insteps, you'll find these shoes might be a bit short in the toe area. These are more comfortable for men with lower arches.
For men who have difficulty using laces, the hook and loop straps might be a more comfortable choice. Durability may be an issue with these shoes, so it's probably best to keep them away from sharp objects and wear them with caution.
New Balance Men's 813 V1 employs cutting-edge technology to provide both comfort and stability for a more natural stride for drop foot. The insoles are removable to accommodate custom orthotics too.
These are the best New Balance shoes for drop foot, that are great for men.
Women's 813 V1 – Best Value for Women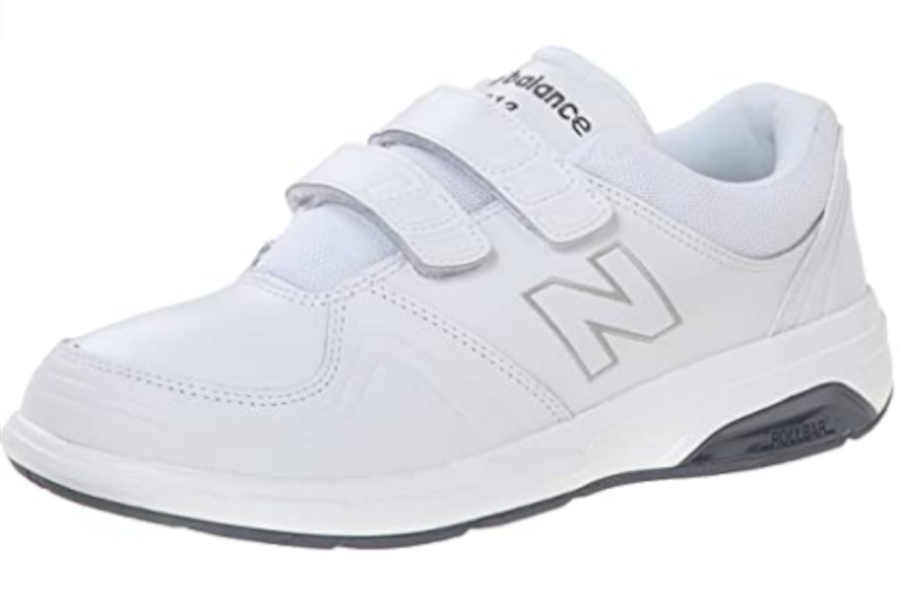 These comfortable New Balance Women's 813 V1 walking shoes help keep you stable when you're on the move. This shoe will add support to your arches as you walk and will let you have a bit of a neutral stride even with drop foot.
These shoes are the best New Balance shoes for drop foot because just like its for men counterpart, this women's shoe has durable and comfortable materials that feel as good as they look.
The ROLLBAR system feature of this shoe is a post that runs through the shoe's midsole, it helps stabilize the rear foot. For women with drop foot, this shoe will help keep your stride in check and keep you moving forward with confidence.
The foam midsole and soft Comfort Collar of New Balance Women's 813 V1 add support to your day while the leather, mesh, and rubber outsole ensure that you won't slip even if your feet will get wet.
New Balance Women's 813 V1 shoe is a favorite among women needing extra thickness in athletic shoes, and their high-level cushioning and support will give you the stability you need. The best New Balance shoes for drop foot since it maintains a close to natural walk cycle.
Orthofeet Carnegie – Unique Choice for Men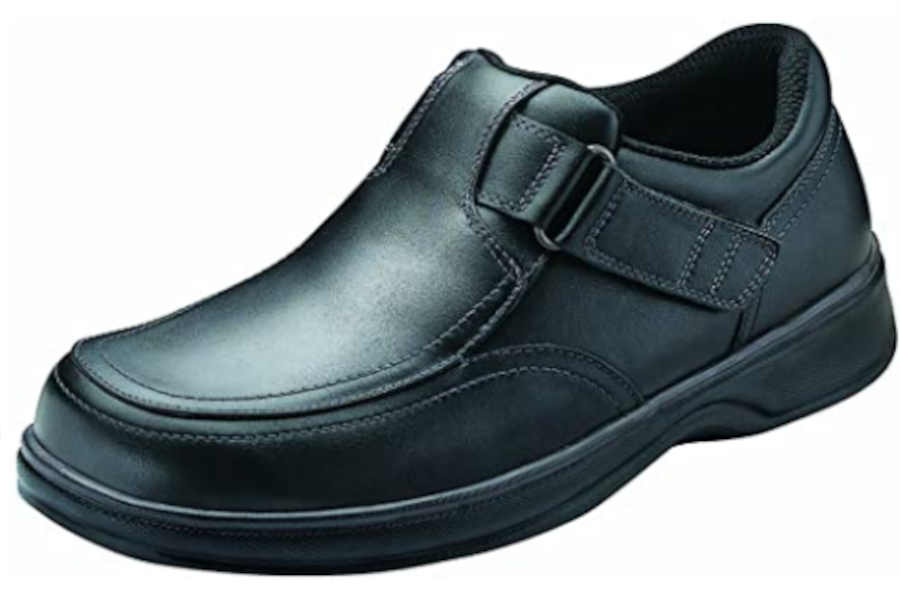 The Carnegie might look like a classic shoe, but it's much more than that. What type of shoes is best for foot drop? Easy to slip on shoes that offer Orthofeet patented technology for superior comfort and cushioning like the Orthofeet Carnegie Men's Shoes.
The shoe looks dapper and feels great thanks to its high-quality leather, genuine hand stitching, and shock-absorbing EVA midsole. Its versatility makes it suitable for the office as well as casual outings.
Carnegie Men's Shoes use biomechanics to help your drop foot and lower bodywork in the most comfortable way.
They've help people with numerous foot-related issues, from bunions to tendinitis, and even hip, knee, and back pain as well.
These shoes have a design to be extra-comfortable, yet durable enough to stand up to everyday wear. And a perfect choice on what type of shoes are best for drop foot.
Orthofeet Mary Jane – Unique Choice for Women
When asked what type of shoes are best for foot drop, shoes with comfort and stability are a top feature. This Orthofeet Mary Jane has that and has enough space for an ankle-foot brace as well.
The Mary Janes from Orthofeet is a dashing option for women with drop feet. These stylish shoes feature a slip-resistant outsole and a cushioned footbed. Both of which help to ensure that your feet won't slide or feel stiff while you're on the job.
Mary Janes also feature double-stitching for added durability, and a padded heel, so you can work hard without feeling as though you have to sacrifice your comfort.
This Orthofeet Mary Jane women's shoe has an orthotic-friendly interior that allows you to use your custom inserts or remove the insole completely. The removable insoles have 2 different depths; the 8-millimeter one adds depth, while the 6-millimeter version creates more space.
These orthotic shoes will help balance out the natural alignment of your feet. These shoes push your toe forward, which removes any tension and pain in your knees, ankles, and lower back.
The antimicrobial treatment keeps the number of bacteria in these shoes at a minimum, so you can wear them for long periods without fear of foot odor.
All these features answer what type of shoes are best for foot drop. Women with foot drop can walk confidently with this shoe even with a drop foot brace.
Best Shoes for Foot Drop Buying Guide
Foot drop is a common disability that becomes more challenging when wearing an ankle-foot brace.
If you have an AFO, finding the right pair of the best shoes for foot drop can be tough. — not many brands make selections with this population in mind.
Fortunately, there are features to look for that will accommodate your foot drop, and make it easier for you to find a shoe that works well with your brace as well.
Check out these key features to consider when buying the best shoes for drop foot.
Right Size
Extra Depth
Cushioned Insoles
Lightweight
Ankle Support
Stability
Slip-Resistant
Style
Right Size
You must wear shoes that fit your foot snugly. The best shoes for foot drop should let you wiggle your toes, but not have too much space in the back of the shoe.
If you feel discomfort, try a different size. If a good fit is attainable with the three-point adjustable strap on your shoes, start by tightening the strap slightly. This will help you achieve a more comfortable fit while walking.
Extra Depth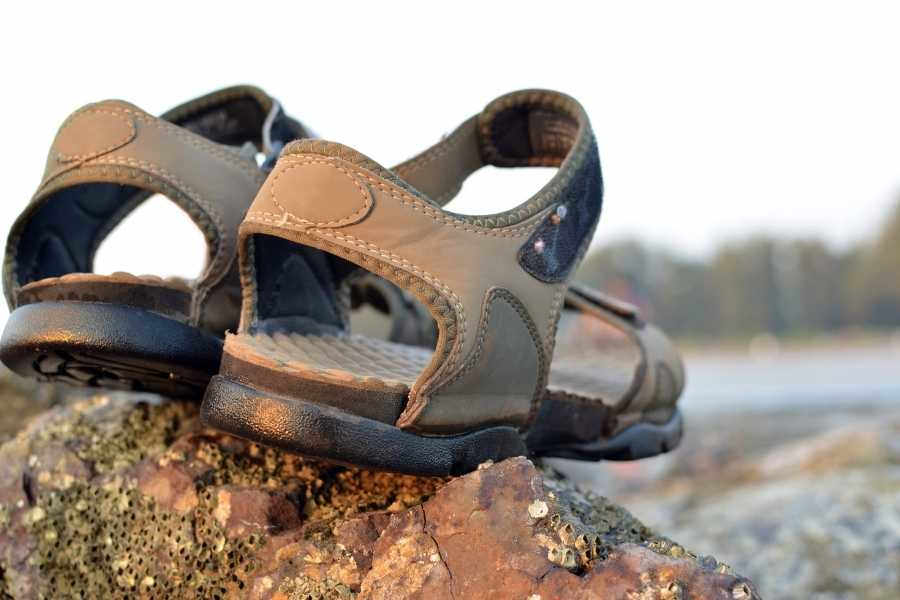 Extra-depth is important. Shoe shafts that can extend very long will accommodate your foot if you have an Ankle-Foot Orthosis (AFO). This also makes it easier to ensure a secure fit.
AFOs are rigid braces that extend from the ankle to the knee. While some users have reported that they have been able to wear a variety of shoes, finding a good fit with extra depth is key for the wearer's comfort and for the AFO to do its job properly.
Cushioned Insoles
Comfort is an important aspect when it comes to shoes, especially those that you wear every day. For work or play, your feet need to feel as comfortable as possible.
Test the insoles by wearing the shoes around the house for a few hours. They should cushion your feet and offer support where you need it most.
Cushioned insoles for drop foot are a must and you should not overlook them when considering getting the best shoes for foot drop and optimum comfort.
Lightweight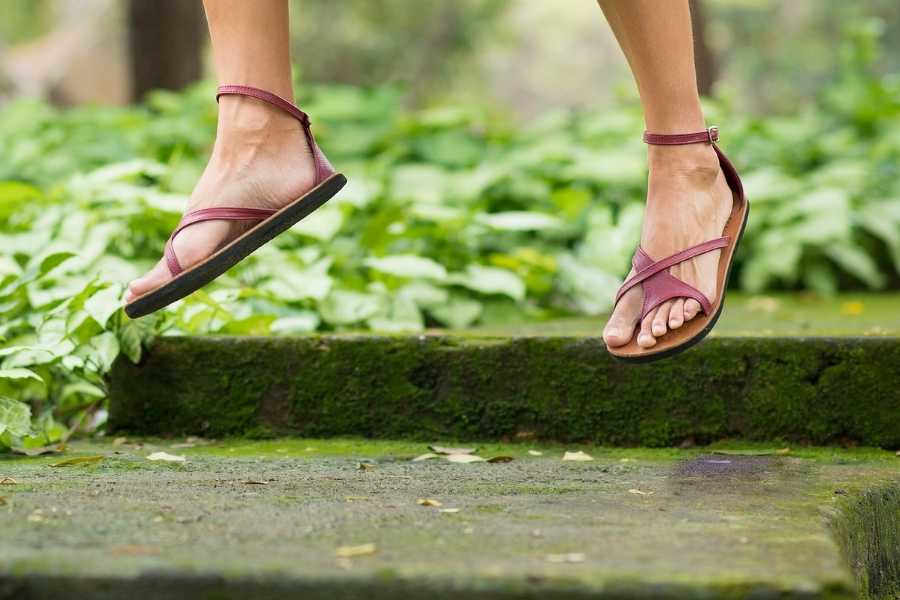 Foot drop is a condition in which your foot becomes clumsy or numb, making it hard to lift your foot off the ground from a standing position.
Although many reasons cause foot drop, one of the best solutions is to find the best shoes for foot drop that come with meshes at the base and lightweight soles.
Heavy shoes can lead to foot drop, which is due to lifting the foot from the floor with an uncontrollable flexion at the ankle. That is why it's essential to choose shoes that have lightweight and breathable materials.
Support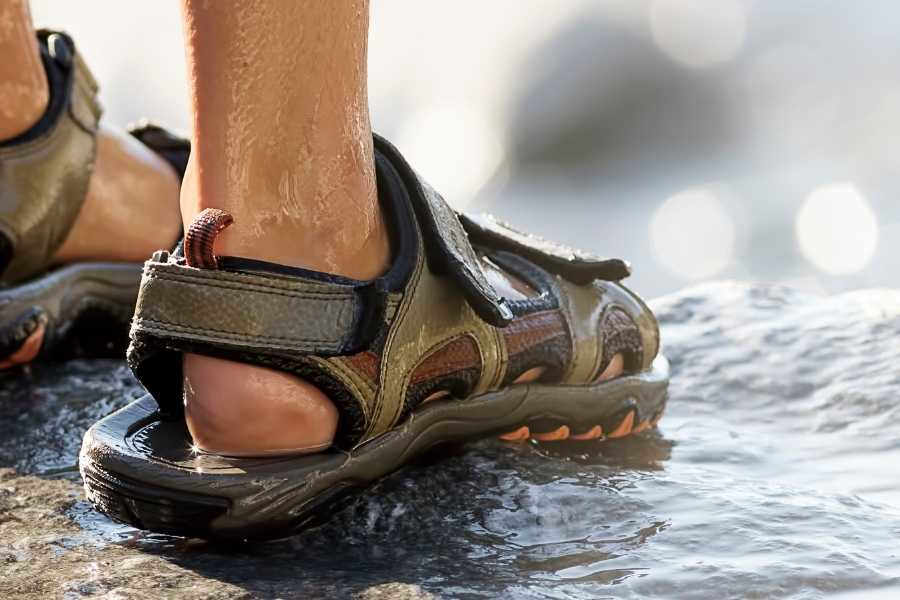 You must pay attention to the care of your feet if you want them to stay healthy. Arch and heel alignment, as well as general foot health, can be a challenge for many.
Some shoes are more lightweight and flexible than others, which some people prefer but they often don't offer nearly as much arch and heel support as other models do. Make sure to get both to have the best shoes for drop foot.
The best shoes for foot drop should offer support depending on the user's arch-type. For example, individuals with high arches may prefer firmer support to prevent their underfoot from rolling inward, while those with low arches may enjoy a flexible shoe that molds to the foot's natural shape.
Stability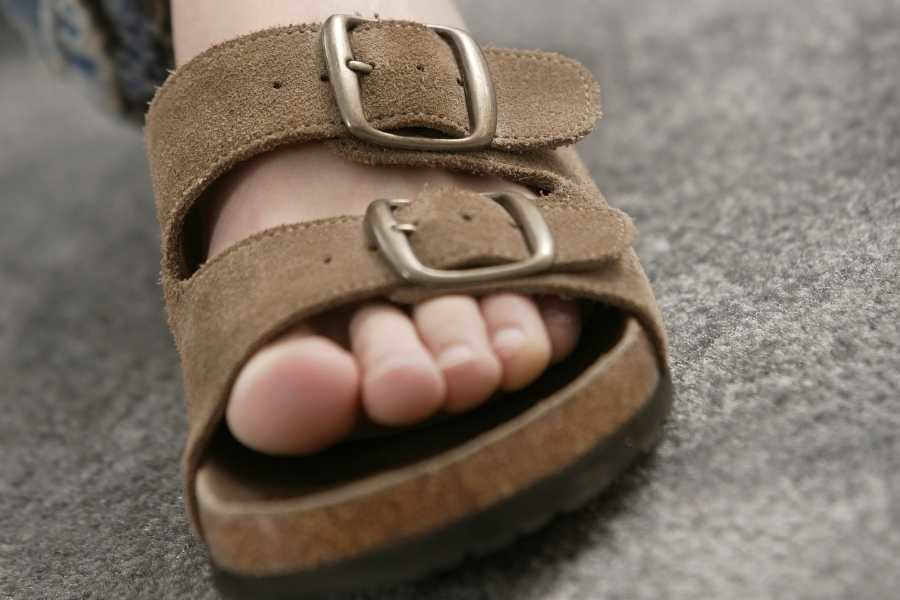 The best shoes for foot drop should have soles that allow for enhanced stability. A proper shock absorption system, or the ability to relieve pressure points, is a must.
Stability is the most important factor in preventing foot and ankle injuries — especially with people with disability or balance issues, such as drop foot.
Through a combination of strong materials and a sturdy frame, Make sure to choose shoes that you can enjoy the highest level of stability in all your activities.
Slip-Resistant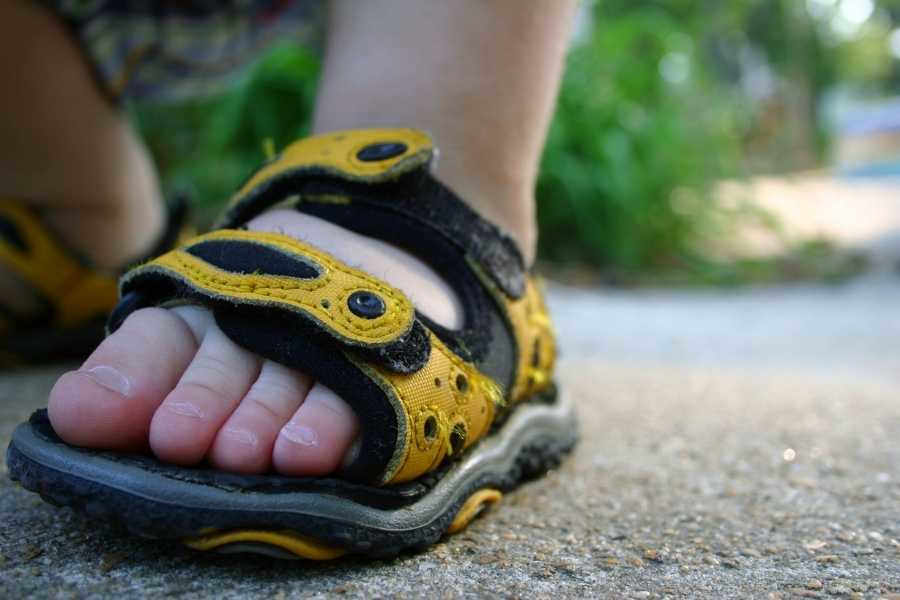 The best shoes for foot drop should have traction on the heel to avoid slipping during movement. If possible, the shoe should have a motion control feature as well.
To prevent trips and falls, you should look for a shoe that provides traction. Rubber soles are a great solution: they're lightweight but offer good traction to keep your feet from sliding around.
Style
When choosing the best shoes for foot drop comfort, look for a secure lacing system or hook-and-loop (Velcro) closure. Avoid tall heels, as you need to be able to walk comfortably and without pain.
Opt for all-over lace-ups that will allow you to adjust the fit of your shoes. For ladies, it's better to avoid long, heavy heels — along with open-toed shoes. Tripod shoes provide a secure lacing system, while hook and loop closures will let you find the perfect fit for any foot shape.
Conclusion
Foot drop happens to people of all ages, and it's most often a result of a stroke or an injury. The good news is that most cases can be treatable; all you need to do is choose the right shoes.
Make sure you're wearing flexible footwear with durable soles that will keep your footing steady. We recommend Avia Men's Avi-verge and Avia Women's Avi-Verge for both as an overall best shoe for foot drop.
Vionic Men's Walker and Vionic Women's Walker Classic are perfect options for the elderly with drop foot, as they relieve pain in the foot and ankle areas with their innovative technology. Their shoes are incredibly comfortable, even if you walk or stand in them for extended periods.
If you're looking for a perfect casual shoe, New Balance Men's 813 V1 and New Balance Women's 813 V1 are an excellent choice. The New Balance shoes come with drop foot corrective features and are highly rated and recommended as one of the best shoes for foot drop by previous customers too.
Leave a comment below — let's talk about your favorite parts of this article! Also, share this with your friends and help us share the best shoes for foot drop.