I don't doubt that Nike and Adidas are two of the biggest names in sportswear. Though both of these brands have verifiable track records of creating quality products, Adidas vs. Nike sizing is completely different. Adidas tends to run bigger, so make sure to size down than normal for optimal comfort.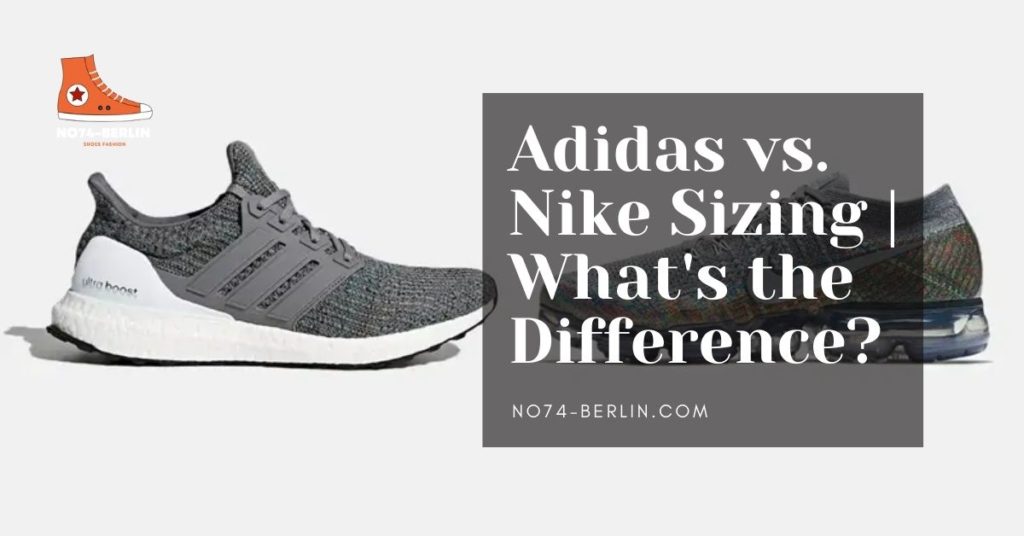 Check out the key differences between Adidas vs. Nike Shoes sizing below.
Nike vs. Adidas Sizing Guide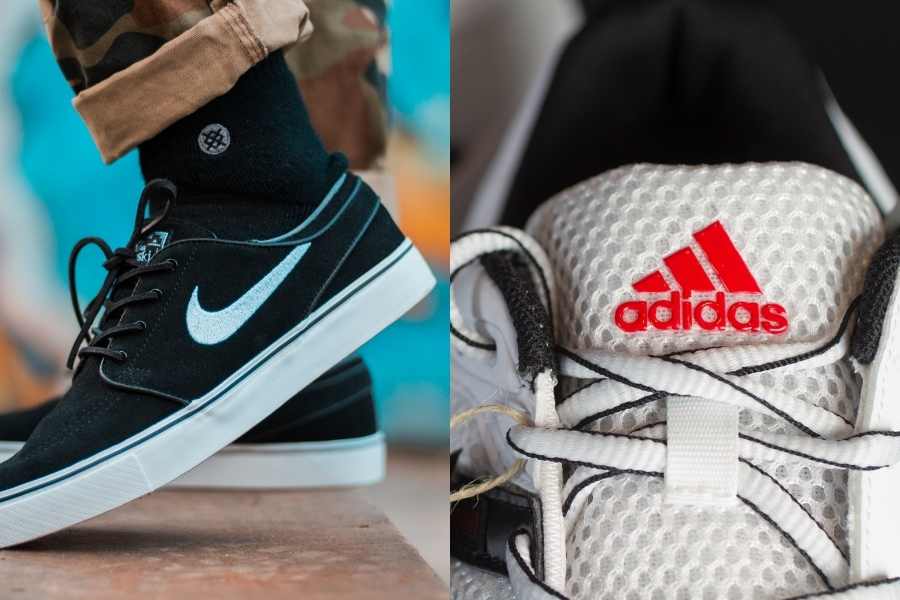 1. Shoe Size Chart
Nike and Adidas, like most shoe brands, have their sizing charts. If you don't know your size, a glance at the charts will give you everything you need to make an accurate selection — no guesswork required.
Being based in Germany, Adidas designs its products with a European fit, while Nike is an American company that specializes in US sizing.
You'll want to check the size chart below before purchasing a pair of Adidas or Nike since sizing measures differently (but you can easily convert with a simple conversion guide). Check out the Nike and Adidas Sizing Guide down below.
Nike Size Chart
Heel to toe measurement (inches)
EU Men's
EU Women's
UK Men's
UK Women's
US Men's
US Women's
8.5
35.5
3
3.5
8.7
36
35.5
3.5
2.5
4
5
8.8
36.5
36
4
3
4.5
5.5
9
37.5
36.5
4.5
3.5
5
6
9.1
38
37.5
5
4
5.5
6.5
9.3
38.5
38
5.5
4.5
6
7
9.5
39
38.5
6
5
6.5
7.5
9.7
40
39
6
5.5
7
8
9.8
40.5
40
6.5
6
7.5
8.5
10
41
40.5
7
6.5
8
9
10.1
42
41
7.5
7
8.5
9.5
10.3
42.5
42
8
7.5
9
10
10.5
43
42.5
8.5
8
9.5
10.5
10.7
44
43
9
8.5
10
11
10.9
44.5
44
9.5
9
10.5
11.5
11
45
44.5
10
9.5
11
11.1
5.5
10.5
11.5
11.3
46
11
12
11.5
47
11.5
12.5
11.7
47.5
12
13
11.8
48
12.5
13.5
Adidas Sizing Chart
Heel to toe measurement (inches)
EU
UK Men's
US Men's
US Women's
8.7
36
3.5
4
5
8.8
36 2/3
4
4.5
5.5
9
37 1/3
4.5
5
6
9.1
38
5
5.5
6.5
9.3
38 2/3
5.5
6
7
9.5
39 1/3
6
6.5
7.5
9.7
40
6.5
7
8
9.8
40 2/3
7
7.5
8.5
10
41 1/3
7.5
8
9
10.1
42
8
8.5
9.5
10.3
42 2/3
8.5
9
10
10.5
43 1/3
9
9.5
10.5
10.7
44
9.5
10
11
10.9
44 2/3
10
10.5
11.5
11
45 1/3
10.5
11
12
11.1
46
11
11.5
12.5
11.3
46 2/3
11.5
12
13
11.5
47 1/3
12
12.5
13.5
11.7
48
12.5
13
14
11.8
48 2/3
13
13.5
14.5
12
49 1/3
13.5
14
15
12.2
50
14
14.5
15.5
Be sure to check our shoe size chart guides as well for more info.
2. Actual Shoe Size
While it is possible to use the Adidas vs. Nike Sizing charts above to find a perfect fit, it's important to be aware that the sizes are not direct translations of each other.
As such, it's important to go by your brand of choice (Adidas or Nike) when buying shoes online, because the fit might be slightly off between different brands.
Adidas shoes are a bit bigger than Nike's. While Adidas is true-to-size, Nike is a half size smaller than their listed sizes.
You might want to check this comparison between Adidas vs. Nike Sizing Chart.
Adidas vs. Nike Sizing Chart
Heel to toe measurement (inches)
Nike US Men's
Nike US Women's
Adidas US Men's
Adidas US Women's
8.5
3.5
8.7
4
5
4
5
8.8
4.5
5.5
4.5
5.5
9
5
6
5
6
9.1
5.5
6.5
5.5
6.5
9.3
6
7
6
7
9.5
6.5
7.5
6.5
7.5
9.7
7
8
7
8
9.8
7.5
8.5
7.8
8.5
10
8
9
8
9
10.1
8.5
9.5
8.5
9.5
10.3
9
10
9
10
10.5
9.5
10.5
9.5
10.5
10.7
10
11
10
11
10.9
10.5
11.5
10.5
11.5
11
11
11
12
11.1
11.5
11.5
12.5
11.3
12
12
13
11.5
12.5
12.5
13.5
11.7
13
13
14
11.8
13.5
13.5
14.5
12
14
15
12.2
14.5
15.5
You'll have to go by the specific shoe size chart for those who are getting half sizes.
If I say the difference is a few millimeters, that don't mean that there's no difference. Sports players can attest to that! The right gear can make all the difference.
Casual players can get away with old athletic & tennis shoes, but athletes know that the right training footwear can help them perform at their peak. Not only do they help prevent injury, but they are also specially designed to improve performance and support muscles for miles of overall satisfaction.
Not only that, but orthotics users may squeeze their shoes a little tight since their orthotics can't fit into a shoe. You should be able to wear a shoe with ease that is why a millimeter counts!
3. Overall Widths of Shoes
Nike shoes are often advertised to run tighter than Adidas, so it's important to know that you will need to get half a size up when purchasing Nike shoes.
Their shoes are differently constructed than Adidas, so if you're deciding between the two brands go with Nike and order a normal size that you usually wear and then a half size up.
This prevents getting shoes that are too tight and uncomfortable.
Adidas is a brand that's highly focused on the needs of foot shape and size. Their wide selection of sneakers catering to the comfort needs of wide-footed consumers is one of their key selling points.
On the other hand, Nike has a more limited range of athletic shoes for people with wide feet. For instance, the Nike Air Zoom Pegasus offers a well-constructed upper to ensure that the foot stays in place
4. Shoe Features
Nike has an amazing app that anyone can use to determine their shoe size. All you have to do is take a picture of your foot and the app will tell you which shoes will fit.
For men, be careful: it seems that Ultraboosts may be narrower than other shoes, so if you have wide feet, you may need half a size larger. But if you get Cloudfoam in the women's version, it may run wider, so you'll want to go down a half size.
Apart from these measures, it's important to keep in mind that sizing charts don't work for everyone. Each brand has its specifications, so you should check their size guides to find the perfect fit for your feet. You can do this online or at your local sporting goods store — salesmen are usually knowledgeable about which brands run true to size and which run larger or smaller.
Adidas vs. Nike Shoe Sizing
#1 Getting the Perfect Fit
Shoe sizing isn't a simple task. It can take more thought than you can imagine. Here are some techniques you can try to get the perfect fit.
Adidas vs. Nike Sizing – The trick to get that fit correctly is to take a few moments to think about your foot shape and any issues you have with your feet. If you're in-between sizes, it's best to size up; if you have particularly wide or narrow feet, try to get shoes with more space for the width of your foot.
Never guess your size. Measure from the heel of your foot to your longest toe, and make sure that you're accurate. For even more accuracy, watch this video for tips on how to measure your feet properly.
Even if you're buying the same brand and style of shoes, it's crucial to check the size. Footwear can loosen with age or change after things like foot conditions or pregnancy.
Do not use shoe sizes as the deciding factor for buying a pair of shoes. Instead, use the size conversion charts provided on each brand website to ensure the correct fit.
If you wear insert pads in your shoes, you should try wearing them with your shoes first. If your insoles are a bit too tight after putting them in, it might be a good idea to buy the next bigger size.
Every pair of sports shoes demands a specific kind of sock for optimum comfort, and with brands such as Nike and Adidas constantly releasing new lines of sneakers you can't forget about lightweight socks.
When it comes to shoes, one-size-fits-all is a myth: you may need to go up or down half a size from your usual shoe size. Foot problems are common among women who wear shoes that are too small or too large for their feet.
Read customer reviews before purchasing an item online. These can often tell you more about a product than the site's description, especially for bespoke or made-to-order products.
Nike Sizing Tips
If you're planning on getting those new kicks from Nike, be sure to read on some of our suggestions
They have a new way to shop for the perfect athletic shoe. Nike Fit is a tool that lets customers take a photo of their feet and find the right size for any model of athletic shoes. With just one click you'll be able to find the right size for you — and even book an appointment at a local Nike store for actual fitting.
If you can't stand fractions, a Nike size chart in centimeters may be easier to use.
Adidas Sizing Tips
Do you have shoes in mind from Adidas? Then you might want to consider some tips below before buying.
When buying shoes for your young one, remember that they'll need an adiFIT insert. This set of inserts and replacement parts ensures that their shoe is a comfortable fit.
If you're between sizes, order the smaller size if you want a tight fit and a larger size if you'd like something looser.
Adidas Basketball Shoes Sizing vs. Nike
Now, let's talk about Adidas vs. Nike Sizing in terms of basketball shoes.
Adidas Basketball shoes offer shoes in a range of sizes to accommodate their customers' different needs and preferences. If you are unsure about your size, it's best to make sure you're comfortably in-range: if you're between two sizes, try both on and see which one is more comfortable.
Nike's basketball shoes are synonymous with performance and innovation. But most of the time, their super-tight fit requires a wider break-in period than your average shoe. Nike sizes are larger than most, so if you're new to the brand, order one size larger than you normally wear, or half a size up if you know the brand well.
Conclusion
It's not our place to say which brand is best — but we can say that Adidas shoes run a half size bigger than Nike in sizing. They also fit wider because their lasts are wider, so if you're a wide shoe fit, you might want to steer clear.
A perfectly fitted shoe is an essential element in your sports performance. For basketball, for example, a shoe that fits improperly can contribute to the game in numerous ways — from causing an increased risk of injury to impacting player ability on the court.
Ultimately, picking a brand of footwear is completely up to you — what matters most is that you get shoes that suit your needs. So whether you prefer minimalist sneakers or high-tops, be sure to consider factors aside from sizing like comfort, durability, and design when choosing a pair.
We hope we've covered everything you need to know about Adidas vs. Nike sizing. If you have any questions, feel free to discuss them in the comments section.