If you're in a rush, our top 2 choices for the best parkour shoes (based on hours and hours of research) are Onitsuka Tiger Ultimate 81 and Take Flight Stealth Ultra. They both are known for providing superior grip, motion control, durability, shock absorption, and flexibility. 
Parkour is derived from the French word "Parcours Du Combattant," meaning "obstacle course." Originally a training method for soldiers, the idea of parkour was brought to life by David Belle.
It's now practiced by people all around the world for a variety of reasons. If you just need a way to get in shape, parkour will challenge your muscles like never before…and it's fun!
Parkour is an exciting new sport that can be practiced anywhere there's open space. Whether it's a forest canopy or the rooftops of a major city, practitioners of this discipline can run, jump, climb, and roll to their heart's content.
The only thing required for practicing Parkour is a pair of the best parkour shoes (and although there are specific models that will help you learn and progress faster, every shoe can technically be used if you don't mind a few scratches).
Parkour is a sport centered on training the body to move efficiently from one point to another. Footwear is an important aspect of parkour, and players need the right shoes to ensure both smooth and safe movement. 
Below are some of the world's best parkour shoes that offer superior grip, shock absorption, and flexibility in the most punishing of settings.
World's Best Parkour Shoes in 2021
11 World's Best Parkour Shoes Tested & Reviewed
We know finding the right shoe for parkour can be a time-consuming and stressful process. And while there are no "one shoe fits all" in the world of parkour, there are shoes that do a great job of helping beginners and experienced traceurs alike. 
Here are our recommendations for the best parkour shoes 2021 has to offer. They're from our favorite brands.
Onitsuka Tiger Ultimate 81 – World's Best
If you are searching for a product that can take your parkour to the next level, then stop looking and look no further than Onitsuka Tiger Unisex Ultimate 81 Shoes. 
We went to Reddit for this one and the best the parkour shoes Reddit people from subreddit r/Parkour recommended is the Onitsuka Tiger Ultimate 81.
Retro styling paired with modern-day comfort and durability, they are top of the line when it comes to maximizing efficiency when performing acrobatic techniques.
The versatile colors give customers so many to choose from. 
You can choose from over 20 colors, so you can enjoy choosing the one that best taps into your strengths as both a functional accessory as well as an aesthetic piece for clothes and activities such as running and of course, parkour.
As any parkour practitioner will tell you, the best parkour shoes like the ASIC Tigers Onitsuka Ultimate 81 don't give up even after they've been worn time after time and even after going through a ton of brutal wear-and-tear.
You will find it easy to scale rough terrain in these parkour shoes. It helps that the outsoles are made from sturdy EVA foam that is perforated with flex channels which also help with landing and ascending movements.
Fabric uppers are very vulnerable to damage and can easily get torn. However, faux leather overlay creates a durable barrier protecting against rips and tears in shoe fabric. 
The padded collar and tongue help protect against chafing and soreness so you can run for longer without any fears of discomfort holding you back. 
When it comes to design, the lightweight shoe's minimal look is deceiving because they're built for speed while keeping your comfort in mind.
Nike Revolution 3 – Best Nike
Nike's line of shoes for parkour has always been amazing, but they took it up a notch with these next-level kicks. It's hard to imagine any other brand topping these when it comes to their quality construction and durability.
We're going to recommend the Nike Revolution 3 as our ultimate pick for the best Nike parkour shoes because of its reviews and because some of our traceur friends really enjoyed them while practicing Parkour.
The Nike Revolution 3 is particularly a good choice for parkour. It's extremely lightweight and this is very preferable if one is practicing the sport of parkour as it allows them to jump, twist and turn swiftly without so much pressure on the feet. 
It has rubber attached to its outsole which makes it soft and very flexible. The shoe has great durability since it seems made from high-quality material. 
Thus, the shoe will last much longer without becoming worn off or damaged through wear and tear over time, making it a great investment!
It comes with a top-notch midsole that delivers firm and comfortable cushioning. The cushion's designer created it out of high quality as well as shock-absorbing foam. 
It has a cool appearance and gives out a soft feeling when worn by one's bare feet as well as an exceptional grip on the ground. 
If you didn't find the Onitsuka Tiger Ultimate 81 the best parkour shoes for you, be sure to check out the Nike Revolution 3 then. You won't regret wearing this.
WHITIN Minimalist Trail Runner – Best Cheap
First off, one of the best things about this shoe is its toe box design. The WHITIN Minimalist Trail Runner is made to be very flexible and comfortable.
Most people would be able to appreciate it with regard to support while also being allowed to bend as needed without the threat of snapping or otherwise getting damaged in some way. You also have the half Ragazine and half rubber top portion construction of the shoe.
When you choose to buy a pair of WHITIN Minimalist shoes, you gain access to a stellar product that ensures that air can pass through but moisture is absorbed by the rich material. This helps make sure your shoes don't get stinky and you will stay comfortable during your parkour sessions as well as other activities where you tend to sweat a lot. 
And yes, shoes with breathable mesh may feel better when it's warm out because there's more airflow. However, if you're competing in races outdoors that might take place in areas where there is less temperature change between day and night, then WHITIN Minimalist's small holes upper overlay would be a positive feature for you to look out for.
Another thing – If you're looking for a shoe with adequate thinness to obtain ground feedback, then this is the shoe for you. 
Whether you're a parkour beginner or expert, the sensitivity of this shoe works well regardless. If you need extra cushioning or prefer a more barefoot feeling, then take out the insole and replace it with your own personal preference.
In case you are still stuck, here is some advice when it comes down to buying this kind of shoe. Try them on with the intention of running in them for at least two days without overdoing them because they are different from many other shoes. Then you should go on running with them.
A tester tried these shoes for 200 miles. It was a breeze for him, and they held up great, even when doing some tough running moves on a variety of surfaces. 
So if you're searching for the best cheap parkour shoes for beginners and even experts, you can't go wrong with the WHITIN Minimalist Trail Runner.
Take Flight Stealth Ultra – Best for Freerunning
TakeFlight Stealth Ultra Parkour shoes are the most magnificent best shoes for freerunning parkour ever made and they have a wonderful design that everybody loves. 
They're equipped to meet all of your adrenaline-fueled needs, no matter what height you jump from. These are high-quality running shoes. 
The Take Flight Stealth Ultra is optimized for long-distance use. And you'd be very proud to own the Take Flight Stealth Ultra.
Take Flight has a reputation for outclassing competitors with their attention to detail when it comes to durability, traction, and comfort when being worn during a run. 
When considering this brand of running shoe, you can be confident knowing that they will withstand the test of time through intense distances and rigorous conditions while still delivering an unmatched level of comfort and support!
Most traceurs prefer these shoes, and you can see why when you consider the dual sock liner design and advanced runner support system that ensures the highest levels of control and safety. 
The innovative 'Compression Landing System' or C.L.S. is a big reason for their popularity, making them one of the most comfortable and the best parkour shoes on the market. 
Traceurs worldwide will thank you for choosing these amazing kicks to satisfy your needs this year as they prepare for any new challenges.
There is also a return policy that gives you a 100% satisfaction guarantee. So if you are not satisfied with the purchase, just send the product back and a full refund will be issued to your account.
New Balance 574 V1 Core – Best for Kids
Looking for the best parkour shoes for kids and couldn't find one? You're in luck because we happen to include one of the best parkour shoes for kids on this list – the New Balance 574 V1 Core!
These marvelous shoes are the best ones made from the perfect textile, leather, and synthetic mix.  
They are available in many color options which gives them a certain vibe that stands out. One can choose any color as per his/her choice and the shoes feel great to wear.
Furthermore, the base of the shoe is predominantly made from rubber and has a midsole constructed out of EVA giving it excellent shock absorption properties. 
The heel is reinforced using TPU (=thermoplastic polyurethane) for added support and comfort. Also, the design is such that it fits comfortably all over the foot providing ample inside room for air to circulate resulting in more comfortable wear. 
As far as sturdiness is concerned, this model scores high and lasts long – all at an affordable price. And if you don't know, these shoes can be worn by both boys and girls.
In summary, I believe this is one of the best parkour shoes for kids who are into free running. It'll be able to stand wear and tear for a long time while also offering them the kind of support and comfort they need. 
With the New Balance 574 V1 Core, you can rest assured that our future traceur legends are safe!
Fila Skele-Toes EZ Slide Drainage – Best Split Toe
The Fila Skele-Toes EZ Slide Drainage Best Parkour Shoes are often called the best split toe parkour shoes you can buy today for many reasons. Here's why we're agreeing that it is.
They may look familiar because these Filas are similar to their sister shoe in design and appearance, but they also bring with them some unique qualities that make them worth your attention if you're in the market for an on-budget but high-quality option.
Because they allow you to truly run barefoot, they are much more comfortable than other competing brands and even several other shoe types which makes them the #1 preference when it comes to traceurs both professional and recreational alike.
Originally made for hikers and runners, these shoes also look great and do very well in a parkour display. In addition to that, these shoes are of high quality and are quite comfortable out of the box. 
And Fila coated its bottom part with an extremely resilient layer that adds traction to bare surfaces for non-slip movements while scaling or descending buildings and terrains.
One awesome thing about them is that they are completely waterproof! So it doesn't matter what the occasion calls for, whether you're at the lake or training for an upcoming race, these shoes will serve their purpose. 
Additionally, they come in several different colors & styles so you can easily find a pair to match your personal sense of style as well!
Onitsuka Tiger Serrano-u – Best for Women
If you're looking for the very best running shoes and trainers, then you have to know that Onitsuka Tiger is one of the most reputable brands in the business.
We're delighted to be talking about their latest style, the Onitsuka Tiger Serrano-u (as shown above), which is impressive beyond just what it looks like on the screen. 
You might be surprised to see that this shoe was actually the ancestor of many big-name brands such as ASICS. But does it have what it takes? We think so!
There aren't many options when it comes to choosing colors and styles, but the retro-inspired look is so fun and cute we love them. 
With a variety of different materials like 100% leather and textile, this makes them lightweight yet ultra-durable.
The padded collar and tongue are intended to prevent irritation during wear, therefore making your shoe of choice more comfortable even on long days.
The Onitsuka Tiger Serrano-u is pretty breathable in comparison to other similar designs but doesn't compare to mesh uppers. 
These are spikey kicks that will have you zipping around town and bouncing off the walls. They make your feet look like they're ready for some action!
adidas Performance Energy Boost 3 M – Best Adidas 
The Adidas Energy Boost 3 is one of the coolest best Adidas shoes for parkour you can find. It's not cheap but it's very durable and has a lot of traction, which comes in handy when you're doing long strides.
As one of the flagship running shoes from Adidas, the energy boost 3 is a lightweight and neutral shoe perfect for parkour and free-running exercises. 
With its 21.5mm forefoot stack height combined with a 3.15mm heel stack height, this shoe will fulfill the needs of anyone looking to improve their mobility as well as stability and responsiveness. This makes it the perfect addition to your training gear!
These shoes from Adidas are perfect for running in cold weather. They also offer great support thanks to the molded plastic that is fitted firmly around the sides and back of your foot. 
These shoes have a snug and comfortable feel with each step, and they're lightweight, sturdy, and have an airy interior that keeps your feet cool during exercise or sports.
Compared to most EVA foams on the market, the Adidas Energy Boost 3 has a lot of padding in its heels and although this may feel uncomfortable at first you can be sure that it's durable and also supports your foot well, ensuring that you won't be hurt by long-term use.
This shoe has a responsive cushioning system for calming your feet. Moreover, the cushioning will reduce stress and there is torsion support between the heel and forefoot.
Inov-8 Bare-XF 210 – Best Lightweight
First off, we have to mention that the Inov-8 Bare-XF 210 is one of the best lightweight parkour shoes you'll find on the market today! Because these babies aren't made with any sort of metal or other hard material, you should notice them feel almost weightless on your feet. 
Being the best parkour shoes with the best protection against rocks, roots, and even drops, you'll be secure as a bug when you survive those nasty falls from roofs all because of these running shoes!
One of the best things about wearing these shoes is that you can finally feel like a part of your environment. They have a wide toe box that lets your toes breathe and also allows for your feet to spread out like you would do when going barefoot on the ground. 
The Inov-8 Bare-XF 210 is the perfect mesh upper for style and comfort by providing flexibility, breathability, and protection all at once! 
With its lightweight build and supple feel, this shoe will keep your feet feeling fresh at all times without sacrificing durability in the process.
Some runners were less than thrilled that the soles of these shoes pointed fairly forward. We didn't all agree, but there was a decent number of consumers who felt this way.
But here's what we really think – All in all, you will find the Inov-8 Bare-XF 210 simply one of the best parkour shoes worth investing in.
Kung Fu Martial Arts – Best For Indoor
For our next best parkour shoes, we have the best shoes for indoor parkour – the Kung Fu Martial Arts. These are traditional-looking parkour shoes that come in a unisex design.
These parkour shoes are great for running up hills and skyscrapers if that's how you roll. They are light and come with a rubber sole and canvas upper for more traction, stability, support, and flexibility. 
If you need a great deal, then this is what you're looking for! These shoes come in a reasonable price range that everyone can afford.
According to specialists, the most popular sneakers for Parkour have an MD material construction. The main reason, behind preferring such an option is that these shoes are highly resistant to wear and tear. 
They are so elastic and stretchy that you can wear them like a sock. This makes them easy to put on, so, during any moment of the day, they will fit nicely without becoming a burden to you.
We have found that these shoes are not only suitable for outdoor activity, but they're also the best shoes for indoor parkour. Apart from sporting professionals, students can also pick this type of shoe.
Merrell Trail Glove 4 – Best Grip
Merrell has been one of the leaders In the field of minimalistic footwear for Parkour practitioners for a long time now. And when they put a parkour shoe line on the market, they make sure that it's one of the best parkour shoes people have hoped to see.
Their trend-setting designs never fall out of style and this year is certainly no exception – coming up as top-rated performers, the Merrell Trail Glove 4 puts a focus on comfort, flexibility, and durability. 
Promising the highest performance available from this line of shoes, it's easy to see why this item is so revered in its target audience.
The upper is composed of a breathable mesh. Noticeably airier than most we tried, the material in the upper makes it possible to have wide freedom of movement without experiencing any discomfort. 
Plus, the durability of this synthetic material is very effective. A wider toe box on this model allows the user to move about more freely with all ten toes from top to bottom, while comfortably spreading out toes and allowing room for big toe splay.
One of the reasons that the Merrell Trail Glove 4 is such a popular shoe is the strategic TPU overlays that not only add extra support and integrity but also help to balance durability with lightness. 
The 4mm CMEVA midsoles are very popular because they're so versatile – while providing perfect stability even on rocky pathways, pedestrians, or concrete (they can be slippery!). 
Compression-molded EVA foam adds shock-absorption ability while cushioning your ride on a variety of surfaces from concrete to commutes! So they make the best shoes for walking on concrete as well.
Out of all the elements that make up a quality hiking boot, sometimes it's the littlest things that count the most. Anti-microbial properties can help keep your feet warm and dry – making them seem like they were just removed from the box. 
The soles are comprised of multiple features. You'll love the Vibram Outsole TC1s which give you a softer ride than ever before. So rest assured you're covered wherever your adventure ends up taking you! 
If it's the best grip parkour shoes you want, the Merrell Trail Glove 4 are notorious for their insane grip as they take the term "non-slip" much more literally. 
You can trust it to go to the ground and catch you in a bit of an awkward situation with its quick abrasion resistance without losing any weight.
Best Parkour Shoes Buying Guide
So what are the best shoes for parkour practitioners? We've got you covered with this guide. Read on, so that you can see which factors make one parkour shoe better than another — and pick the perfect pair for you.
Traction
While all shoes tend to offer some amount of stability, the parkour footwear in our lineup is specifically designed to provide added control during parkour movements. 
Parkour involves jumping from platform to platform and using different types of surfaces on which to land. 
These transitions are meant to be done with minimal fuss and this may be where you'll need some extra confidence from your shoes.
One of the biggest problems with ordinary, everyday life running shoes for parkour is that since they aren't made specifically for that purpose, many of them just don't provide tight enough "grip" to help you keep your feet in place during the more advanced movements.
When it comes to parkour, there's nothing more important than grip – quite literally! One of the hottest new trends in the best parkour shoes is the amount of grip that it provides to keep you in control regardless if you're moving diagonally or making sudden turns.
There are plenty of ways to make sure you have a good hold when navigating your way along walls, railings, and pavements. This is exactly why having the right footwear is so important! 
Did you know that shoes are responsible for a whopping 43% of how much we grip? You don't want to be like Arnie, do you? Because unless you want a face-plant after finding yourself at too great a height your soles will need to be top-notch.
Sole
The sole of the shoe does, in fact, perform superb functions other than just providing secure footing on even terrain and protecting your feet from bad surfaces. It's responsible for durability and many other essential things! 
It provides much more than mere aesthetics, though it definitely does that. Most prominently, that part of the shoe is responsible for durability as it will be most often in contact with the ground and other surfaces. 
That's why we insist that you get the best parkour shoes out there make sure that they're using durable material in design when possible!
When it comes to the best parkour shoes, it isn't about toughness. This is where flexible shoes come into play. They allow your feet to have a natural movement when you run and give you the power you need to propel yourself forward.
Parkour trainers should give you the best of both worlds. They allow you both stability and flexibility. With these shoes, your feet won't just be protected; they'll also benefit from great maneuverability and shock absorption so you can really take your training seriously.
When buying shoes for climbing, it's best to go with a shoe that has a one-piece sole. They typically last longer than shoes with multiple parts connecting the outsole and upper. 
While a thicker shoe generally offers more comfort, often you need extra sensitivity between the outsole and upper resulting in the option of using thinner soles.
We strongly recommend the use of rubber soles for parkour. It's a durable material, it's abrasion-resistant, it will look great for years after purchase, and it's cheap enough that even the most cost-conscious consumer (you) may be able to afford it. 
It's also important to have a shoe that has a kind of tread on the bottom for better traction. This prevents one from slipping or being knocked off balance by other people or objects while practicing parkour.
Styles
The above best parkour shoes list includes both minimalist and traditional. If you're interested in learning more about which one is best for you, let's take a closer look at each type of shoe so that you can make an informed decision that will be right for you!
Traditional
Traditional shoes are a little on the heavy side compared to minimalist parkour shoes because they have thicker soles and heels to give your feet more support. 
While the best parkour shoes are meant to be lightweight, some have larger heels that provide more shock absorption and can make your gait more natural if you're prone to rolling your ankles.
Others can also stabilize your stride to keep you from overpronating or under pronating (pushing off with too much of the foot, either inward or outward).
Minimalist
The term "minimalist shoe" is pretty self-explanatory. These shoes provide as little support and protection as possible, while maintaining flexibility and lightness to keep you from feeling like you're wearing anything more than a pair of socks. 
Just remember that these don't offer much stability or ankle protection if you overpronate, so if that happens to be an issue for your gait, it may still be a good idea to pick up a more traditional model.
Shock Absorption
Next, let's talk about shock absorption. 
You can have the best parkour shoes in the world which are capable of providing optimal protection and support, but if they aren't up to par with shock absorption capabilities, then you might as well be going out there barefoot!
Why? 
Because this is essential for your athletic endeavors. Without it, you might end up suffering from knee pain, shin splints, or even worse – injuries that could keep you on the sidelines for a while.
If you like to do parkour, it's very easy to ruin your feet if you aren't wearing the right and the best parkour shoes. Just because landing a jump looks exciting doesn't mean it isn't damaging your body in the process! 
If you want to stay active, and not have your poor acrobatic abilities crumble like your aging knees and ankles, consider investing in athletic footwear with shock absorption.
Flexibility
Flexibility is an important part of many sports including the extreme ones that involve running, jumping, and landing. When you're doing these things in motion, what you need is the best parkour shoes that promote natural feet movement.
The last thing you want to have while doing these parkour activities is stiffened ankles or feet because that would be very troublesome. You also need them tough enough so they will protect your feet and ankles from shock.
Weight
Carrying unnecessary weight or at least as much extra weight as you can handle will prove difficult when trying to do parkour. 
First of all, the lighter the best parkour shoes are, the safer and better you are at parkouring, especially when you are jumping from one building to another. 
Some extra bulk on your shoe may affect your landing and make it much more dangerous for you to land correctly. 
Not only that, but it puts a lot of stress on your ankles. It makes sense then that in this situation, you do not want thicker soles than usual. 
It is also important to choose a natural distribution of weight on top of that, so choosing light-weight shoes is even more ideal for parkour players!
Durability
There's nothing like kicking back and relaxing with a great pair of parkour shoes. But nothing in this world is perfect. No matter what kind of shoes you choose, they will eventually deteriorate given continuous exposure to stress and wear and tear. 
It can be difficult to find the right pair of the best parkour shoes, especially since there are so many options available out on the market today! 
One way to guarantee that your new kicks are capable of resisting all of the different challenges you face in daily parkour life is by ensuring that they're made from durable materials.
Be very particular and get shoes that aren't going to break down or disintegrate any time soon – just like the best parkour shoes we've covered here!
Uppers
The durability of a shoe upper depends on the type of material used and how the shoe was constructed. 
However, the overall design will dictate the level of durability because there's more contact with your entire foot with a tightly weaved mesh that securely fits around your foot as opposed to simply relying on extra stitching or glue to hold everything together in its place. 
As far as materials are concerned, different combinations may result in different types of comfort, support, strength, and durability.
Let's cover what makes up an upper that will serve you well when parkour is concerned.
Canvas
Canvas is less expensive than leather but slightly. Because of the lack of breathability in this type of upper, they will start to get sticky and soggy after wearing them for many hours or on times when you're walking around more than usual. 
They won't be very comfortable either if worn continuously throughout the day. However, they are still a good choice for those with sensitive feet who participate in sports.
These shoes provide superior protection against slips, dirt, and rocks while allowing great flexibility when walking across various surfaces.
Mesh
Mesh is a breathable material, which means that it's an ideal option for keeping your feet cool as you walk or run. 
Because of this mesh has the ability to be more lightweight than other materials, like leather, and still able to work just as well. 
Like most materials, it also has its pros and cons. Mesh offers less durability however wear and tear and time will take their toll on any type of material especially when it's being used for purposes other than what they were originally intended for.
Textile/Fabric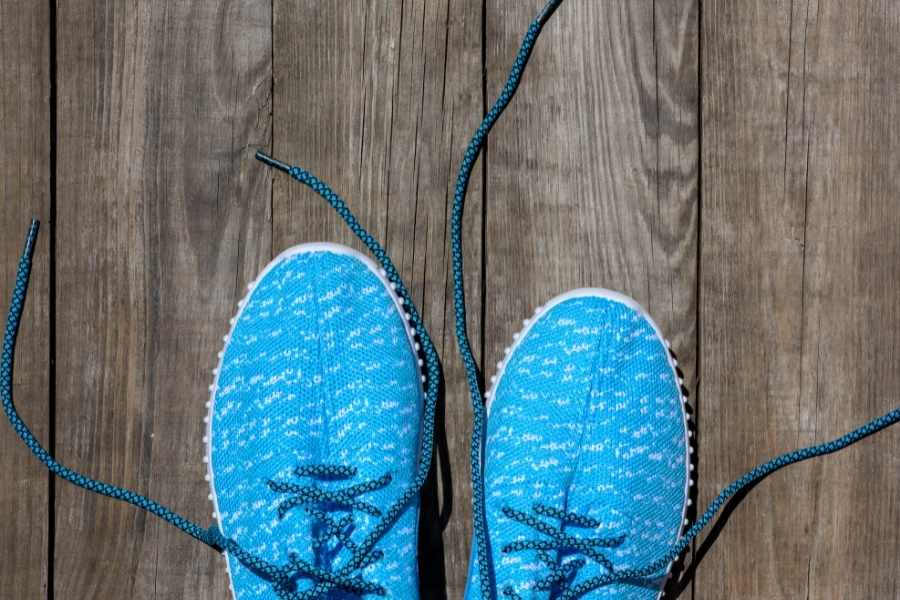 The majority of shoes that you probably own are made out of textiles or textile-like materials. This is because they are not really that expensive. Plus, they're undeniably very durable, offering great protection. Breathability is also good due to the holes in the fabric.
Leather
Of all the materials, the most expensive is leather. This kind of fabric can endure wear and tear from sports or hiking and is usually sturdy against rain and water. However, leather is heavy in and of itself. 
To help keep a shoe's weight manageable, manufacturers often combine different materials like mesh to make sure your feet feel lighter on your runs!
Price
Wondering how much one should invest in their first pair of parkour shoes? 
It's a smart idea to figure this out beforehand to make sure that you won't end up spending more than you had planned for which could potentially leave you with buyer's remorse. 
Parkour is an action-oriented sport, requiring a certain amount of agility and footwear, so no matter what your budget happens to be, there're great parkour shoes for sale on our guide that will suit your needs.
Conclusion
Parkour is a sport that's gaining in popularity. As a practitioner, you need the right shoes to perform moves and beat your personal bests. 
The best parkour shoes are designed with performance in mind. They're light and agile, bringing you a full range of motion. Unlike standard running shoes, parkour shoes don't clog up, allowing for maximum flexibility and control.
So those we've mentioned here are some of the best parkour shoes out there. All of them are great but we personally feel the most comfortable in a pair of Onitsuka Tiger Ultimate 81 and Take Flight Stealth Ultra. 
We always want the best for our readers and we are doing our best to provide you with information as detailed as possible when it comes to suggesting you the parkour shoes that will make you experience how fun moving around vertically can be without having to sacrifice comfort, aesthetics or price!
Wear these shoes and you'll be able to run at your full speed or walk or climb without distraction from your footwear!
If you have a favorite pair of best parkour shoes that we didn't include here (and we know there are a lot because almost every day there is a new release by some brand, more than half of the pairs aren't relevant or abandoned by their brands) but if you feel like we should include them on our list, by all means, please let us know in the comments section!
We hope this guide will help you find the right pair of best parkour shoes and finds its way into your crate. 
Happy landing!
References:
https://www.reddit.com/r/Parkour/comments/7rao4y/what_is_your_currently_favorite_shoe/
https://www.roadrunnersports.com/rrs/content/content.jsp?contentId=content1106
https://www.verywellfit.com/athletic-shoe-anatomy-3436349
https://www.liveabout.com/shoe-glossary-outsole-2987684
https://en.wikipedia.org/wiki/Parkour